Published 04-19-19
Submitted by General Mills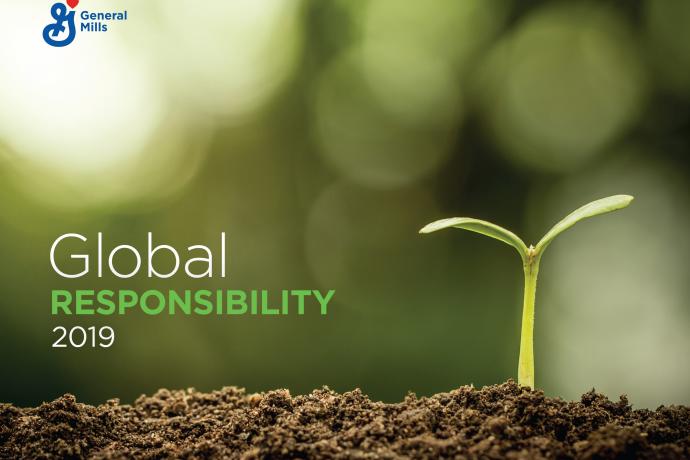 General Mills released its 2019 Global Responsibility Report, outlining the company's approach to creating environmental, social and economic value in the countries where it operates. The progress made by General Mills in 2018 demonstrates the company's long-term commitment to protect and restore the resources upon which its business and communities depend, with an increased focus on advancing regenerative practices across its supply chain.
"We know that food plays a central role in people's lives and has a profound impact on the environment and communities worldwide," said Jeff Harmening, chairman and CEO of General Mills. "Serving the world as a food company requires innovation at every level, from how we source ingredients and make our food, to how we engage with consumers, our employees and other stakeholders."
Improving Soil Health Practices
Through 2018, General Mills has invested more than $4 million in soil health initiatives on U.S. agricultural lands. More than 24 billion tons of fertile soil is being lost every year due to erosion (Source: globalagriculture.org) and if we don't have healthy soil, we can't grow food to feed the world. In March, the company announced a commitment to advance regenerative agriculture on one million acres of farmland by 2030. Regenerative agriculture restores soil health by applying farming practices such as diverse crop rotations and cover cropping to capture carbon in the soil and reduce GHG levels in the atmosphere.
During fiscal 2018, General Mills developed a Regenerative Agriculture Measurement Protocol, which outlines how to determine the impact of agricultural management on soil health throughout General Mills' network of regenerative farmers and ranchers.
The company also launched the General Mills Regenerative Agriculture Scorecard, a self-assessment tool to help farmers understand how their practices influence soil health, biodiversity and economic resilience in farming communities.
Reducing Greenhouse Gas Emissions (GHG)
In 2018, General Mills' greenhouse gas emissions footprint decreased 13 percent compared to 2010, across its value chain in the areas of agriculture, packaging, producing, shipping, converting, selling and consuming. The company's GHG emissions fell 4 percent versus 2017, while net sales increased 1 percent.
Responsible Sourcing
In 2013, General Mills made a commitment to sustainably source 100 percent of the company's ten priority ingredients by 2020. These priority ingredients represent 40 percent of the company's annual raw material purchases and include cocoa, vanilla, oats, U.S. wheat, U.S. sugar beets, U.S. corn (dry milled), U.S. dairy (raw fluid milk), fiber packaging, sugar cane and palm oil. Six years into the commitment, the company is at 85 percent of its goal.
"The health of our business depends on the health of our planet; if she's not healthy, farmers can't grow the ingredients we need to make the food our consumers love," said Jerry Lynch, chief sustainability officer for General Mills. "With our scale, we truly can be a force for good to drive impact and meaningful change across our entire value chain, from farm to fork and beyond."
Strengthening communities
The efforts of the General Mills Foundation are tied closely to the company's purpose, core business and food systems knowledge with three global focus areas: Increasing Food Security, Advancing Sustainable Agriculture and Strengthening Hometown Communities. In 2018, the company and its Foundation donated more than $102 million to charitable causes and enabled 29 million meals for food-insecure children and families through General Mills food donations globally.
"In the Foundation, our aim is to build flourishing communities and a thriving planet," said Mary Jane Melendez, chief sustainability and social impact officer for General Mills. "We believe we can achieve that by harnessing our collective impact in key areas, while engaging our 38,000 passionate employees through meaningful volunteerism."
Other impactful philanthropic contributions in 2018 include:
540,000 children worldwide access to a daily nourishing school meal: General Mills' philanthropy is connecting more children than ever before with school meals, ensuring that they are nourished and ready to learn.
30 countries strengthened through food bank support: General Mills food donations, Foundation grants and employee expertise were used to support and strengthen food banks in more than 30 countries.
30,000 food retailers participated in food rescue efforts: In the last 12 months, General Mills empowered 30,000 retailers to recover 4.2 billion pounds of surplus food, through MealConnect in the U.S. and FareShare in the U.K., feeding hungry people rather than going to waste.
$42 million to schools: Through the Box Tops for Education program, General Mills donated over $42 million in 2018 to K-8 schools in the U.S. Since 1996, the program has given more than $882 million to over 70,000 participating schools.
Employee Engagement
Engaged employees create value and drive business performance. Over the past several years, General Mills has worked to build a more agile, engaged organization by listening to employees, taking action on employee feedback and measuring progress. Some highlights from 2018 include:
83 percent of General Mills employees worldwide volunteered in their communities.
Enhanced employee benefits, including up to 20 weeks maternity leave and 12 weeks paternity leave.
49 percent of professional positions were held by women globally.
This marks the 49th year General Mills has publicly reported back to stakeholders and the community. Learn more about General Mills' economic, environmental and social commitments and progress by visiting GeneralMills.com/Responsibility, to view the full Global Responsibility Report, interactive reportand video.  
About General Mills
General Mills is a leading global food company that serves the world by making food people love. Its brands include Cheerios, Annie's, Yoplait, Nature Valley, Häagen-Dazs, Betty Crocker, Pillsbury, Old El Paso, Wanchai Ferry, Yoki, Blue and more. Headquartered in Minneapolis, Minnesota, USA, General Mills generated fiscal 2018 proforma net sales of U.S. $17.0 billion, including $1.3 billion from Blue Buffalo. In addition, General Mills' share of non-consolidated joint venture net sales totaled U.S. $1.1 billion.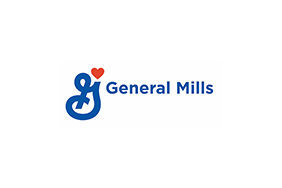 General Mills
General Mills
About General Mills
General Mills is one of the world's leading food companies, operating in more than 100 countries around the world. Its brands include Cheerios, Fiber One, Häagen-Dazs, Nature Valley, Yoplait, Betty Crocker, Pillsbury, Green Giant, Old El Paso, Wanchai Ferry, Yoki and more. Headquartered in Minneapolis, Minn., USA, General Mills had fiscal 2015 worldwide sales of US $18.8 billion.
More from General Mills