Published 04-01-19
Submitted by University of St. Michael's College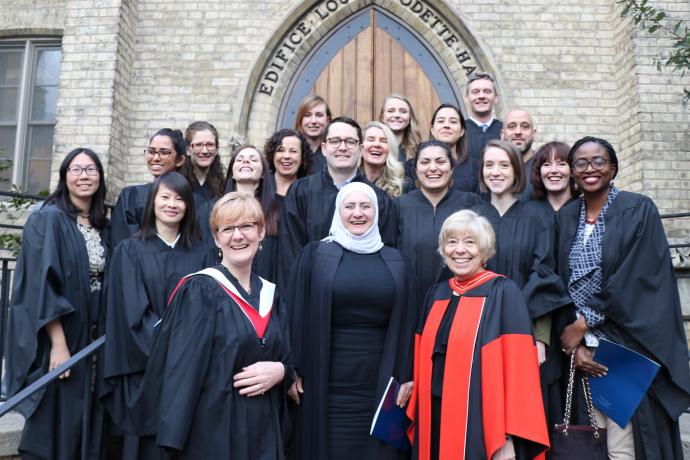 University of St. Michael's College in the University of Toronto
Want to ignite your CSR & Sustainability career?  Graduates of the Certificate in Corporate Social Responsibility & Sustainability bring their careers to life through innovative capstone projects under the guidance of a CSR and Sustainability Mentor.  The April 30th Application Deadline is fast approaching; only 30 applicants are accepted annually.
Participants launch a project related to their job or career goals.  For example, they develop a CSR Strategy for their organization, forge new community investment partnerships, and craft new sustainability standards. 
They produce tangible business results and are frequently elevated to CSR/Sustainability leadership positions. "This program has been so influential on my organization and career," says Pam Cone, VP Global Corporate Responsibility, Milliman. "Soon after joining the program I was promoted to VP, Global Corporate Responsibility.  My Capstone project was a study of CSR Sustainability practices in professional service firms.  The result was a blueprint for my future in this field."
Professionals come to the program to LEAD, SHIFT or START their careers in Sustainability and Corporate Social Responsibility.
LEAD - "This program offered me the framework I needed to better plan, implement and lead a Community Investment Strategy (C.I.S) for Flight Centre Travel Group.  I learned how to galvanize our coast to coast stakeholders and reinforce the roll out of our ongoing CSR initiatives. Soon after graduation I was promoted to CSR Manager for Flight Centre Travel Group (FCTG) – The Americas."  Brian Shurman, CSR Manager, The Americas, Flight Centre Travel Group (Class 2016/2017).
SHIFT - "The CSR Graduate Certificate was central to shifting my career to CSR/Sustainability. I made valuable contacts and landed a CSR contract during the program with CBSR - Canadian Business for Social Responsibility. The faculty, materials and classmates were invaluable as I shifted into this role.  That contract led to an opportunity at Blackbaud and includes engaging companies and their CSR programs across Canada and the entire social good community.  Eric Saavala, Strategic Account Executive - Corporate, Foundations and Non-profit Solutions, Blackbaud  (Class 2017/2018).
START - "This program gave me the opportunity to understand the practical development and implementation of CSR & Sustainability in an organization. I gained a valuable network, a more thorough understanding of the career opportunities ahead and practical skills I can use now. It is an excellent foundation on which to start my career as a CSR/Sustainability professional."  Kathryn Condon, Masters in Environmental Science, Oxford University (Class 2017/2018)
The Graduate Certificate in CSR & Sustainability – April 30, 2019 Application Deadline
Participants in the Graduate Certificate in Corporate Social Responsibility and Sustainability work full time while earning this university credential through a blended learning approach.   Participants:
The Certificate in CSR/Sustainability is now taking applications for 2019/2020.  Only 30 applicants are accepted annually.
Module 1 will be held in Toronto, Canada, October 16 -18, 2019.  Module 2 and 3 will be held May, 2020 and November, 2020 respectively.   To apply, go to the Certificate in Corporate Social Responsibility/Sustainability Website.  See the program schedule, past graduates and news about the program.  The first intake Application Deadline is April 30, 2019; only 30 applicants are accepted each year.
About the University of St. Michael's College
The University of St. Michael's College (USMC), federated with the University of Toronto, is a Catholic institution of higher learning founded by the Congregation of St. Basil, whose motto, "Teach me goodness, discipline and knowledge," sets the tone for campus life.  
A Business Advisory Committee ensures the CSR program is relevant and experiential.  CSR/Sustainability Leaders from a broad range of industries from insurance to mining,  including: The Co-operators, BMO Financial,  Scotia Bank (ret.),  Vermillion Energy, Centerra Gold , ESG Ledger, Conference Board of Canada,  and Rotman School of Management (University of Toronto) provide advice and input.
For More Information Contact
Kathryn A. Cooper, Program Manager, Certificate in Corporate Social Responsibility & Sustainability
Phone: (519) 855-9491
Website: https://www.csr-stmikes.ca/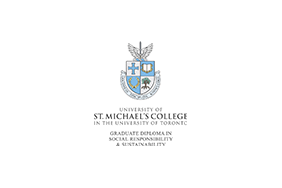 University of St. Michael's College
University of St. Michael's College
St. Michael's is a recognized leader in undergraduate, graduate and lifelong education. Its highly acclaimed Certificate in Corporate Social Responsibility is a unique executive education program developed in collaboration with the Conference Board of Canada. Founded over 150 years ago, the University of St. Michael's College is federated with the University of Toronto. Its faculty bring to current CSR issues the understandings that they have gained not only from the perspective of business but also from a tradition that includes the study of literature, philosophy and ethics. The goal of the program is to engage participants in a process of weaving together the major strands of CSR in a way that provides a time out from customary corporate activity. Alumni have called the result "transformational". Since 2003 St. Michael's has collaborated with an innovative technology company, ExperiencePoint to produce and distribute ExperienceCSR, a web based business simulation . In the simulation, which is offered as part of the Certificate program, participants advise a multinational technology firm on revising its corporate strategy to meet a myriad of critical environmental, community, employee relations, human rights and financial objectives. Through the application of sound CSR principles, participants help the corporation align its operations to its articulated values and, consequently, satisfy stakeholder interests and ensure long-term profitability. (www.experiencepoint.com)
More from University of St. Michael's College