Published 03-06-19
Submitted by EcoVadis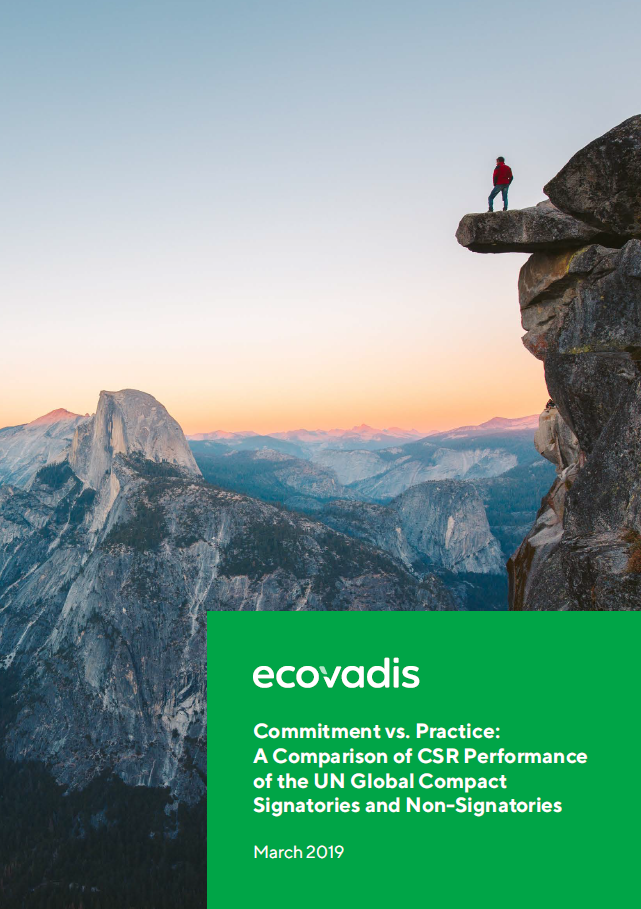 EcoVadis, the world's most trusted provider of business sustainability ratings, has published a new report on sustainability performance comparisons between organizations who have committed to the UN Global Compact principles vs. those that have not. Taking a deep dive into performance across key themes of Environment, Labor and Human Rights, Business Ethics and Sustainable Procurement, EcoVadis found that committed companies perform better across their supply chains.
"We assess nearly 20,000 companies a year on their sustainability performance and this report specifically explores the link between the adoption of the Ten Principles of the UN Global Compact and advanced sustainability performance," said Sylvain Guyoton, SVP of Research at EcoVadis. "We found encouraging evidence that companies who adopted the UN Global Compact Principles are stepping up to the challenge — mitigating CSR risks within their operations and moving the needle to a more sustainable future."
The report's major takeaway:
Companies committed to the UN Global Compact principles have on average better sustainability performance: The findings demonstrate a clear correlation between advanced CSR performance and UN Global Compact participation. That said, participation in the UN Global Compact does not lead to advanced CSR performance in and of itself;
Among UN Global Compact participants, small and medium-sized companies demonstrate better performance compared to large ones. This may be due to the fact that small- and medium-sized companies can act faster when addressing CSR issues.

Companies perform significantly better in labor & human rights and environmental themes, compared with the ethics and sustainable procurement themes.

Sustainable Procurement and environment themes have the greatest gaps between UN Global Compact participants and nonparticipants. This gap may be linked to the need for explicit executive level commitment to make investment in environmental and sustainable procurement programs. Such commitment is a clear and deliberate part in UN Global Compact participation, and thus explains the higher performance of UN Global Compact participants.
"We must achieve the Sustainable Development Goals — for our own sake and for future generations," said the CEO and & Executive Director of the UN Global Compact Lise Kingo. "More and more businesses are supporting the Global Goals, and now we must drive for the tipping points that will make sustainability a mainstream reality for small and large businesses everywhere. It is encouraging to see that our Ten Principles on human rights, labor, environment and anti-corruption are helping companies to improve their sustainability performance." 
To learn more about the UN Global Compact and their various signatories, download the full report https://www2.ecovadis.com/ungc-study
About EcoVadis
EcoVadis is the world's most trusted provider of business sustainability ratings, intelligence and collaborative performance improvement tools for global supply chains. Backed by a powerful technology platform and a global team of domain experts, EcoVadis' easy-to-use and actionable sustainability scorecards provide detailed insight into environmental, social and ethical risks across 198 purchasing categories and 155 countries. Industry leaders such as Johnson & Johnson, Verizon, L'Oréal, Subway, Nestlé, Salesforce, Michelin and BASF are among the more than 55,000 businesses on the EcoVadis network, all working with a single methodology to evaluate, collaborate and improve sustainability performance in order to protect their brands, foster transparency and innovation, and accelerate growth. Learn more on ecovadis.com, Twitter or LinkedIn.
###
Press Inquiries
US: Kate Bachman, Corporate Ink for EcoVadis
617-969-9192, ecovadis@corporateink.com
UK/EU: David McClintock, EcoVadis
+33 6 03 77 84 74, dmcclintock@gmail.com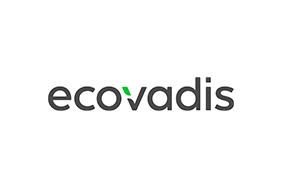 EcoVadis
EcoVadis
EcoVadis operates the 1st collaborative platform, allowing companies to assess the environmental and social performance of their global suppliers. EcoVadis combines technology and expertise to deliver simple and reliable "Suppliers Sustainability scorecards," covering 150 purchasing categories, 21 CSR indicators and 120 countries. EcoVadis ratings helps businesses, reduce risks and drive performance and innovation in their supply chain. More than 30 "Global 500" companies, have selected the EcoVadis solution, including Alstom, Axa, Accor, Air Liquide, Alcatel-Lucent, Atos Origin, Bouygues, Banca Monte Paschi di Siena, Orange, Lafarge, Renault, Schneider Electric, Umicore, and Veolia.
More from EcoVadis