Published 03-01-19
Submitted by Financial Women's Association of New York
The Financial Women's Association (FWA) of New York will celebrate Women's History Month through a series of events recognizing the contributions of women in finance and help educate and mentor the next generation of female leaders in the industry.
"This month we are especially delighted to recognize the important contributions made by women in the financial industry and help prepare the next generation of female leaders," said FWA's executive director, Ria Davis. "Through our high school and undergraduate mentoring and scholarship programs, the FWA has reached more than 6,000 young professionals and students over the past 30 years."
On International Women's Day, on March 8, 2019, OppenheimerFunds and the FWA will host a fireside chat with FWA president Karen Elinski at the National Museum of Mathematics (MoMath) to highlight the contributions of FWA members, mentors and sponsors. The chat will be followed by a private, docent-led tour of the Museum with FWA mentees and guests. In addition, the Museum of American Finance will support the event by providing complimentary copies of "Ladies of the Ticker: Women and Wall Street from the Gilded Age to the Great Depression," by George Robb, a professor of history at William Paterson University, and an FWA 2018 International Women's Day speaker. 
"Thanks to events like these, our members, mentees and community have the opportunity to learn from each other and gain insights from remarkable individuals who have paved the way for greater female representation in our industry," said Elinski. "While more must be done, firms are recognizing the benefits of diverse leadership, and making proactive changes to incorporate inclusive approaches." 
Additionally, OppenheimerFunds will celebrate throughout the month of March with a series of events sponsored by its Women's Network. Author and Wall Street Journal columnist Joann Lublin will lead a discussion of her book, "Earning it: Hard-Won Lessons from Trailblazing Women at the Top of the Business World." Executive trainer and coach Martha Gelnaw will also lead sessions on "Achieving Presence and Impact." Her interactive workshop addresses mastery in communication to achieve optimal business results.
About Financial Women's Association (FWA)
Founded in 1956, the Financial Women's Association of New York, Inc. works collaboratively with leading firms to advance mutual goals of diversity and inclusion, retention and the advancement of female professionals. The FWA presents key thought leadership events, builds performance skills and promotes valuable business connections through networking opportunities for its members. It produces annual international conferences facilitating exposure to global business and economic opportunities. In addition, the FWA gives back to the community by providing scholarships and mentoring to young professionals and students, reaching more than 6,000 individuals which helps to develop a diverse pipeline of talent. Members have access to members-only programs, including monthly professional development workshops and Member2Member mentoring.
The FWA has launched its Back2BusinessTM Initiative, a dynamic re-entry program with four financial services companies. In addition, the FWA created a program for members actively seeking employment by sharing its Member Resume Book and its Undergraduate Scholar Resume Book with recruiters at participating President's Circle corporate sponsor firms. 
For more information, please visit the FWA's website: http://fwa.org/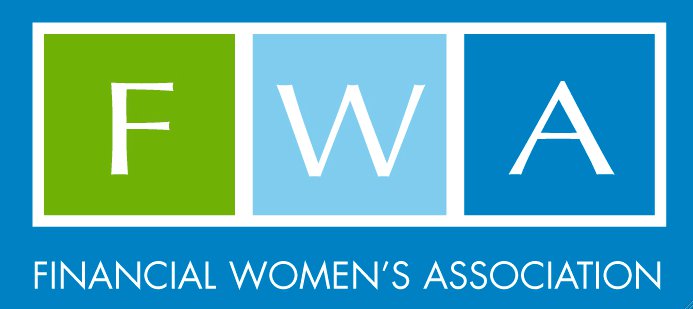 Financial Women's Association of New York
Financial Women's Association of New York
The Financial Women's Association brings together high achieving professionals from every sector of the financial world. We are dedicated to developing future leaders, enhancing the role of women in finance, and investing in the community. The FWA was established in 1956 when 8 enterprising women on Wall Street met to share professional experiences and further their knowledge. Our non-profit organization proudly numbers more than 1000 members worldwide.