Published 02-20-19
Submitted by Carol Cone ON PURPOSE
As social purpose becomes critical to long-term organizational success, The Purpose Collaborative – the world's first network of purpose-at-the-center agencies and subject matter experts – celebrates its third anniversary. Spanning five continents, the Purpose Collaborative now harnesses the mindshare of more than 400 professionals at 38 member organizations.
The Purpose Collaborative's growth parallels the momentum of an increasingly mainstream global social purpose movement, from Larry Fink's 2018 letter to Blackrock shareholders on "A Sense of Purpose" to the Association of National Advertisers naming "brand purpose" the word of 2018. Founded by Carol Cone, CEO of Carol Cone ON PURPOSE and a social purpose pioneer, the Purpose Collaborative is a new model for consultant-client engagement, with a nimble partners-at-the-center approach supported by a comprehensive network of leading talent in social purpose.
"I founded the Purpose Collaborative as a flexible new model for superb, breakthrough social purpose work. From day one, we have sought to evolve our network and capabilities, and redefine the field of social purpose and what it means to be a leading practitioner developing disruptive solutions that other agency models are not structured to deliver," said Carol Cone, CEO of Carol Cone ON PURPOSE and Chair, Purpose Collaborative. 
Highlights from the past year include:
Well over $100 million in total billings, including more than $5 million in revenue generated through 25+ cross-collaborative member projects.

Expansion to 10 global markets, including presence in Asia, Europe, Latin America, and Australia to give members and their clients unprecedented access to leading global purpose practitioners in established and emerging markets.

Launch of Purpose 360, a podcast co-hosted by Carol Cone and Purpose Collaborative member Chris Noble, CEO of Matchfire, which illuminates social purpose as a high-impact business strategy through unfiltered conversations with leaders from Unilever, REI, LG, New York Life, Panera, Kohler and others.

30+ collective awards, including an Emmy Award (Parallax Productions), Time Magazine Best Inventions of 2018 (Carol Cone ON PURPOSE), B Lab Best for the World honoree (Pearl Consulting), Shorty Social Good Award (BBMG), and recognition on the Environmental Finance Voluntary Carbon Market Rankings (South Pole).

Representation (including speaking, moderation, judging) at dozens of convenings around the world, including the Arthur Page Society, Consumer Electronics Show, Social Innovation Summit, Sustainable Brands, SXSW, United Nations Climate Week, and many more.

Release of new breakthrough industry research, including enso's World Value Index and Catalist's Issue Revolution Study.

Three-day member-only summit in New York City featuring dynamic presentations, workshops, and networking, sustained through monthly community calls that push industry boundaries.
Members introduced category-defining capabilities, products, and processes in 2018, all to identify, develop, and activate clients' purpose. New capabilities include augmented reality, sustainable financing, SDG integration, B Corp certification consulting, sports sustainability consulting, and purpose-centered data analytics. This complements robust existing capabilities in purpose strategy, video production, employee engagement, social media, digital marketing, product development, and more.
"This group is a game changer, filling multiple gaps in the purpose and impact eco-system," said Gillian Pearl, CEO at Pearl Consulting. "It provides us with a community of values-aligned, purpose-driven peers dedicated to creating a better world for all and allows us to offer our clients a range of services beyond our core competencies, from brand and creative to design, digital, production and more." 
Select member achievements from the past year include:
New members:
Catalist: Catalist is the industry's only measurement and matchmaking platform for companies and causes, uniting smart technology and detailed data with the Catalist team's depth of knowledge, experience, and industry understanding to change the way companies and causes create impact together. (Austin, TX)

JUV Consulting: JUV is a national network of Gen Z-ers working with blue chip brands and social enterprises to deliver customized consulting services directly from the Gen Z demographic. (New York, NY; global network)

No Typical Moments: No Typical Moments specializes in digital marketing solutions that help identify new ways to find online communities and convert them into lifelong customers. It examines the paradigm of how people relate to one another, treat the environment and uplift humanity to a deeper level of consciousness. (San Diego, CA)

OC360: OC360 connects global change agents to social good initiatives. Guided by the UN's Sustainable Development Goals (SDG) framework, OC360 is developing an ecosystem called IMPACT360, focused on eight SDGs including poverty and education. (Atlanta, GA)

Occula Group: Occula Group is a strategic planning and insights, thought leadership, and brand positioning consultancy. The global group creates bespoke teams to address clients' needs and integrates seamlessly to future-proof a client's business and brand.  (New York, NY)

Oliver Russell: Oliver Russell helps for-profit companies connect with customers and society through compelling brand narratives. A B Corporation, Oliver Russell incorporates passion for impact-driven customers with sector-specific knowledge in natural foods and beverages, public health, technology, startups, and sustainability consulting. (Boise, ID)

Pearl Consulting:  Pearl Consulting is a purpose-driven boutique consultancy with a network of consultants across Asia Pacific, Europe, and North America committed to creating mutual benefit for corporate, nonprofit, and government partners through the strategic deployment of social impact initiatives. Pearl Consulting is a certified B Corporation. (Singapore and global)

South Pole: South Pole aims to accelerate the transition to a climate-smart society by providing sustainability financing solutions, working with businesses and governments around the world to realize deep decarbonization pathways across industries. South Pole has a global team of 250 climate and finance experts in 18 cities. (Sydney, Australia and New York, NY; global network)
In 2019, the Purpose Collaborative plans to further expand its capabilities in augmented and virtual reality, digital and experiential marketing, measurement and analytics, influencer relations, and key social issues expertise. Additionally, the Purpose Collaborative plans to release breakthrough thought leadership on the evolution and growth of social purpose, to help clients and the industry advance purpose strategy and programming. For more information, please visit PurposeCollaborative.com/Collaborative.
Cone said, "Purpose Collaborative members trailblaze, guiding innovative organizations on their journey to align authentically with an inspiring purpose. I'm proud of how this remarkable network has grown, and even more so of the purpose impact we're all delivering for clients and the world."
Carol Cone ON PURPOSE (CCOP) is a 21st century consultancy that partners with organizations to identify, accelerate and amplify their purpose. The firm is led by Carol Cone, regarded as one of the founders of the social purpose movement, and one of the leading practitioners in the field. Cone is also Founder and Chair of the Purpose Collaborative, the world's first global network of purpose-at-the-center agencies and subject matter expert issues. (www.purposecollaborative.com)
###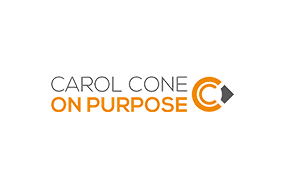 Carol Cone ON PURPOSE
Carol Cone ON PURPOSE
Carol Cone ON PURPOSE is a pioneering consultancy helping companies, brands, and organizations harness the power of social purpose to advance their business and social impact. CCOP's proven approach meets clients at any point on their  purpose journey to unlock opportunities to build reputation, inspire employees, exceed financial targets, and support the greater good. The consultancy is led by Carol Cone, regarded as one of the founders of the purpose movement in the early 1980s and has been internationally recognized for her work.
More from Carol Cone ON PURPOSE