Published 02-08-19
Submitted by Bright Funds Inc.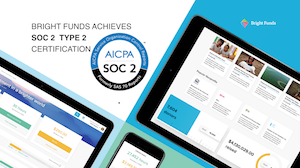 Bright Funds, a leading workplace giving platform, announced today that it has completed the requirements for a System and Organization Control (SOC) 2 Type II Audit. With a focus on security, availability, processing integrity, confidentiality and privacy, SOC 2 best meets the demands of the Bright Funds marketplace.
This achievement provides independent validation that Bright Funds' internal controls are in accordance with the selected Institute of Certified Public Accountants' trust services principles and criteria. After reviewing compliance with the SOC criteria, the company conducted both an external and internal security penetration test.
Leading independent auditor, Frank, Rimerman +Co completed the SOC 2 audit, verifying that Bright Funds processes and systems meet all the requirements for security, availability and confidentiality. Frank, Rimerman +Co is a California-based CPA and consulting firm and one of the top ten fastest-growing large accounting firms in the nation. 
"The SOC 2 controls are part of our team's daily routine here at Bright Funds. We make sure the processes adhere to the standards we set within," said Srinagesh Vitthanala, CEO of Bright Funds. "We are excited about the achievement and this milestone demonstrates both our compliant processes and our commitment to the donors, the clients, and the nonprofits."
"Achieving SOC 2 compliance is a major milestone for any service provider and demonstrates a significant commitment to a strong internal control environment. Obtaining a SOC 2 report is a major differentiator for Bright Funds as they look to continue growing their business," said Nelly Spieler, Senior Leader, IT Audit at Frank, Rimerman +Co. 
For more details, visit https://www.brightfunds.org/ or send an email to info@brightfunds.org.
About Bright Funds
Bright Funds is a workplace philanthropy company headquartered in San Francisco, California. It partners with companies to provide them with a secure, global technology platform that supports employee giving, volunteerism and grants management.

Bright Funds Inc.
Bright Funds Inc.
Bright Funds empowers everyday donors to become strategic philanthropists. We support thousands of individuals in their personal giving, and we partner with the world's leading companies to bring impact-focused workplace giving to employees on a global scale. We help companies realize the true potential of a comprehensive corporate social responsibility (CSR) strategy that takes into account the demands and expectations of a new generation of donors.
More from Bright Funds Inc.