Published 01-23-19
Submitted by 3BL Forum
From left, John Friedman of WGL, Vanessa Garcia-Brito of NIKE and Meredith Ferguson of DoSomething Strategic at 3BL Forum 2018.
Presenter proposals are now being accepted for 3BL Forum, the annual gathering of purpose-driven corporate leaders eager to accelerate sustainable business through collaboration and learning.
 
The theme for 3BL Forum (http://www.3blforum.com) is "Brands Taking Stands – What's Next," focusing on the business drivers behind innovative and impactful corporate responsibility programs that are increasingly including social activism. The event will be held at MGM National Harbor, just outside Washington, D.C., Oct. 29-30.
 
"Corporate citizenship today is measured by progress across a broad environmental, social and governance agenda," said Dave Armon, CMO of 3BL Media and publisher of CR Magazine.  "By convening hundreds of business leaders for this important conversation, we will drive collaboration and hasten the pace of change."
 
Through a focus on Brands Taking Stands, 3BL Forum has become a central event both for "humble companies" intent on quietly doing important ESG work as well as brands eager to connect to social issues, said Armon, adding that the conference was used in 2017 and 2018 to release new research on corporate activism.
 
Prospective speakers, presenters, panelists and other thought leaders should access the Presenter Prospectus here and submit via email to forum@3blmedia.com.  Submission deadline for presenter proposals is April 1.
 
Key themes for 3BL Forum 2019 conference include:
Brands Taking Stands...the evolution continues

Employee activism

AI, blockchain and tech drivers for sustainable development

Not legacy VERSUS sustainable companies, but legacy AND sustainable businesses

Investor perspectives on ESG and sustainability

Imperative of a diverse and inclusive workforce and corporate culture

Filling the pipeline of talent for the future

Sustainability communications beyond ratings and rankings

Expectations of an activist, action-driven generation

Amplifying voices, not standing on the sidelines
3BL Forum will feature two days of dynamic and engaging speakers, panelists, conversations and interviews. In addition, many presenters will use the conference to announce new corporate initiatives or release significant research findings on corporate responsibility, talent acquisition, progress toward the United Nations Sustainable Development Goals (SDGs) and more. Conference attendees bring an array of corporate responsibility experience and expertise as they seek to learn and engage. To maximize the audience experience, the conference agenda will be fast paced and designed to cover a variety of topics and issues.
 
A key feature of 3BL Forum is the Awards and Recognition Dinner, where recipients of the CR Magazine Responsible CEO of the Year Awards will be announced. Nominations for this prestigious award may be submitted here.
 
We welcome submissions by CEOs, CR practitioners and senior leaders on topics related to Brands Taking Stands. If your proposal is accepted, 3BL Forum's executive producer will work with prospective presenters to identify where topic fits into the agenda and how to best showcase content at the conference, whether a main stage panel discussion, one-on-one interview, "issue table," break-out session or other format.
 
Companies participating in 3BL Forum in 2018 included ACCP | Aflac | Allstate | American Sustainable Business Council | APCO Worldwide | Aramark | Arrow Electronics | ascena retail group | Astellas | AvalonBay Communities | BCD Travel | Becton Dickinson | Berkshire Hathaway Energy Co. | Blackbaud | Bridgestone Americas | CBRE | CECP | Cone Communications | Corporate Citizenship | CR Miami | Crowe LLP | Danone NA | Discovery Education | Dix & Eaton | DoSomething Strategic | eBay | ERM CVS |Finn Partners | General Mills | GlobeScan | Good360 | Great Lakes Advisors | GRI | Hallmark Cards | Harris Poll | IBM | ICON | KraftHeinz | LG Electronics USA | LA Times | Mars Wrigley Confectionery | McCormick & Company | Medline |MGM Resorts International | MSL | National Basketball Players Association Foundation | New York Life Foundation |Nike | NPR | Owens Corning | P&G | Penguin Random House | Pirelli Tire NA | Points of Light | PwC | PYXERA Global |Quicken Loans | Realized Worth | Rolland Paper | Scotts Miracle-Gro | Smithfield Foods |Social Driver | Southbox Ventures | Silicon Valley Community Foundation | Swarovski | TD Bank Group | The Mosaic Company | TGR Foundation | Timberland | Tupperware Brands | U.S. Chamber of Commerce | UNDP Business Call to Action | Univision | UPS | VF Corporation | Waste Management | WGL Holdings | World Central Kitchen.
 
Titles of those in attendance included 33 C-Suite officers 21 CEOs; 47 SVPs, EVPs AND VPs; and
58 directors.  The event generated more than 2 million social media impressions using the hashtag #BrandsTakingStands.
 
About 3BL Media
 
3BL Forum is an annual gathering of corporate responsibility and sustainability practitioners with emphasis on networking, case studies, new research and compelling presentations from companies committed to making progress against an ambitious ESG agenda. The theme for 3BL Forum 2019 is Brands Taking Stands. 
 
The event is produced by 3BL Media, the world's leading communications partner for purpose-driven organizations. Through content distribution, multimedia promotion and hands-on learning experiences, we connect organizations to an unrivaled audience that is passionate about sustainable business.
 
We know your stories, perspectives and experiences only matter if they're heard, shared and acted on by the right people. We cut straight through the clutter so you always break through to the audiences who matter most.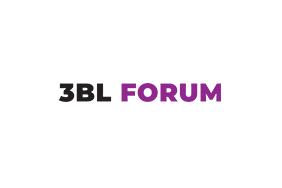 3BL Forum
3BL Forum
THE NEW YORK STAGE IS SET.
3BL Forum will continue its newly established tradition of bringing corporate leaders together on a fast-paced main stage, keenly focused on the 'why' and 'how' as business amplifies its leadership and elects to lead on environmental, social and governance issues.
Our main stage will feature legacy companies, sustainable businesses, NGOs and leading agencies. This 2-day conversation will be curated to bring forth new perspectives, nuances in thinking, candid insights, and revelations above and beyond the ordinary. 
3BL Forum is produced by 3BL Media, the world's leading communications partner for purpose-driven organizations.
More from 3BL Forum