Published 01-17-19
Submitted by Bloomberg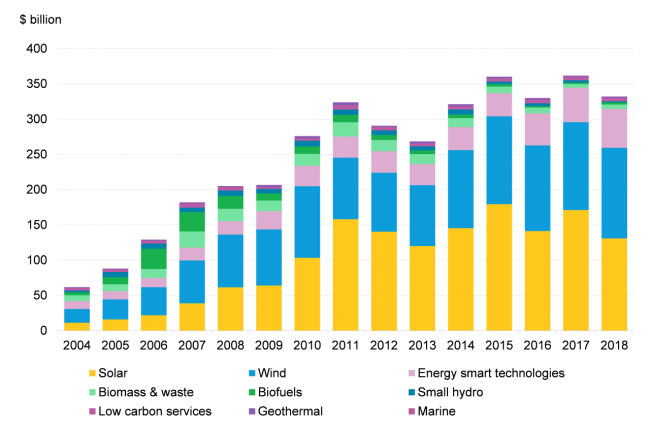 Global clean energy investment[1] totaled $332.1 billion in 2018, down 8% on 2017. Last year was the fifth in a row in which investment exceeded the $300 billion mark, according to authoritative figures from research company BloombergNEF (BNEF).
There were sharp contrasts between clean energy sectors in terms of the change in dollar investment last year. Wind investment rose 3% to $128.6 billion, with offshore wind having its second-highest year. Money committed to smart meter rollouts and electric vehicle company financings also increased.
However, the most striking shifts were in solar. Overall investment in that sector dropped 24% to $130.8 billion. Part of this reduction was due to sharply declining capital costs. BNEF's global benchmark for the cost of installing a megawatt of photovoltaic capacity fell 12% in 2018 as manufacturers slashed selling prices in the face of a glut of PV modules on the world market.
That surplus was aggravated by a sharp change in policy in China in mid-year. The government acted to cool that country's solar boom by restricting access for new projects to its feed-in tariff. The result of this, combined with lower unit costs, was that Chinese solar investment plunged 53% to $40.4 billion in 2018.
Continuing reading here 
More on BNEF's 2018 clean energy investment figures can be found at https://about.bnef.com/clean-energy-investment/.
---
[1] Investment in renewable energy excluding large hydro-electric projects, but including equity-raising by companies in smart grid, digital energy, energy storage and electric vehicles.

Bloomberg
Bloomberg
Bloomberg delivers business and markets news, data, analysis, and video to the world, featuring stories from Businessweek and Bloomberg News.
More from Bloomberg