Published 01-16-19
Submitted by American Refining Group, Inc.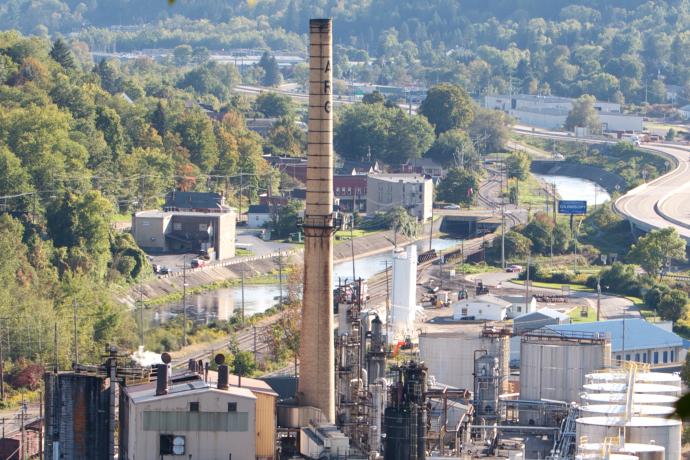 A fixture in the Tunungwant Valley for decades, the American Refining Group Inc. (ARG) boiler stack was demolished last summer. 
A $5.5 million investment replaced the refinery's only remaining coal boiler in 2016. The company commissioned its new, environmentally friendly and compliant boiler that fall. All three of ARG's massive boilers are now fired by cleaner, more-efficient natural gas, leaving no further need for the iconic stack.
Significant planning across all of ARG was required to prepare for the major demolition project, particularly ensuring that all appropriate safety and environmental-protection measures were in place from the start.
Visible for years from so many vantage points on all sides of the valley, it felt to some community members like the end of an era.
ARG President and Chief Operating Officer Jeannine Schoenecker said, "The familiar ARG flue-gas stack may be gone from the Bradford landscape, but its subtraction is actually another sign of the progress being made throughout our facility."
Regional reaction to news of the flue stack's demolition was so strong, company leaders came up with a way to both assuage the local nostalgia and give back to the community.
"It was fascinating to hear from people all over the country who were interested in having a piece of what was – to those who do or have lived and worked here – really a memorable and even iconic structure," Schoenecker said.
Bricks from the chimney were made available for a suggested donation of $5 to the McKean County Community Foundation. All proceeds and, perhaps most importantly, awareness generated by the event benefited the recently established McKean County Community Foundation's general Fund for the Future.
 "From individuals who grew up in the valley and could see the chimney out of their bedroom windows, to folks who worked at the Bradford refinery or have relatives who did, the interest exceeded our expectations," Schoenecker said. "So many people were disappointed to see the stack be torn down, but as a result we built up our new, but growing community foundation."
More than $1,000 was raised for the foundation from bricks that would've otherwise been disposed of. For more information about the MCCF, visit https://tinyurl.com/yb7lmcy9, send an e-mail to mccf@zitomedia.net, call (814) 834-2125 or follow the foundation on Facebook.
For more information about ARG, visit www.amref.com or follow the refinery on Facebook and LinkedIn.
--30-- 
Media contact:
Sara Furlong
Executive Communications Coordinator
American Refining Group, Inc.
77 N. Kendall Ave.
Bradford, PA  16701
sfurlong@amref.com

American Refining Group, Inc.
American Refining Group, Inc.
Our unique facility is situated on approximately 131 acres in Bradford, Pennsylvania, the heart of McKean County and the birthplace of the U.S. domestic oil industry more than 100 years ago. Our refinery has a rated capacity of 11,000 barrels per day and processes light sweet paraffinic crude. This type of crude is available domestically, and ARG purchases the majority of its crude from sources in Pennsylvania, Ohio, New York and West Virginia. ARG stocks are converted into high-quality waxes, lubricant base oils, gasoline and fuels, as well as a wide variety of specialty products. American Refining Group's state-of-the-art blending and packaging facilities are capable of producing a full spectrum of finished lubricant products. These products are available in a broad range of package sizes, including bulk, and can be delivered either by rail or truck. Our total commitment to quality is proven through our packaging plant and refinery being both ISO 9001:2008 and Made in USA certified.
More from American Refining Group, Inc.