Published 01-08-19
Submitted by Markstein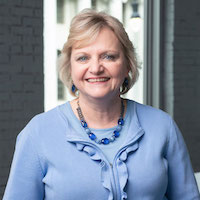 Markstein, a full-service marketing communications agency, today announced the opening of its Washington, D.C. office and appointment of Sheila McLean as president, Mid Atlantic. McLean will lead D.C. operations as Markstein expands to serve its rapidly growing issues/crisis, public affairs and advocacy work.
McLean brings decades of award-winning experience working in social purpose, sustainability, issues management, public affairs, media, corporate reputation and advocacy. Prior to joining Markstein, she spent 17 years with MSL, serving as the North America Social Purpose and Sustainability practice director and as managing director of the Detroit office. She led Safety and Environmental Affairs at Chrysler Corp., where she developed and launched an industry-leading child safety program. She also served as a communications officer for the C.S. Mott Foundation and a senior policy and external affairs advisor to Michigan Gov. John Engler.
"Our expansion into Washington, D.C. is a direct result of our high performing team's impactful work, which has fueled the steady growth of this agency," said Eileen Jaffe Markstein, chief executive officer. "With Sheila at the helm in D.C., we are well-positioned to continue elevating our agency's success. Her award-winning experience and deep commitment to exceptional client service is a perfect fit for Markstein and our clients."
Eileen and Danny Markstein co-founded Markstein in 2003, growing the firm to a team of almost 40 today. Markstein provides a full suite of marketing communications services, including public relations, public affairs, digital influence, crisis communications, sports marketing, creative development and media planning and buying. The firm has experienced double digit growth each of the last seven years, and is a certified Woman Business Enterprise and Woman-Owned Small Business. The Birmingham Business Journal named Markstein a Best Place to Work in 2016 and 2017.
"Markstein's integrated approach and strong cultural commitment to talent and client service differentiates the agency," McLean said. "As an independent firm with a proven track record, Markstein is poised for exponential growth. Clients increasingly are seeking partners who deliver business results and are agile enough to adapt to the rapidly-changing market."
Markstein works across a variety of industries with clients including Walmart, Encompass Health, Colonial Pipeline, Diversified Gas & Oil, Aviation Works 4U, Tenet Healthcare, Royal Cup Coffee & Tea, Thompson Tractor Company, Mayer and The World Games 2021 Birmingham.
About Markstein
Markstein, a full-service marketing communications agency, generates impactful results for its clients with its strategy-first, messaging-centric approach. We combine meaningful research and strategic thinking with proactive outreach to control messages, shape perceptions and motivate behavior among diverse audiences toward desired outcomes. Markstein, a certified woman-owned business, was founded in 2003 and serves clients nationwide from its Birmingham, Ala. headquarters and Washington, D.C. office. To learn more visit markstein.co.
###

Markstein