Published 12-18-18
Submitted by ArcelorMittal
On December 17, 2018, ArcelorMittal USA announced that 14 nonprofit partners will receive funding support totaling $325,000 as part of the company's special community investment program, "Building Resilience: Investing in Nonprofit Sustainability."
Launched in 2017 as a pilot program, the Building Resilience program extends ArcelorMittal's corporate giving strategy to focus on the sustainability and resiliency of its existing nonprofit partners. The program invests in areas of nonprofit management that are traditionally underfunded by foundations and corporations yet could have a significant impact on the long-term sustainability of the nonprofit organization.
The 14 nonprofit organizations selected to receive 2018 Building Resilience funds are in the Calumet region (Chicagoland and Northwest Indiana), Ohio, Pennsylvania, Alabama and Minnesota. The average grant size is $23,000. The 2018 funding will help to ensure grantees have the necessary resources to complete projects in the following areas:
Strategic planning
Professional development
Sustainability planning
Diversity and inclusion training
Technology implementation and data management
Fundraising enhancement or expansion
"Resiliency is at the core of our work at ArcelorMittal. This means that from our products and business strategy to the implementation of our 10 sustainable development outcomes, we believe in driving innovation, building capacity and increasing sustainability," said Bill Steers, general manager of corporate responsibility at ArcelorMittal Americas. "We are proud to extend this commitment to our local community nonprofit partners."
ArcelorMittal received more than 55 applications for this year's grant initiative. A full list of the 2018 Building Resilience cohort and their projects is available here.
Last year, 14 Building Resilience grantees received a total of $318,500 and reported that the funding catalyzed critical capacity building work that they might not have otherwise prioritized. In addition to financial support, ArcelorMittal provided Building Resilience grantees with communications tools, resources and training opportunities. The corporate responsibility team hosted professional development workshops in Cleveland and Northwest Indiana where nonprofit partners gathered to share challenges, successes and best practices regarding project implementation. 
"I really enjoyed getting together with other nonprofits in the Building Resilience initiative and learning about their projects and impact. We all shared a lot of resources and have projects that we are going to be collaborating on together in the future," said Michelle Krueger, grants specialist at the Dunes Learning Center. "The expertise that the ArcelorMittal staff brought was amazing in regard to communications and the different resources that we can bring back to our nonprofits."
Earl Pike, executive director of University Settlement, a 2017 Building Resilience grantee, explained, "Beyond just providing the grant, there has been a constant communication between us and the ArcelorMittal team about what's happening with the grant, what is working, what's not working, and how we can continue to improve our community together. They are really attempting to build resilience in the organizations that they are supporting through this initiative."
Annually, ArcelorMittal USA invests $6.9 million in grants and matching donations to nonprofit partners working in its communities. The company's giving strategy is focused on supporting STEM (science, technology, math and engineering) education, environment and health and safety programming. 
"When selecting our nonprofit partners for the Building Resilience initiative, we look for projects that are transformative for the nonprofit organization as well as the greater community," said Beth Spurgeon, executive director of the ArcelorMittal USA Foundation. "Last year's cohort of funded Building Resilience grantees achieved incredible outcomes in just nine months. From funding an organization's first-ever strategic plan to critically-needed professional development trainings for nonprofit staff, we contributed to the long-term sustainability and resilience of our trusted partners. We look forward to seeing continued impact from the 2018 cohort of Building Resilience grantees."
Kittie Warshawsky, chief external affairs officer at College Now Greater Cleveland, another 2017 grantee, shared, "ArcelorMittal is a committed partner to nonprofit organizations across our region. They recognize that nonprofits run on very tight shoestrings and oftentimes just a little bit of additional one-shot funding really enables an organization to do something that they haven't been able to do but they want to do. In our case, it was building capacity around advocacy. ArcelorMittal trusts the nonprofit to figure out what the organization needs and then gave us the tools to do that."
About ArcelorMittal
ArcelorMittal is the world's leading steel and mining company, with a presence in 60 countries and an industrial footprint in 19 countries. Guided by a philosophy to produce safe, sustainable steel, we are the leading supplier of quality steel in the major global steel markets including automotive, construction, household appliances and packaging, with world-class research and development and outstanding distribution networks. 
Through our core values of sustainability, quality and leadership, we operate responsibly with respect to the health, safety and well-being of our employees, contractors and the communities in which we operate.
For us, steel is the fabric of life, as it is at the heart of the modern world from railways to cars and washing machines. We are actively researching and producing steel-based technologies and solutions that make many of the products and components people use in their everyday lives more energy efficient. 
We are one of the world's five largest producers of iron ore and metallurgical coal. With a geographically diversified portfolio of iron ore and coal assets, we are strategically positioned to serve our network of steel plants and the external global market. While our steel operations are important customers, our supply to the external market is increasing as we grow. 
In 2017, ArcelorMittal had revenues of $68.7 billion and crude steel production of 93.1 million metric tons, while own iron ore production reached 57.4 million metric tons. ArcelorMittal is listed on the stock exchanges of New York (MT), Amsterdam (MT), Paris (MT), Luxembourg (MT) and on the Spanish stock exchanges of Barcelona, Bilbao, Madrid and Valencia (MTS). 
For more information about ArcelorMittal please visit corporate.arcelormittal.com or usa.arcelormittal.com.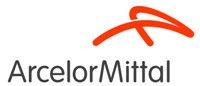 ArcelorMittal