Published 12-18-18
Submitted by UNFCU Foundation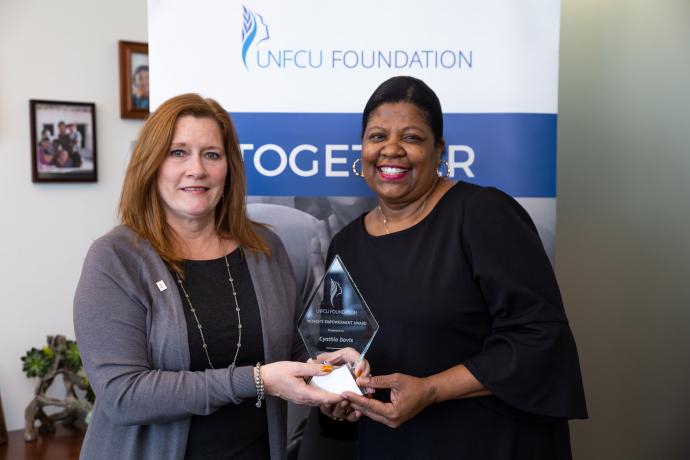 Above: Cynthia Davis (right), 2018 UNFCU Foundation Women's Empowerment Award recipient, with Pamela Agnone (left), UNFCU Foundation President and Director (Photo credit: Mohammad Sharfuddin) | Below: Click here to watch video
The UNFCU Foundation recently honored Cynthia Davis, Director of Outreach for The Floating Hospital's Community Health Center, with its 2018 Women's Empowerment Award. During a reception hosted by the UNFCU Foundation at the Columbus Citizens Foundation in New York, Ms. Davis was recognized for her passion and tireless local advocacy to end poverty. The mission of the UNFCU Foundation supports the UN Sustainable Development Goals to sustain the path out of poverty for women and youth through healthcare and education.
During her 18-year tenure at the Floating Hospital, Ms. Davis has been committed to removing the stigma of mental health issues. She launched the Floating Hospital's new Community Health Center in 2008, as its Director of Outreach. Under Ms. Davis' guidance, the center has become an integral part of the Long Island City community, serving more than 6,000 patients annually.
To see how UNFCU Foundation's support of the Floating Hospital is making a difference in the lives of thousands of women and their families across New York City, watch this video.
"I am grateful to be the direct connection between the UNFCU Foundation and the community that I serve to help end the cycle of poverty," said Ms. Davis. "Good health opens doors to education and economic opportunities and together, we are having an impact."
"It takes a collaborative effort to serve the most marginalized women and youth in New York City – the medically underserved and uninsured citizens of all five boroughs," said Pamela Agnone, president and director of the UNFCU Foundation. "Our entire organization is inspired by Ms. Davis' determination and the steady progress being made by the mental healthcare patients under the Floating Hospital's care." 
In receiving the UNFCU Foundation Women's Empowerment Award, Ms. Davis joins a distinct group of women who have received the award since its inception in 2015:
Ms. Davis, a native New Yorker, also serves on the advisory boards for People's United Methodist Head Start, Allied Hostos Community College Health Career Pipeline Program, Goodwill Beacon 141, the National Naturally Occurring Retirement Community, and the Family Building Community Resource Center.  She is the Vice Chairperson of the Ravenswood's Community Drug Free Coalition and is a mentor for numerous at-risk teens in Astoria, Queens.
About UNFCU Foundation
UNFCU Foundation is a New York-based, non-profit corporation established by the United Nations Federal Credit Union (UNFCU) with a mission to sustain the path out of poverty through healthcare and education for women and children. Since its launch in 2015, the UNFCU Foundation has benefitted thousands of women and youth living in extreme poverty around the world. To learn more, visit www.unfcufoundation.org and follow UNFCU Foundation's progress on Twitter at @UNFCUFoundation and on Facebook at facebook.com/unfcufoundation.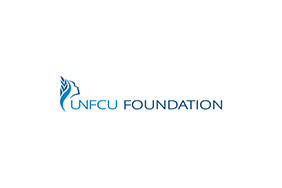 UNFCU Foundation
UNFCU Foundation
United Nations Federal Credit Union (UNFCU) launched the UNFCU Foundation in February 2015, with the purpose of funding projects that reduce poverty through education and healthcare, especially among women and children in developing countries and New York City.
The UNFCU Foundation, a New York based 501(c)(3) organization, supports initiatives that:
Work to eradicate poverty and hunger
Empower women and youth by offering them opportunities for self-development and economic advancement
Promote well-being and provide access to healthcare for women and their families
Provide disaster relief
More from UNFCU Foundation