Published 12-19-18
Submitted by Radisson Hospitality Belgium SPRL/BVBA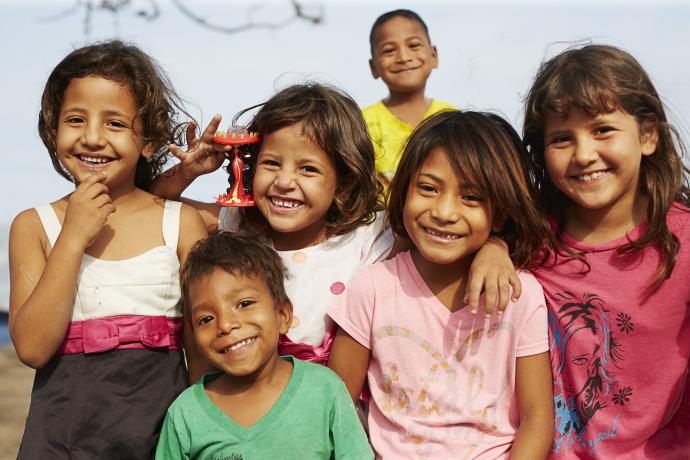 Above SOS Children™s Villages Ecuador
Below Click here to watch video
No child should grow up alone. That's why, across 135 countries, SOS Children's Villages International offers the most vulnerable children more than just food and shelter. It also gives them the chance to have a loving family and a bright future. In March 2018, Radisson Hotel Group was proud to join the cause, launching its global partnership with SOS Children's Villages. We firmly believe in young people and the future they can create, so it makes sense that – as a leader in the hospitality industry – we do what we can to help SOS Children's Villages provide the loving, safe and healthy life that all children deserve.
As part of our partnership, our hotels around the world work with SOS Children's Villages to provide food, shelter and a better future for children. They do this through fundraising efforts, skill-based volunteering, donations, and by offering traineeships to young people moving on from the SOS Children's Villages and into adult life. This is our way of positively contributing to the UN's Sustainable Development Goals; in particular to No Poverty (Goal 1), Good Health and Wellbeing (Goal 3), Quality Education (Goal 4), and Reduced Inequalities (Goal 10).
You can see the positive effect SOS Children's Villages has in the countless success stories of individual children who had lost the care of their parents and today have become successful independent adults. One example we're hugely proud of at Radisson Hotel Group is the story of Luis Pedro, who has now been working at one of our hotels in Maputo, Mozambique for more than five years. His success is wonderful, and we're proud to have him on our team.
Another similar story is that of Dalitso, a young man in Zambia who grew up in an SOS Children's Village. He was invited to participate in a training program at the Radisson Blu Hotel, Lusaka – and was an instant hit with the team. Due to Dalitso's dedication and hard work, his managers were delighted to offer him a job as a chef at the hotel. He has so much talent, which gives him the financial freedom and independence to support not just himself but his family, too. All he needed was that one opportunity – and that's exactly what SOS Children's Villages and Radisson Hotel Group gave him.
These stories are amazing and emotional, but we at Radisson Hotel Group recognize that need to do more. Our target at Radisson Hotel Group is to help many more children make the journey along the same path and achieve similar fantastic growth. That's why, as part of our Destination 2022 strategic plan, Radisson Hotel Group aims to provide 1,400 young people with training opportunities every year. As a further step, within the wider industry, the largest hotel brands have collectively committed to training a million underprivileged young people by 2030 – and we're keen to play our part in this.
As well as offering training, we take part in fundraising for SOS Children's Villages, which is done in various ways. One that really stands out is our Make A Difference campaign. This is driven by a desire to create massive momentum for SOS Children's Villages by informing our guests about the organization's vital work as we promote our business. Running across our Asia Pacific (APAC) hotels from 22 October 2018 to 31 March 2019, the campaign helps our guests get involved. For every room night booked directly, we'll donate $1USD to SOS Children's Villages. You can watch the video clip below to see more:
What's pleasing to see is that our efforts are making more of a difference as our teams become more involved. To date, our hotels around the world have supported the education and upbringing of roughly 700 children, but we're always working to do more. Our pledge is to have every single one of our hotels and the members of our leadership team sponsoring at least one child each.
We're finding new ways to give our guests the opportunity to offer support as well. As of December 2018, millions of Radisson Rewards members around the world have the chance to donate their Reward points to SOS Children's Villages. And people are keen to be part of the effort, with funds being used for the full spectrum of SOS Children's Villages' work: quality care, safeguarding children, advocacy, teaching & training and protecting children in emergencies.
With the Festive Season just around the corner, our hotels are adding a little bit of extra sparkle to their activities with their Wishing Trees. The idea behind this is that, in hotels and offices, guests and employees alike can purchase cards and write wishes to the SOS program participants. The proceeds of the card sales are then donated to SOS Children's Villages. And, once the tree is full of cards, it's donated to the local SOS Children's Village along with the funds raised. It's yet another way to give something back to our communities.
We're delighted to be partnered with SOS Children's Villages and are committed to ensuring that no child grows up alone.
Radisson Hospitality Belgium SPRL/BVBA