Published 11-30-18
Submitted by Mohawk Industries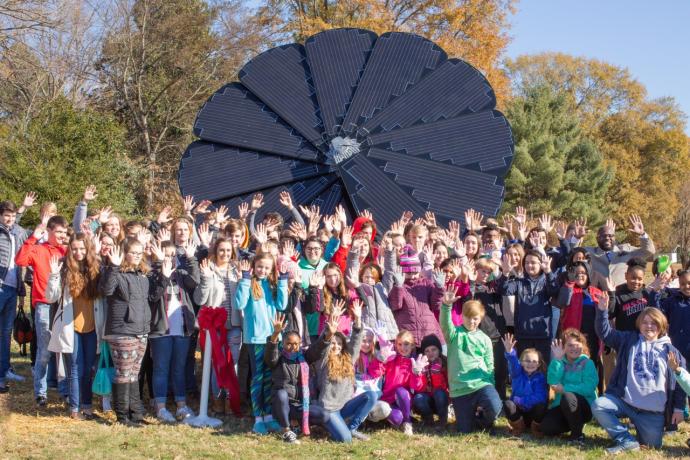 Mohawk Group and nonprofit Groundswell have teamed up to locate a new smartflower™ solar energy unit near three Rockingham County Schools in North Carolina—a project that will bring the benefits of clean solar power to the area, create educational opportunities for students and also contribute to Mohawk's sustainability efforts to leave more handprints than footprints.
The smartflower technology was unveiled on Nov. 29 at a special event in Eden, N.C., which is also the home of Mohawk's historic Karastan woven carpet plant. The mill celebrated its 90th anniversary of operation this year. Planted on the campus of Eden's Central Elementary School, the smartflower is located adjacent to Holmes Middle School and Morehead High School.
"We are especially proud to be part of this project and be able to invest in the Eden community where many of our colleagues live and work," said George Bandy Jr., Mohawk's vice president of sustainability and commercial marketing. "In creating our Living Products, we want to be a strategic community partner and use our handprints to connect the next generation with STEM programs and innovative technologies that support a sustainable future."
Mohawk Group has engaged in this special partnership with Groundswell to reduce greenhouse gas emissions and offset the energy and resources used during some of its manufacturing processes. The smartflower installation in North Carolina is part of Mohawk's handprinting strategy for two of its latest Living Product Challenge Petal certified flooring products: Pivot Point enhanced resilient tile and Sunweave woven broadloom/area rug.
Both Pivot Point and Red List-free Sunweave, which is crafted from Mohawk Group's award-winning yarn system, Heathered Hues, are designed to give more back to the environment than they take during their entire life cycle. Sunweave is manufactured in Eden.
Project partner Groundswell develops community solar projects and subscriber management programs that connect solar power with economic empowerment for the communities served. "Our mission is to build community power, and we're thrilled to partner with Mohawk to connect this solar installation with the Eden, N.C. community's vision for empowering its young people through education," said Michelle Moore, CEO of Groundswell. "North Carolina is a solar leader, and the solar industry creates one in 50 new jobs in America. We look forward to a future where the bright young minds of Eden are powering the solar industry."
Karen Hyler, Rockingham County Schools public information officer, also noted the exciting learning opportunities through the innovative donation of the smartflower. "Rockingham County Schools is excited to benefit from the unique partnership between Mohawk, Groundswell and other project partners," she said. "The future of our planet lies in the hands of our young people. The ability to put those hands-on renewable energy tools and education to learn firsthand about the importance of preserving and properly utilizing our natural resources is truly a gift that will keep on giving for years to come for members of our community."
The solar energy project in North Carolina is the second of 10 smartflowers to be established across the U.S. as part of a three-year partnership between Mohawk Group and Groundswell.
About Mohawk Group
As the world's leading producer and distributor of quality commercial flooring, Mohawk Group believes that better floor coverings emerge from better design, innovation, sustainability, project solutions and operational excellence. Mohawk Group addresses the unique challenges and opportunities in contract interiors with a comprehensive carpet and hard surface portfolio of all types and price points. As the commercial division of Mohawk Industries, the company has a heritage of craftsmanship that spans more than 130 years. To learn more about our full line of flooring products, please visit MohawkGroup.com.
About Groundswell 
Groundswell is a 501c3 nonprofit that builds community power. Groundswell develops community solar projects and subscriber management programs that connect solar power with economic empowerment, enabling neighbors to work together to Share Power™ and substantial energy savings with low-income households. Groundswell believes that clean energy is a necessity, not a luxury; we're all in this together; and we can't afford to leave our neighbors behind. To learn more, visit Groundswell.org.
###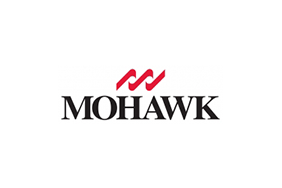 Mohawk Industries
Mohawk Industries
Mohawk Industries: Mohawk Industries is the leading global flooring manufacturer that creates products to enhance residential and commercial spaces around the world. Mohawk's vertically integrated manufacturing and distribution processes provide competitive advantages in the production of carpet, rugs, ceramic tile, laminate, wood, stone and vinyl flooring. Our industry-leading innovation has yielded products and technologies that differentiate our brands in the marketplace and satisfy all remodeling and new construction requirements. Our brands are among the most recognized in the industry and include American Olean, Daltile, Durkan, Karastan, Marazzi, Mohawk, Mohawk Group, Pergo, Unilin, Quick-Step and IVC. During the past decade, Mohawk has transformed its business from an American carpet manufacturer into the world's largest flooring company with operations in Australia, Brazil, Canada, Europe, India, Malaysia, Mexico, New Zealand, Russia and the United States.
More from Mohawk Industries