Published 11-29-18
Submitted by Coca-Cola European Partners
CCEP is making a new strategic investment to purchase from Loop Industries a supply of 100% recycled PET (rPET) plastic to accelerate the increased use of recycled materials in the creation of its bottles. 
Ron Lewis, Chief Supply Chain Officer, CCEP, said: "This is an important investment as it directly supports our sustainability action plan, This is Forward. As part of This is Forward, we've committed to ensuring that at least 50% of the material we use for our PET bottles comes from recycled plastic by 2025. This is part of a holistic strategy focused on creating a more circular packaging economy." 
CCEP expects to be using Loop rPET in its product packaging by early 2020, and it supports the Coca-Cola System's global vision to work toward a World Without Waste. Loop is a provider of enhanced recycling technology that makes available new sources of high quality rPET, which previously could not be used due to colorant or other recyclability obstacles.
For more information on the announcement, please see the Loop press release here.
About CCEP
Coca-Cola European Partners plc is a leading consumer goods company in Western Europe, selling, making and distributing an extensive range of non-alcoholic ready-to-drink beverages and is the world's largest independent Coca-Cola bottler based on revenue. CCEP serves a consumer population of over 300 million across Western Europe, including Andorra, Belgium, continental France, Germany, Great Britain, Iceland, Luxembourg, Monaco, the Netherlands, Norway, Portugal, Spain and Sweden. CCEP is listed on Euronext Amsterdam, the New York Stock Exchange, Euronext London and on the Spanish stock exchanges, trading under the symbol CCEP. For more information about CCEP, please visit our website at www.ccep.com and follow CCEP on Twitter at @CocaColaEP.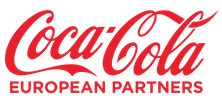 Coca-Cola European Partners