Published 10-15-18
Submitted by 3BL Media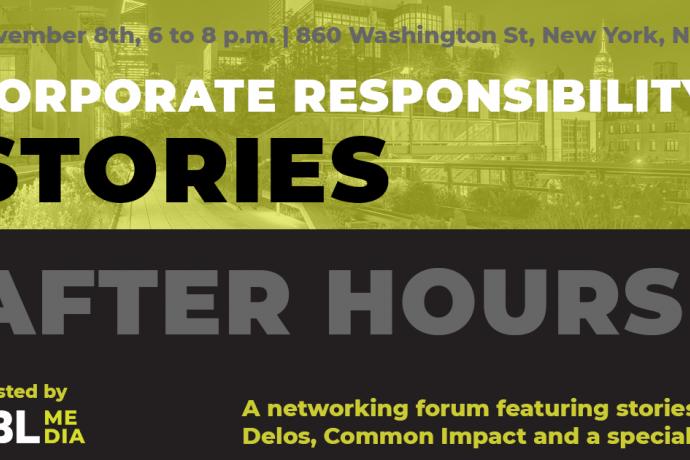 3BL Media, the world's leading communications partner for purpose-driven organizations, will host the next in its series of Corporate Responsibility Stories after-hours events on Nov. 8 at the headquarters of Delos, near Manhattan's High Line. 
The event will feature Delos Director Janna Wandzilak, Common Impact CEO Danielle Holly, and a special guest, each of whom will share their perspectives on sustainable business from the perspective of the practitioner. 3BL Media CMO Dave Armon will act as moderator.  
"We are thrilled to convene the growing community of sustainability and CR professionals, and those who partner with them, to enjoy a cocktail reception and engage with peers who are driven by purpose," said Armon. 
Corporate Responsibility Stories will be held from 6 to 8 p.m. on Nov. 8 at Delos, 860 Washington St., just a block from the High Line in Manhattan's Meatpacking District. 
The event is free and open to professionals focusing on environmental, social and governance (ESG) functions, including communications, marketing, employee engagement, corporate social responsibility, foundation, human resources, investor relations, community relations, public affairs, supply chain and diversity & inclusion. 
This forum will feature the following business leaders:
Janna Wandzilak, Director, Delos

Danielle Holly, CEO, Common Impact

Special Guest
Moderated by Dave Armon, CMO, 3BL Media
About the Panel:
Janna Wandzilak: In her role at Delos, Wandzilak works to transform indoor environments to focus on the people that spend time within them. She enjoys working with members of project teams to advise them about healthy and sustainable design, operations and policies. Additionally, as the Materials Specialist, Wandzilak draws upon her knowledge of healthy and sustainable materials/products to offer clients the best solutions when designing and constructing their buildings. She also serves as a Steering Committee Member of mindful MATERIALS, through which she strives to forward the healthy and sustainable materials industry and provide access to healthy materials for everyone.
Prior to joining Delos, Wandzilak was a senior sustainability consultant at Closed Loop Advisors, where she advised clients on sustainability strategy, monitoring and analytics, and green building and certifications. Wandzilak received her Bachelor's degree from Dartmouth College in Environmental Studies with a minor in Psychology. She serves as vice chair of IFMA NYC's Sustainability Committee and is a member of the Living Building Challenge NYC Collaborative. Wandzilak has her WELL AP, LEED AP BD+C and is also a Living Building Challenge Ambassador.
Danielle Holly: Holly is dedicated to creating previously unseen pathways for individuals to meaningfully contribute to making their communities thrive.  She envisions a world where every person is able to bring their values and personal mission to their day jobs, integrate healthy and sustainable personal lives and, as a result, have the drive and energy to make our communities more equitable and vibrant.
As CEO of Common Impact, Holly has supported hundreds of nonprofit organizations on positioning and branding strategies to more effectively scale their models of social impact.  In addition, Danielle has helped numerous corporations navigate the new era in corporate social responsibility and skills-based volunteering, including global powerhouses JPMorgan Chase, Charles Schwab, Marriott International, and Fidelity Investments. She is a contributing writer for Nonprofit Quarterly on strategic corporate engagement.  She is a member of the NationSwell Council, and has served on the Board of Directors for the Young Nonprofit Professionals Network and Net Impact NYC.
To RSVP visit http://go.3blmedia.com/cr-stories-after-hours
About 3BL Media
3BL Media is the world's leading communications partner for purpose-driven organizations. Through content distribution, multimedia promotion and hands-on learning experiences, we connect organizations to an unrivaled audience that is passionate about sustainable business.
About Delos
As the pioneer of Wellness Real Estate™, Delos is transforming our homes, offices, schools, and other indoor environments by placing health and wellness at the center of design and construction decisions. Delos helps create spaces that actively contribute to human health, performance and well-being by marrying the best innovations in technology, health, science, and real estate. The Delos platform includes programming, design, consulting, research, and an array of innovative solutions and technologies designed to improve health and well-being. More information on Delos is available at www.delos.com. 
Contact: 
Dave Armon of 3BL Media
darmon@3blmedia.com
1.802.444.0177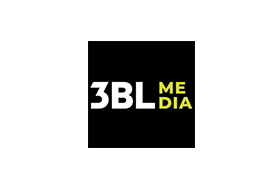 3BL Media
3BL Media
3BL Media is the world's leading communications partner for purpose-driven organizations. Through content distribution, multi-media promotion and hands-on learning experiences, we connect organizations to an unrivaled network of sustainability professionals, journalists, bloggers, investors, academics, policymakers and influencers who are passionate about engaging on topics like education, environment, community involvement, supply chain and circular economy, volunteering and the Sustainable Development Goals.
More from 3BL Media