Published 10-01-18
Submitted by Yorkshire Building Society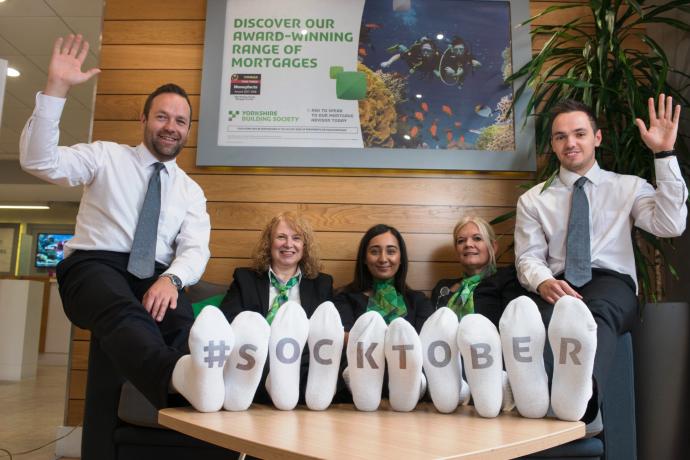 Yorkshire Building Society are launching their Socktober campaign
Yorkshire Building Society colleagues from Edinburgh to Exeter are calling out for donations of new pairs of socks and other items to help support homeless people.
The Society is relaunching its month-long Socktober appeal throughout October due to the impact of the campaign last year.
The campaign is part of the Society's charity partnership with End Youth Homelessness (EYH) and to raise awareness of World Homeless Day on Wednesday 10 October.
Donations of new pairs of socks, toiletries and interview clothes plus other items such as woolly hats, gloves, scarves, can be made at all the Society's branches and agencies across the UK.
The Society is also raising money for EYH and is asking the public to support Socktober by making a donation to the campaign and posting a picture of themselves online with their favourite socks on 10 October with the hashtag #socktober.
An estimated 86,000 young people in the UK are homeless.
Sasha Pauley, Charity Partnership Manager for Yorkshire Building Society, said: "This is our second Socktober campaign and we are hoping to make it as sock-cessful as last year. This year as well as donations of socks, we are also asking for toiletries, interview clothes, woolly hats, gloves and scarves and every single item will go to a homeless person.
"We're really proud of our partnership with End Youth Homelessness and providing help for young people in need. Thanks to donations from people all over the UK we have been able to help 138 young people into their own rented homes.
"The money that is raised funds our bespoke Rent Deposit Scheme which provides young people access to a deposit guarantee home essentials grants and practical help for living independently. I would like to thank everyone who has supported us so far and would ask people to donate what they can to help us give homeless young people a chance to build a successful future."  
Through the course of the Society's three-year partnership with EYH it aims to raise £750,000.
EYH is a UK wide movement, bringing together local charities to tackle youth homelessness on a national scale.
Charlotte Milner, Senior Corporate Partnerships Officer for End Youth Homelessness, said: "Every year 86,000 young people are homeless in the UK. Through our partnership with Yorkshire Building Society we are not only supporting homeless young people into their own rented homes, we are also aiming to break down the barriers that homeless young people face."
Donations can be made at www.justgiving.com/socktober18 or by simply texting SOCT70 followed by the amount you would like to donate £1, £2, £3, £4, £5 or £10 to 70070.
To find a branch or agency to donate any items please visit www.ybs.co.uk/contact-us/branch-finder.html.
ENDS
CRPR89-18
Notes to Editors
*Source: Centrepoint's Youth Homelessness Databank - www.yhdatabank.com
Yorkshire Building Society's charity partnership with End Youth Homelessness supports its corporate responsibility strategy, Society Matters, and its ambition to make a lasting positive impact on society.
To find out more about the Society Matters strategy, please visit www.ybs.co.uk/societymatters .
About Yorkshire Building Society
Yorkshire Building Society has assets of £42.0 billion and has more than 3 million customers.
The YBS Group includes Yorkshire Building Society and its brands Chelsea Building Society and Norwich & Peterborough Building Society, and its subsidiary companies including Accord Mortgages Limited. 
For more information on Yorkshire Building Society visit www.ybs.co.uk
For further media information please contact:
Press Office on 0345 1200 890 
About End Youth Homelessness
End Youth Homelessness (EYH) is a national movement to end youth homelessness in the UK.
EYH brings together local charities to tackle youth homelessness on a national scale.
Each EYH charity works in its own way to meet the needs of local young people; all sharing a belief in giving homeless young people the opportunity to turn their lives around; build high aspirations and move on to successful and independent lives.
EYH works directly with over 26,000 young people who are amongst the most deprived in the UK.
History:
EYH was founded in 2010 by EYH charity Centrepoint, after its patron, HRH the Duke of Cambridge, challenged the charity to end youth homelessness.
Members:
The charities supported through End Youth Homelessness are: 1625 Independent People (Bristol), Aberdeen Foyer (Aberdeen), The Amber Foundation (Surrey, Wiltshire, and Devon), St. Basils (West Midlands), The Benjamin Foundation (Norfolk), Centrepoint (Barnsley, Bradford, London, Manchester, and Sunderland), Llamau (Wales), MACS (Belfast), The Rock Trust (Edinburgh, West Lothian, Glasgow), and Roundabout (Sheffield), Step by Step (Hampshire).
https://www.ybs.co.uk/media-centre/news/socktober/index.html


Yorkshire Building Society