Published 09-26-18
Submitted by Benevity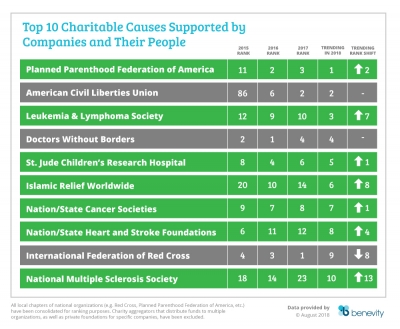 Top 10 Charitable Causes Supported by Companies and Their People
Benevity, Inc., the global leader in corporate social responsibility and employee engagement software, today announced its annual trend data on the "Top Ten Causes" that have been supported by Benevity clients and their people this year to date, as well as the shifts in top donation recipients between 2015 and 2018. The trends across the previous three full calendar years show that donations to organizations tied to current social and human rights issues—which spiked between 2015 and 2016—continue to remain high, while disaster relief and health-related organizations are also receiving a large amount of support.
Most notably, half of the top ten causes receiving donations this year are related to crisis relief or are in response to current events, with natural disasters prompting donations to Red Cross and Doctors Without Borders while debates around immigration and healthcare continue to rally ongoing support for organizations like Planned Parenthood, American Civil Liberties Union and Islamic Relief. In fact, Benevity saw double the number of companies publishing relief campaigns this year compared to the year previous, with a staggering $327 million being donated to 22,000 relief, human services, advocacy and related organizations overall. 
"Last year, we saw that the political election cycle in the U.S. and elsewhere sparked more interest in social justice and human rights-related causes," said Bryan de Lottinville, Benevity Founder and CEO. "Now, giving in response to current events appears to be the 'new normal,' with many of the same organizations occupying the top spots this year. But while it's interesting to see which charities are trending, what's most important is that the data shows companies are using our platform to empower their people to give in a way that's personal and responsive to what's happening in their communities and the world around them. It's less about backing a specific cause chosen by the company, and more about companies backing their people and their passions. There is tremendous power in galvanizing small prosocial actions, and we're seeing users of our platform embrace that."
"The ACLU is nearly 100 years old and it was just over one year ago that we launched a corporate engagement program, thanks in part to the groundswell of employee giving – powered by Benevity," said Danielle Silber, Director of Strategic Partnerships at American Civil Liberties Union. "Through Benevity, we're seeing that companies and their employees are expressing their commitment to civil rights and the protection of democracy. For example, when the family separation crisis came to light earlier this year, the Benevity client community showed an outpouring of support for immigrants' rights with a spike in donations to ACLU – nearly two and a half times the amount seen in any of the preceding four months. That support emboldened companies to join the public outcry, which was critical in pressing the government to reunify families."
In addition to human rights and relief campaigns, health-related causes have also received a large amount of support from Benevity clients and their people in 2018, with Leukemia & Lymphoma Society, St. Jude Children's Research Hospital and National/State Cancer, Heart & Stroke and Multiple Sclerosis Societies all making the Top Ten Causes list.   
Benevity also recently released data from its global client community of enterprise companies. This research shows that corporate giving is becoming more employee-centric overall, with giving and volunteering programs prioritizing more choice, the ability to respond quickly to changing needs and crises, and inclusiveness so that more people can participate. For more on this and other Goodness-related topics, visit Benevity's Ideas & Insights blog. 
About Benevity
Benevity, Inc., a certified B Corporation, is the global leader in corporate social responsibility and employee engagement software, including online giving, matching, volunteering and community investment. Many of the world's most iconic brands rely on Benevity's award-winning cloud solutions to power corporate "Goodness" programs that attract, retain and engage today's diverse workforce by connecting people to the causes that matter to them. With software that is available in 17 languages, to an employee base of 10 million users around the world, Benevity has processed over 2 billion dollars in donations and 10 million hours of volunteering time this year to almost 150,000 charities worldwide.
Media Contact
Amanda Orr
Kickstart for Benevity
1-323-601-5734
press@benevity.com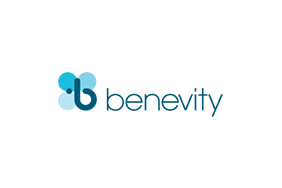 Benevity
Benevity
Benevity's microdonation software is the engine for socially responsible businesses to engage their customers, employees and others (such as their supply chain or advertisers) in optional charitable giving. Benevity lets companies embed user-directed, tax-receiptable donations and corporate matching programs into their existing transaction environments, using their own brands and systems. Benevity makes it easy for companies to build authentic and impactful cause marketing, workplace giving and other social responsibility initiatives that increase engagement, brand differentiation and return on investment, while tying directly to business activities that drive the company's bottom line. Benevity's goal is to help build user-driven giving opportunities into all types of existing online interactions to involve customers and employees in giving to causes they care about; building greater loyalty, differentiation and customer and employee stickiness. Benevity wants to help companies and their customers, employees and partners turn "feel good" into real good, and change the landscape of philanthropy in the process.
More from Benevity