Published 08-20-18
Submitted by DICK'S Sporting Goods
Today, The DICK'S Sporting Goods Foundation announced that it would fully-fund all baseball and softball Sports Matter projects currently on DonorsChoose.org. Since 2015, The DICK'S Foundation has donated over $4.3 million, as part of its Sports Matter initiative, to support more than 650,000 young athletes across all 50 states via DonorsChoose.org.
This announcement comes on a day where Sports Matter is being celebrated with #SportsMatterMonday at the 2018 Little League Baseball® World Series (LLBWS). Today, all participants at the LLBWS will wear green DICK'S Sporting Goods Foundation Sports Matter caps and laces to recognize the importance of youth sports around the world. Both these caps and laces may be found online at www.dicks.com and in select DICK'S stores; a portion of all hat sales are donated back to youth sports via Sports Matter. In addition, all LLWS games played today will use a baseball featuring the Sports Matter logo.
"Over the past three years, the DICK'S Foundation has provided a dollar for dollar match on all qualifying team sport projects through DonorsChoose.org, helping thousands of teachers and coaches who need resources for their young athletes," said Lauren Hobart, President of DICK'S Sporting Goods and The DICK'S Sporting Goods Foundation. "At DICK'S, we truly believe that sports make people better and our Foundation's goal is to ensure that all kids who want to play have an opportunity to do so." 
Outside of baseball this summer and through the Sports Matter program, both DICK'S and The DICK'S Foundation partnered with influential coaches and athletes to provide over $185,000 to local youth sports teams. 
Last month, Oakland Raiders Head Coach and Sports Matter Ambassador, Jon Gruden joined forces with the DICK'S Foundation to donate $110,000 to four local football teams in Oakland, CA.  Denver Broncos Wide Receiver, Emmanuel Sanders partnered with DICK'S to surprise a high school football team in Fort Collins, CO with $5,000. 
This month, The DICK'S Foundation provided a $10,000 grant to the South JeffCo Mustangs as part of the Chuck Noll Hall of Fame "Game for Life Award" at the NFL Hall of Fame festivities.  Additionally, a $50,000 grant was made to LPGA Legend and Sports Matter Ambassador, Annika Sorenstam to be used towards the ANNIKA Foundation's "Share My Passion" Girls Golf Clinic.  In Atlanta, a $10,000 grant was donated to two local youth sports organizations near DICK'S Distribution Center. 
For more information on Sports Matter, please visit SportsMatter.org or DonorsChoose.org. 
###
About The DICK'S Sporting Goods Foundation
The DICK'S Sporting Goods Foundation is a tax exempt 501(c)(3) non-profit corporation with a mission to inspire and enable sports participation. It was created by DICK'S Sporting Goods, Inc. as a private corporate foundation to support DICK'S charitable and philanthropic activities. 
Contact: DICK'S Sporting Goods – press@dcsg.com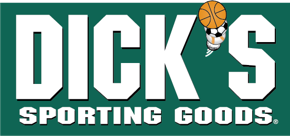 DICK'S Sporting Goods
DICK'S Sporting Goods
DICK'S Sporting Goods, Inc. is a leading omnichannel sporting goods retailer offering an extensive assortment of authentic, high-quality sports equipment, apparel, footwear and accessories. Headquartered in Pittsburgh, Pennsylvania, the Company also owns and operates Golf Galaxy, Field & Stream, True Runner and Chelsea Collective specialty stores.
More from DICK'S Sporting Goods