Published 07-26-18
Submitted by 3BL Forum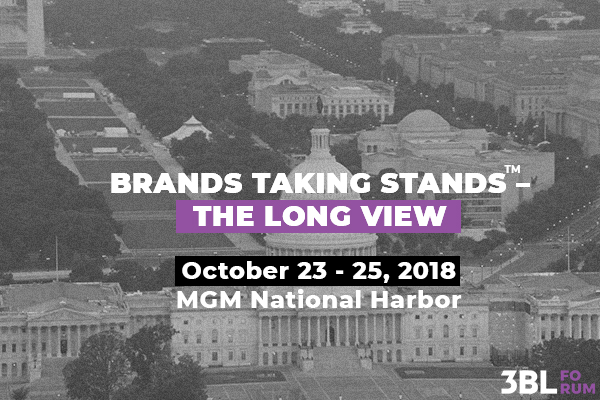 As investors, employees, customers and other key stakeholders demand that companies weigh in on vexing social and environmental issues, 3BL Forum has built its agenda around the "Brands Taking Stands" movement, Oct. 23-25, at MGM National Harbor in Washington, D.C.
More than 50 speakers – ranging from Fortune 500 CEOs to veteran White House reporter Eli Stokols – will speak at the annual gathering, presented by 3BL Media, the world's leading communications partner for purpose-driven organizations. 
Early-bird registration pricing for 3BL Forum ends July 31. Click here to register.
"Those who work for companies steeped in corporate responsibility (CR) and sustainability, as well as those still investigating how best to embed purpose into their businesses, will appreciate the candor of speakers and access to actionable data and best practices at 3BL Forum," said 3BL Media CEO Shana Deane.
Two half-day workshops on Oct. 23 are designed for CR and sustainability practitioners responsible for corporate reporting, as well as investor relations (IR) officers seeking closer collaboration with the growing roster of Wall Street forms basing investment decisions on environmental, social and governance factors.
"The New Normal: Unlocking Long-Term Value Through A Long-Term Lens," a morning session presented by CECP, will bring together IR and CR professionals to explore "the new normal" of unlocking value creation through a long-term lens. 
"Strengthen Your Materiality Assessment and Maximize Its Value for Your Company," an afternoon session presented by GRI, will focus on a robust materiality assessment, the backbone of a company's ability to understand its impacts on environmental, social and economic issues.
The newly published 3BL Forum agenda includes release of new data and research, examination of tough decisions, discussion about current issues and trends in CR, and inspiration from visionary keynote speakers who have valuable lessons and insights to share. The event is also a powerful opportunity to build new professional relationships, expand business networks, and capture new approaches and fresh ideas for organizations committed to sustainability.
Among the topics to be addressed:
Corporate Responsibility No Longer Optional: 'Best in Class' Innovation and Business Practices

Leadership Requirements: The Corporate Vision, Voice and Influence

Tilting on the Fulcrum: Balancing Short Termism with the Long View

Corporate Responsibility Brand vs. Corporate Brand

From Measurement to Meaning: The Timestamp of Corporate Responsibility Outcomes

Emerging Issues & Emerging Voices

Standing Up and Speaking Out: Authenticity in Corporate Messaging
Speakers will include an A-list of executive CR leadership from Rolland Paper; MSL; Mars Wrigley; Blackbaud; MGM Resorts International; TD Bank Group; APCO Worldwide; Solidia Technologies; New York Life Foundation; State of Delaware; Univision Communications; GRI; Futerra; Tupperware; Aflac; WGL/ Washington Gas; eBay; Timberland; The Mosaic Company; UPS; Impact2030; Waste Management; Silicon Valley Community Foundation; NPR; and MSNBC, among others.
Workshop, panel, and issue table descriptions; speaker bios; and registration information can be found on the 3BL Forum web site. If you are active in the CR industry, or want to be, make plans now to attend this leading event for corporate responsibility and sustainability practitioners.
On the evening of Oct. 24, 3BL Media's Corporate Responsibility Magazine will honor the 2018 Responsible CEOs of the Year.  The event recognizes CEOs who have put themselves at personal and professional risk to deliver on their corporate responsibility. In addition, the winner of the Lifetime Achievement Award will be revealed.
Event Sponsors
The 3BL Forum 2018 "Brands Taking Stands" event is produced through the generous assistance of more than 30 sponsors and partners listed below. To join them, click here.
MSL Group | MGM International | Mosaic | TD Bank Group |APCO Worldwide | Blackbaud | Rolland Paper | Smithfield| CECP | GRI| America's Charities | American Sustainable Business Council | PYXERA Global | Ecoprint | CR Miami | Realized Worth | Points of Light | Governance and Accountability Institute |
About 3BL Media
3BL Forum is an annual gathering of corporate responsibility and sustainability practitioners with emphasis on networking, case studies, new research and compelling presentations from companies committed to making progress against an ambitious ESG agenda.
The event is produced 3BL Media, the world's leading communications partner for purpose-driven organizations. Through content distribution, multi-media promotion and hands-on learning experiences, we connect organizations to an unrivaled audience that is passionate about sustainable business.
We know your stories, perspectives and experiences only matter if they're heard, shared and acted on by the right people. We cut straight through the clutter so you always break through to the audiences who matter most.
CONTACT
Dave Armon
3BL Media
+1 (802) 444-0177
darmon@3blmedia.com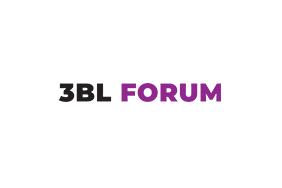 3BL Forum
3BL Forum
THE NEW YORK STAGE IS SET.
3BL Forum will continue its newly established tradition of bringing corporate leaders together on a fast-paced main stage, keenly focused on the 'why' and 'how' as business amplifies its leadership and elects to lead on environmental, social and governance issues.
Our main stage will feature legacy companies, sustainable businesses, NGOs and leading agencies. This 2-day conversation will be curated to bring forth new perspectives, nuances in thinking, candid insights, and revelations above and beyond the ordinary. 
3BL Forum is produced by 3BL Media, the world's leading communications partner for purpose-driven organizations.
More from 3BL Forum