Published 07-26-18
Submitted by Bank Audi sal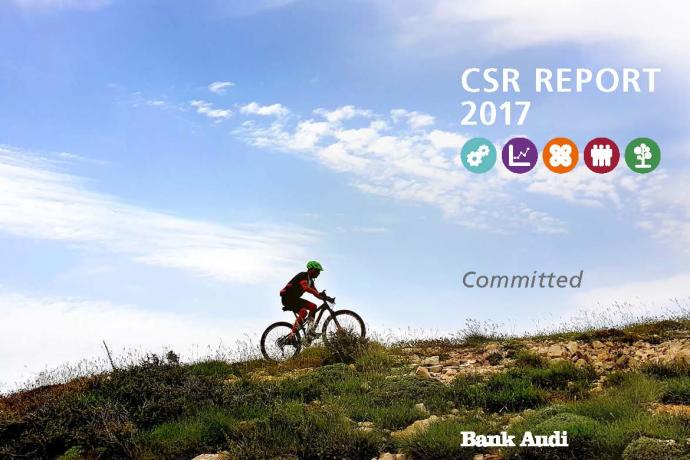 Bank Audi has announced the release of its 2017 annual Corporate Social Responsibility Report entitled "Committed". As a benchmark for CSR achievements in the region, Bank Audi continues its relentless efforts to support people and their businesses, helping them grow beyond their potential build their confidence, with the ultimate goal of helping communities shape a more prosperous tomorrow.
This report outlines Bank Audi's enhanced CSR strategy by linking corporate action to the universal language of sustainability. It quantifies the Bank's positive impacts, shared value and relevant initiatives, and engages stakeholders through specifically targeted communications, aligning private public partnerships that subscribe to Sustainable Development Goals (SDGs), tackling issues that are relevant to communities, seizing innovative opportunities that contribute to SDGs, and reducing sustainability risks. 
Bank Audi's 2017 CSR Report conforms to globally set benchmarks, mainly the Global Reporting Initiative (GRI) standards and the ISO 26000 directives on Social Responsibility, and is aligned with the UN Global Compact principles and five pledged SDGs: SDG 4 – Quality Education, SDG 5 – Gender Equality, SDG 8 – Decent Work and Economic Growth, SDG 9 – Industry, Innovation and Infrastructure, and SDG 13 – Climate Action. 
The 2017 edition, which is completely interactive, includes:
An exhaustive report on the Bank's 5 main CSR pillars: Corporate Governance, Economic Development, Community Development, Human Development and Environmental Protection.

An experts' corner detailing information and chart generators for CSR professionals.

And a downloadable pdf version including the full content.
In line with the Bank's efforts to move towards an environmentally friendly paperless workplace, the full report is available only in soft copy.
As excellence and dedication continue to drive the Bank's successes, this year's CSR Report does not fall short of detailing those achievements. In this context, Mr. Samir Hanna, Chairman and Group CEO of Bank Audi, underlines that "At Bank Audi, we are united behind common values that translate into a unique focus: helping our clients thrive and our communities prosper. We remain constant in our belief that how we act is just as important as what we achieve. Our principles-led approach entrenches our values of integrity, accountability and a commitment to diversity and inclusion into the decisions we make every day." 
The various achievements outlined in this year's report include, to name a few:
Highlighting the SME business line as empowerment to the nation's economic infrastructure.

Launching the "Let's Talk Money" quiz.

Enhancing accessibility to ATM's and branches  for the physically disabled.

Taking part in the Lebanon Climate Act – Climate Change Champion.

Pledging Goal Leader to SDG 8 – Decent Work and Economic Growth – at UN GCNL.

Engaging millennials in the Corporate Volunteer Program through the "Spring" account.
See Bank Audi's CSR Report 2017 here.

Bank Audi sal
Bank Audi sal
Bank Audi is a joint-stock company ("socié©té© anonyme libanaise") with a diversified shareholder base that encompasses founding shareholders, large regional investors, supra-national entities, international institutional investors, a large number of private investors, as well as executives and employees.
More from Bank Audi sal