Published 07-04-18
Submitted by KeyBank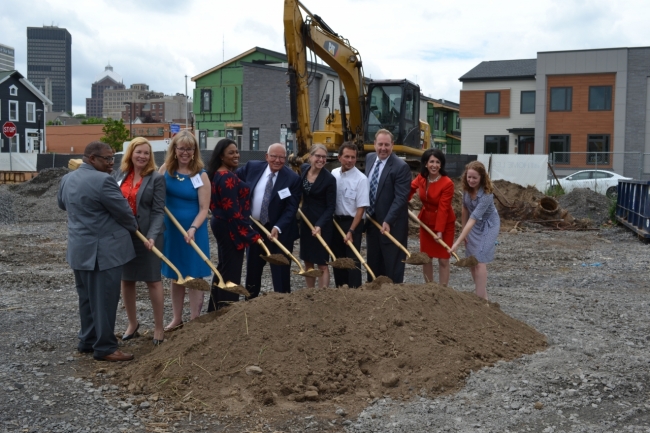 KeyBank Community Development Lending & Investment (CDLI) has provided $15.5 million in total financing to Home Leasing, LLC for the construction of Charlotte Square on the Loop in Rochester, NY. Key provided a $6.6 million construction loan, plus $8.9 million in Low-Income Housing Tax Credit (LIHTC) equity.
"At KeyBank, we are dedicated to helping communities thrive by investing in affordable housing that creates opportunity," said Rob Likes, national manager of KeyBank's CDLI team. "Our partnership with Home Leasing, LLC and our investment in Charlotte Square on the Loop demonstrates our commitment to the people and communities we serve."
Upon completion, there will be a total of 50 multifamily units ranging from studio, one- and two-bedroom apartments and townhomes targeting mixed-income households, with eight units set aside for individuals earning 30% area median income (AMI), 26 units for individuals earning 60% AMI and 16 units for individuals earning 80% AMI. The groundbreaking will take place on June 28, 2018.
Nelson Leenhouts, Chairman & CEO of Home Leasing said, "Home Leasing is grateful to partner with KeyBank on the development and construction of Charlotte Square on the Loop.  Like KeyBank, Home Leasing and Home Leasing Construction understand the transformative impact that access to affordable housing can have on this community."
In partnership with Spiritus Christi Prison Outreach (SCPO), eight units will be set aside for supportive housing for homeless ex-offenders who are in recovery and graduating from transitional housing. SCPO will provide case management and deliver supports needed, such as job training and placement, transportation, and others as well as oversight of individual and group supportive services to those tenants. Empire State Supportive Initiative is providing rental subsidy and supportive funding for these eight units.
"We are proud that our integrated CDLI lending platform allows us to offer clients the best financial solutions that meet their individual needs," said Jaime Tuozzolo of KeyBank's CDLI team.
Tuozzolo arranged the financing along with Ryan Olman, also of Key's CDLI team. Additional funding was provided by the New York State Division of Housing and Community Renewal and the City of Rochester.
About Key Community Development Lending/Investment
KeyBank Community Development Lending and Investment (CDLI) helps fulfill Key's purpose to help clients and communities thrive by financing projects that stabilize and revitalize communities. Experts in complex tax credit lending and investing, Key is one of a handful of affordable housing lenders in the country with a platform that brings together balance sheet, equity, and permanent loan offerings. CDLI has a substantial investment and loan portfolio worth more than $2 billion, 90% of which is Low Income Housing Tax Credit (LIHTC) projects. For its ability to lend to, invest in, and serve its communities –especially low-to-moderate income communities – KeyBank has earned eight consecutive "Outstanding" ratings on the Community Reinvestment Act exam, from the Office of the Comptroller of the Currency.
About KeyCorp
KeyCorp's roots trace back 190 years to Albany, New York. Headquartered in Cleveland, Ohio, Key is one of the nation's largest bank-based financial services companies, with assets of approximately $137.0 billion at March 31, 2018. Key provides deposit, lending, cash management, and investment services to individuals and businesses in 15 states under the name KeyBank National Association through a network of approximately 1,200 branches and more than 1,500 ATMs. Key also provides a broad range of sophisticated corporate and investment banking products, such as merger and acquisition advice, public and private debt and equity, syndications and derivatives to middle market companies in selected industries throughout the United States under the KeyBanc Capital Markets trade name. For more information, visit https://www.key.com/. KeyBank is Member FDIC.
About Home Leasing
Rochester-based Home Leasing, LLC specializes in the development, construction and management of high-quality apartment communities. Founded in 2006 by veteran real estate developer and former co-CEO and co-Chairman of Home Properties Nelson Leenhouts, the company is owned and operated by 3 generations of the Leenhouts Family. Home Leasing today employs over 100 people who provide support to or are directly involved in the day-to-day operations of affordable, mixed-income and market rate residential communities across New York, Pennsylvania and Maryland. With its' construction company, Home Leasing Construction, Home Leasing builds quality housing which its team of certified property managers and maintenance personnel efficiently oversee. This unique involvement in projects from concept to operations demonstrates its strong commitment to its mission to improve the lives of our residents.  Home Leasing and Home Leasing Construction (collectively "Home Leasing") became Certified Benefit Corporations ("B Corps") by the non-profit B Lab in 2017.  B Corps are a new type of company that uses the power of business to solve social and environmental problems. B Corp certification is to business what Fair Trade certification is to coffee or USDA Organic certification is to milk.
###

KeyBank
KeyBank
Cleveland-based KeyCorp is one of the nation's largest bank-based financial services companies, with assets of approximately $95 billion. Key companies provide investment management, retail and commercial banking, consumer finance, and investment banking products and services to individuals and companies throughout the United States and, for certain businesses, internationally.
More from KeyBank