Published 07-03-18
Submitted by ClimateCare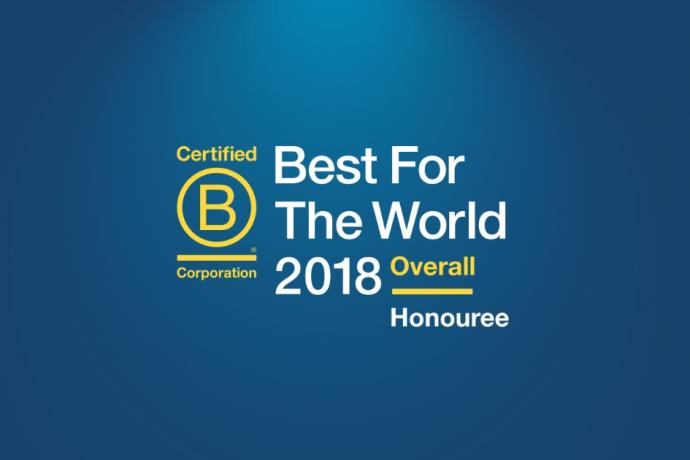 ClimateCare has been honoured for creating positive social and environmental impact by the non-profit B Lab, for the third consecutive year.
Following a rigorous and comprehensive assessment of the company's impact on its workers, community, and the environment – ClimateCare has been ranked first in the UK B Corp 'Best for the World List'.
The 'Best for the World List' represents the gold standard for high impact companies and honours those companies whose ground-breaking business models are improving our world.
Kate Sandle, Community Manager B Lab UK says:
"As consumers, talent and investors increasingly demand transparent, values aligned businesses to buy from, work at and invest in, companies need not just to be Best in the World, but Best for the World to be the most successful.
ClimateCare epitomises this profit for purpose approach, demonstrating positive impacts through its own operations and helping businesses take responsibility for their social and environmental impacts through innovative programmes to cut carbon and improve lives."
Edward Hanrahan, CEO, ClimateCare says:
''As more and more businesses recognise the importance of focusing on Purpose as much as Profit, we are delighted to have achieved the highest score of any B Corp in the UK and to be acknowledged as Best for the World for the third year running.
This continued recognition of ClimateCare's profit for purpose business model and the certified positive impact it has for people and the environment is a great validation for both the ClimateCare team and our customers.  We hope it encourages others to follow their lead and partner with us to take responsibility for their climate impacts through our Climate+Care programmes."
NOTES TO EDITORS
ClimateCare
ClimateCare works with corporate and government partners to deliver world leading climate, environment and development programmes. 
Our experts design integrated programmes and implement them - selecting and devising the best projects to tackle poverty, improve health, protect the environment and deliver value for the organisations involved.
This unique Climate+Care approach is a cost effective way for corporates to take full responsibility for their climate and social impacts and for the public sector to deliver more efficiency for its spend.
As the market leader for over 20 years, by unlocking new sources of finance and leveraging mainstream funding, we deliver some of the largest and most successful sustainability initiatives in the world.
Our work has an immediate and measurable impact for people and the environment: to date we have cut over 21 million tonnes of CO2 and improved life for over 16.5 million people.
Find out more at www.climatecare.org
Follow ClimateCare on twitter: @ClimateCare
B Corporation
Each honoured company is a certified B Corporation. These companies use the power of business to solve social and environmental problems and have met rigorous standards of social and environmental performance, accountability, and transparency. Today there are over 2,544 Certified B Corporations, across 130 industries and 50 countries, unified by one common goal: to redefine success in business.
Press enquiries
Please contact: Rhiannon Szmigielski, ClimateCare
Tel: +44 (0)1865 591000
Email: rhiannon.szmigielski@climatecare.org

ClimateCare
ClimateCare
ClimateCare is a Profit with Purpose business which works with forward-thinking organisations to help turn their climate responsibilities into positive outcomes. Since 1997, ClimateCare and its partners have cut over 33 million tonnes of COâ'' and improved quality of life for more than 34 million people around the world.
We have more than 20 years' experience as a leader in the global carbon markets and climate change sector. We work with major public and private sector clients to fund sustainable development projects that reduce carbon emissions at scale, measurably increase quality of life and deliver towards the UN Global Goals. ClimateCare also advises on a range of climate change mitigation and adaptation subjects, from large scale implementation to national climate change policies.
ClimateCare is currently ranked the number one B Corp in the UK - B Corp is a global movement of more than 2,500 purpose-driven companies that are using business as a force for good.
More from ClimateCare