Published 06-27-18
Submitted by Net Impact
Recently, Net Impact, a global community of students and professionals, announced a business school student, from Duke University, had won the first Wear it Wise  campaign competition.
The Wear it Wise campaign competition engaged students and young professionals in developing new ways to generate awareness about the impact of the fashion industry, with a goal to shifting consumer habits around the clothes bought and worn.  Net Impact partnered with industry leaders who are embracing the sustainable fashion movement, including The Levi Strauss Foundation, Eileen Fisher, and Remake.
"History has shown that systemic change often starts with young people. The Wear It Wise campaign engages students on the social and environmental impacts of the global fashion industry so they learn to make better personal choices, while also inspiring broader action in their networks and community" - Jason McBriarty, Director, Levi Strauss Foundation
Program participants consisted of 18 selected Net Impact Chapters varying from Professionals, Graduates and Undergraduates from around the world. The cohort educated and engaged over 8,000 people on their campuses and in their communities on textile waste, resource scarcity, and the circularly model in supply chain management, and climate change. Events and activities included panel discussions, mending and repairing workshops, campus-wide clothing shops, and a resource-filled website. Four esteemed judges reviewed the campaigns in May, 2018: Betsy Fischer, Impact & Innovation Program Manager, at Eileen Fisher; Ayesha Barenblat, Founder and President, of Remake; Jason McBriarty, Director, Worldwide Community Affairs, at Levi Strauss & Co and Levi Strauss Foundation; and Joe Whinney, Founder, of Theo Chocolate.
"We were thrilled to participate in this year's Net Impact Wear It Wise campaign. As a company with sustainability at its forefront, we are always looking to educate customers on the impact their shopping habits have on the planet. With the fashion industry being one of the largest polluters in the world, we are dedicated to shifting the mindset of brands to build a business for good, a business that looks beyond profits and a business that is committed to making positive impact on the people that work for them and the planet at large. We hope this next generation of thought-leaders will be inspired to implement change and create solutions for the industry."
-Amy Hall, Vice President of Social Consciousness, Eileen Fisher
 The winner of this year's challenge is Alex Marchyshyn from Duke University - a first-year dual Master's candidate in Environmental Management and MBA. Her campaign focused on the issues on the industry and consumer side, including spotlighting sustainable brands in North Carolina, providing consumers with an easy to digest resource containing information about sustainable consumer practices, and educating a broader audience through social media. Alex hosted two live events that engaged her student body and larger community about the impacts of fast fashion and aimed at repositioning sustainable fashion as accessible, affordable and stylish. Her first event featured five panelists for an engaging discussion entitled "Beyond Fast Fashion." Her second event was a campus-wide clothing swap that exchanged over 150 items, giving used clothing another life and preventing them from filling the landfill. Alex said of her campaign "I am both thrilled and honored to have been selected as the winner of Wear it Wise. It was so rewarding to create a sustainable apparel campaign and I am grateful to Net Impact for providing the opportunity to learn more from experts and peers about an issue I care deeply about."
Ms. Marchyshyn will attend Remake's "Meet the Makers" tour to Mexico in October 2018 where she will travel with a small group of future sustainable apparel leaders and get to know the people and places where our clothing is made. 
"At Net Impact, we are incredibly proud of the inaugural Wear it Wise campaign leaders. Seeing the originality and creativity that leaders brought to their campaigns reminds us why peer education is such an effective way to raise awareness and change how we consume—particularly with something as personal as what we wear." – Liz Maw, CEO, Net Impact
The second Wear it Wise campaign competition will commence in the Fall of 2018.
About Alex Marchyshyn
Alex is a first-year dual Master of Environmental Management and MBA candidate at Duke University focused on the intersection of business, the environment and supply chain. Her goal is to work in the apparel industry to ensure that the clothes we wear are not destroying our planet. She became interested in sustainable fashion after reading the book "Overdressed: The Shockingly High Cost of Cheap Fashion" by Elizabeth Cline – an eye-opening book that galvanized her to completely rethink her habits and closet. Alex's particular passion is how to apply the principles of circular economy to the design and end-of-life of clothing. In her spare time, she loves discovering new sustainable apparel brands and reading as many books on the subject as she can get her hands on. Contact: alex.marchyshyn@duke.edu or linkedin.com/in/alexandramarchyshyn
About Levi Strauss & Co.
Levi Strauss & Co. is one of the world's largest brand-name apparel companies and a global leader in jeanswear. The company designs and markets jeans, casual wear and related accessories for men, women and children under the Levi's®, Dockers®, Signature by Levi Strauss & Co.™, and Denizen® brands. Its products are sold in more than 110 countries worldwide through a combination of chain retailers, department stores, online sites, and a global footprint of approximately 2,900 retail stores and shop-in-shops. Levi Strauss & Co.'s reported fiscal 2017 net revenues were $4.9 billion. For more information, go to http://levistrauss.com
About the Levi Strauss Foundation
Established in 1952, the Levi Strauss Foundation is an independent private foundation that provides grants to community based organizations working to create meaningful social change. The Foundation funds programs worldwide that advance the human rights and well-being of underserved people where Levi Strauss and Co. (LS&CO.) has a business presence. Levi Strauss Foundation giving is guided by a belief in empowering individuals and communities; a resolve to address social biases and inequalities and their impact on people and communities; and a commitment to work with other funders and encourage the collaborative efforts of its grantees. The Foundation's historic support for organizations that promote equality have included Project Change, an initiative to fight institutional racism in LS&CO. communities -- and organizations fighting discrimination based on sexual orientation such as Lambda Legal, The Gay and Lesbian Alliance Against Defamation (GLAAD), International Gay and Lesbian Human Rights Commission (IGLHRC), and Funders for Lesbian and Gay Issues.
About EILEEN FISHER
EILEEN FISHER has been creating simple, timeless clothes for over 30 years. The collection consists of pure shapes in beautiful materials designed to work together effortlessly. As a socially conscious company, EILEEN FISHER is a pioneer in sustainable fashion and working to empower women and girls. Our clothes are sold at over 65 EILEEN FISHER retail stores, and 1,000 department and specialty stores internationally, as well as two RENEW stores, which feature gently worn and remade designs from our take-back program. EILEEN FISHER is the largest women's fashion company to be a certified B Corporation, which means we voluntarily meet high criterion for social and environmental performance, accountability and transparency.
About Remake
Established in 2016, Remake's mission is to make fashion a force for good. With firsthand documentary footage and stories, Remake makes the invisible women who power the fashion industry visible. In addition, the company shares facts the fashion industry doesn't want you to know and provides a solution on how to break up with fast fashion through curated edits, featuring products from their Remake approved brands list that respect both women and our planet. Since Remake's beginning, they've been urging people to think about those who make their clothes with their #WearYourValues movement. For more information, visit https://remake.world/
About Net Impact
Net Impact is a global community of students and professionals who aspire to be effective drivers of social and environmental change. Our programs—delivered from our headquarters in Oakland, CA, as well as globally through our 375+ chapters—connect our members to the skills, experiences and people that will allow them to have the greatest impact. With over 100,000 members, Net Impact takes on social challenges, protects the environment, invents new products and orients business toward the greater good. In short, we help our members turn their passions into a lifetime of world-changing action.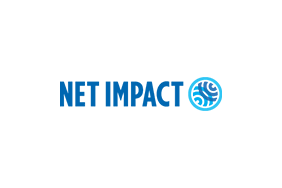 Net Impact
Net Impact
Net Impact is a global nonprofit inspiring a new generation to use their careers to tackle the world's toughest social and environmental problems. We empower student and professional leaders to act locally through our vibrant chapter network and connect globally online and through our flagship conference. By 2020, we will mobilize a million new leaders to drive positive change in the workplace and the world. For more information, please visit netimpact.org.
More from Net Impact