Published 06-29-18
Submitted by EcoVadis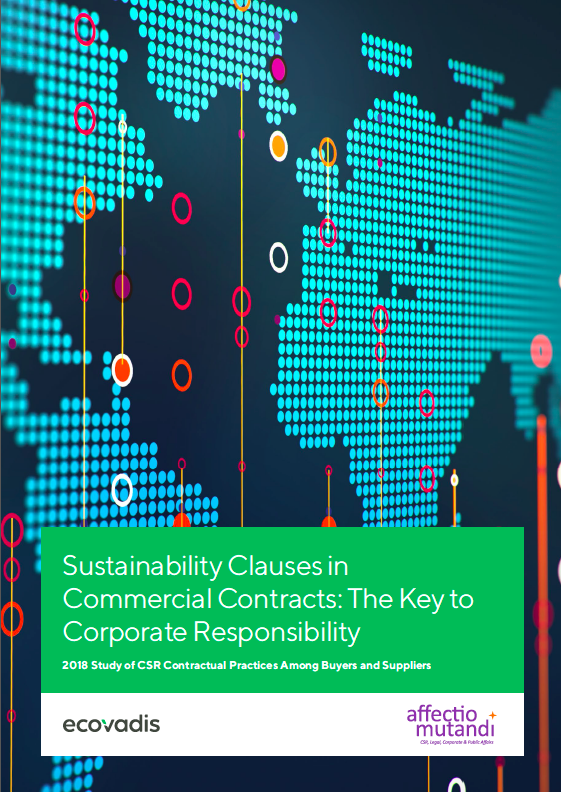 Landmark study on CSR contract clauses in the supply chain
 EcoVadis, the leader in business sustainability ratings for global supply chains, today announced the results of its study "Sustainability Clauses in Commercial Contracts: The Key to Corporate Responsibility", finding that, while CSR clauses are widely used and have strong potential for improving supply chain sustainability performance, current practices need improvement to truly impact change.
Conducted in partnership with Affectio Mutandi, this landmark study of CSR contractual practices among buyers and suppliers sought to to determine the effectiveness and impact of such contracts on sustainability practices. Examining current regulations, contract laws, and various clauses themselves, the report discusses the operational considerations and practical application of CSR clauses and uncovers current problems that limit the success of such clauses.
For instance, while 70 percent of buyers include a CSR clause in their contracts, more than 50 percent of suppliers say they have come across CSR requirements that were impossible to achieve, given the price and quantity of the product required, as well as the timing indicated in the contract. Additionally, the study found most CSR clauses are not sufficiently detailed, with 75 percent referencing generic regulations.
The study also identified numerous clause types and found large discrepancies in how they are applied, indicating that the current state of CSR clauses is still opening many companies to risk. This led to the development of four key criteria for constructing more effective CSR clauses: precision, verifiability, enforceability and coverage depth.
 "As regulatory pressure and demands for transparency continue increasing and businesses are being held accountable for the practices of their suppliers, this study shows the pressing need to rethink how we use contract clauses to support CSR and sustainability practices," said Pierre-Francois Thaler, Co-Founder and Co-CEO of EcoVadis. "Our goal at EcoVadis is to make sustainability performance measurable and benchmarkable, which is the foundation of integrating specific and enforceable CSR criteria in contracts, and serves as a motivator for suppliers to engage in improvements."
Other key findings:
41 percent of suppliers say contractual CSR commitments have raised their awareness of environmental, social and ethical issues

38 percent of clauses extend to tier two suppliers and beyond

Only 25 percent of buyers adapt CSR clauses depending on the sector and size of the supplier
Review the full report findings online or view the infographic. 
The quantitative study conducted online among 569 companies from November, 2017 to January, 2018 was supplemented by in-depth interviews with 20 stakeholders during the same time period.
About EcoVadis
EcoVadis is the world's most trusted provider of business sustainability ratings, intelligence and collaborative performance improvement tools for global supply chains. Backed by a powerful technology platform and a global team of domain experts, EcoVadis' easy-to-use and actionable sustainability scorecards provide detailed insight into environmental, social and ethical risks across 190 purchasing categories and 150 countries. Industry leaders such as Johnson & Johnson, L'Oréal, Nestlé, Schneider Electric, Michelin and BASF are among the more than 45,000 businesses on the EcoVadis network, all working with a single methodology to evaluate, collaborate and improve sustainability performance in order to protect their brands, foster transparency and innovation, and accelerate growth.  Learn more on ecovadis.com, Twitter or LinkedIn.
About Affectio Mutandi
Affectio Mutandi is the first agency specializing in strategy on environmental, social and governance (ESG) issues. It offers an innovative, hybrid approach to CSR, crisis and corporate communication, public affairs, legal counseling and NGO relations, essential for organizations facing the challenges of a globalized world and an evolving normative landscape.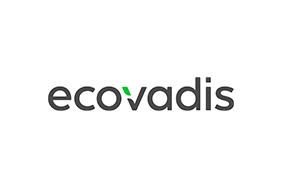 EcoVadis
EcoVadis
EcoVadis is the world's most trusted provider of business sustainability ratings. Global supply chains, financial institutions and public organizations rely on EcoVadis to monitor and improve the sustainability performance of their business and trading partners. Backed by a powerful technology platform, EcoVadis' evidence-based ratings are validated by a global team of experts, and are adapted to more than 200 industry categories, 160 countries, and companies of all sizes. Its actionable scorecards provide benchmarks, insights, and a guided improvement journey for environmental, social and ethical practices. Industry leaders such as Amazon, Johnson & Johnson, L'Oréal, Unilever, LVMH, Salesforce, Bridgestone, BASF, and ING Group are among the 85,000 businesses that collaborate with EcoVadis to drive resilience, sustainable growth and positive impact worldwide. learn more on ecovadis.com, Twitter or LinkedIn.
More from EcoVadis