Published 06-20-18
Submitted by CEF
CEF presented the 2018 C.K. Prahalad Awards in two categories: sustainability business leadership by an individual to Lisa Jackson, Vice President of Environment, Policy and Social Initiatives at Apple; and collaborative business leadership by the Task Force on Climate-Related Financial Disclosures (TCFD). The awards were announced at the CEF Annual Retreat, attended by senior executives representing CEF member companies with combined revenues of over $3 trillion.
LISA JACKSON
In 2013, after serving as Administrator of the US EPA under President Obama, Lisa Jackson joined Apple to oversee the company's efforts to minimize its impact on the environment by addressing climate change through renewable energy and energy efficiency, using greener materials, and inventing new ways to conserve precious resources. 
As part of this work, Jackson led a company-wide effort to change how Apple sources paper for its packaging. Today, 100% of the wood fibers in Apple's packaging is from either recycled sources or responsibly managed forests, and Apple has actively protected or created enough responsibly managed forests to cover all its packaging needs.           
Apple has set ambitious goals around the design of products that are safer and better for the planet. Building on earlier commitments to avoid materials like mercury, lead, and brominated flame retardants, Apple has set a new goal to build its products using only recycled or renewable materials. The company is piloting innovative recycling techniques, like its new robot, Daisy, and it is increasing the use of recycled materials like aluminum and tin in its products. Just recently, Apple played a crucial role in accelerating the commercialization of patented technology that eliminates direct greenhouse gas emissions from the traditional smelting process, a key step in aluminum production. In partnership with Alcoa and Rio Tinto, and the Governments of Canada and Quebec, they will invest in future research and development, ensuring that the benefits of their innovation extend well beyond Apple's own products.

Apple has also become a frontrunner in the transition to a clean energy economy, and has been a prominent public advocate for corporate action to address climate change. Every one of Apple's facilities, data centers, offices, and stores in 43 countries is now powered by 100% clean energy and the company is working with suppliers around the world to bring another 4 gigawatts of new clean energy online by 2020. The company has taken positions in support of the 2015 Paris agreement and the US Clean Power Plan. In 2016, the company issued a high-profile $1.5 billion green bond–the largest ever by a U.S. corporation–and in 2017, it issued a second $1 billion bond, demonstrating how companies could lead following the Trump administration's decision to withdraw from the Paris Accord. 

CEF's Founder, MR Rangaswami praised Jackson for her bold leadership: "Lisa Jackson's work at Apple is inspiring other companies to higher levels of ambition as well. Apple's environmental record is proof that companies don't have to choose between doing the right thing and having a healthy bottom line."
THE TASK FORCE ON CLIMATE-RELATED FINANCIAL DISCLOSURES (TCFD)
The Task Force on Climate-Related Financial Disclosures (TCFD) was recognized for leveraging a powerful collaboration to catalyze a seismic shift in how companies disclose their climate-related financial risks and opportunities. 
The TCFD was set up by the Financial Stability Board (FSB) in December 2015 under the leadership of its Chair Mark Carney to help address an important information gap in financial markets. Investors, lenders, and insurers around the world need data to properly assess companies' exposure to climate-related risks. They also need more information on how companies are seizing opportunities in a carbon-constrained world impacted by climate change.
Under the guidance of Michael Bloomberg—and comprised of 31 leading experts from a wide range of sectors—the TCFD produced practical recommendations for disclosure that would work for a wide array of global companies. In just 18 months, the Task Force led a highly successful, multi-stakeholder process including two major public consultations and 18 outreach events involving over 1,250 participants, and in June 2017, it published its groundbreaking voluntary framework to help companies produce consistent financial disclosures.
The TCFD's work has received enthusiastic praise from scores of C-suite executives. As of May 2018, the TCFD's recommendations had received official support from over 275 organizations with combined market capitalizations exceeding $7 trillion and including financial firms responsible for assets of more than $81 trillion—effectively moving climate-related financial reporting into the mainstream. 
The positive impacts of the TCFD are significant: better access to data overall will enhance how climate-related factors are assessed, priced, and managed by companies, investors, lenders and insurers alike. CEF Chair P.J. Simmons commended the TCFD: "The Task Force is a shining example of how much can be accomplished in a short time when collaboration is done right. We're proud that many CEF members were part of the TCFD's consultative process and have already seen the influence of the TCFD recommendations in how our members are responding the challenges and opportunities presented by climate change."
The C.K. Prahalad Award was created to honor the vision and life's work of the late Dr. C.K. Prahalad, one of the world's most influential business strategists. Towards the end of his career, Prahalad focused his enormous talent on the link between sustainability and long-term business success. In a 2009 Harvard Business Review cover story he co-authored with CEF founder MR Rangaswami, Prahalad argued that over the next decade "traditional approaches to business will collapse, and companies will have to develop innovative solutions. That will only happen when executives recognize a simple truth: sustainability equals innovation." Prahalad was a senior adviser to CEF before his untimely death in 2010.     
VIDEO PROFILING THE TCFD: https://youtu.be/_oYfvX3Mtdo
CONTACT: MR Rangaswami, Founder, Corporate Eco Forum 415-923-9802 mr@corporateecoforum.com
ABOUT CEF
CEF is an elite, invitation-only membership organization comprised mainly of Fortune and Global 500 companies from 18 industries with combined revenues of over $3 trillion. CEF provides a year-round safe, neutral space for influential executives to exchange best practice, collaborate, and innovate. Participants are almost exclusively VP and C-level executives across multiple business functions. The diversity of executives, coupled with the cross-industry nature of CEF, creates a world-class platform to accelerate sustainable business problem solving and innovation.
ABOUT THE C.K. PRAHALAD GLOBAL SUSTAINABILITY LEADERSHIP AWARD 
The C.K. Prahalad Global Sustainability Leadership Award, created in 2010 to honor founding CEF Advisory Board member C.K. Prahalad, recognizes exceptional, globally significant private-sector action—within or outside the CEF membership—that exemplifies the fundamental connection between sustainability, innovation and long-term business success in a globalizing world. C.K. Prahalad Award winners are determined through private votes cast by CEF's 24-member advisory board, which includes representatives from government, academia, nongovernmental organizations, and the private sector. The voters chose from a roster of finalists, selected following an open nominations process. Past award recipients include the following: 
• 2010: Walmart Brazil and CEO Hector Nuñez  • 2011: Coca-Cola and CEO Muhtar Kent  • 2012: Dow Chemical Corporate Vice President and CSO Officer Neil Hawkins; The Sustainable Apparel Coalition; and Unilever and CEO Paul Polman • 2013: FEMSA Foundation Director Vidal Garza Cantú; Nike CSO and Vice President of the Innovation Accelerator Hannah Jones; and UPS CFO Kurt Kuehn • 2014: Robert B. Carter, Executive Vice President, Information Services/CIO, FedEx Corporation; Global Water Challenge (GWC); Tamara "TJ" DiCaprio, Senior Director of Environmental Sustainability, Microsoft • 2015: NRG Energy and CEO, David Crane • 2016: Siemens and CEO Joe Kaeser with special honors to Christiana Figueres and Douglas Tompkins  • 2017: Urs Hölzle, Google, Renewable Energy Buyers Alliance (REBA), and honorary award to Dr. John B. Goodenough.
CEF MEMBERS
21st Century Fox, 3M, Allegheny Technologies, Amazon, Apple, Aptiv, Bank of America, BASF, Boeing, Bose, CBRE, Chevron, Cisco, Clorox, Comcast, Dell, Dow Chemical, Duke Energy, eBay, Ecolab, Enterprise Holdings, ExxonMobil, Facebook, FedEx, FEMSA, Fidelity, Ford, General Motors, Google, HanesBrands, Honeywell, HP, HPE, Hyatt Hotels, Ingersoll Rand, International Paper, JetBlue Airways, Johnson & Johnson, JPMorgan Chase & Co., Kaiser Permanente, Kimberly-Clark, Lockheed Martin, Marriott International, Mastercard, McDonald's, McKinsey & Co., Microsoft, Morgan Stanley, NextEra Energy Resources, Northrop Grumman, NRG Energy, Oracle, Patagonia, Sealed Air, Siemens, TD Bank, Tiffany & Co., TPG Capital, Unilever, UPS, VF Corporation, Visa, VMware, The Walt Disney Company, Waste Management, Wyndham Worldwide, Xerox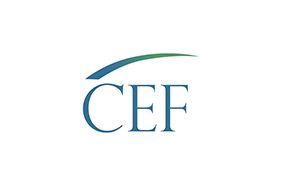 CEF
CEF
CEF is an invitation-only network of leading executives from Fortune and Global 500 companies driving sustainability strategy and innovation worldwide. Members include Fortune and Global 500 companies from diverse industries with combined revenues of $4 trillion. CEF provides a year-round safe, neutral space for influential executives to exchange best practice, collaborate, and innovate. The diversity of executives, coupled with the cross-industry nature of CEF, creates a world-class platform to accelerate sustainable business problem solving and innovation.
More from CEF