Published 06-20-18
Submitted by University of St. Michael's College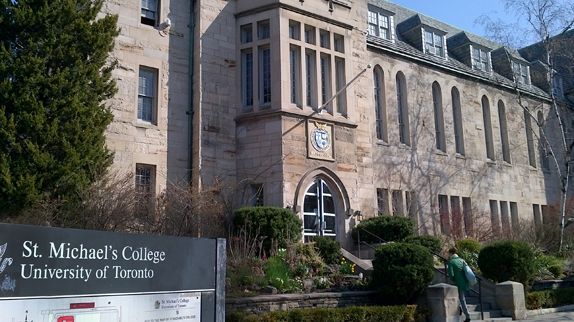 Graduate Certificate in CSR/Sustainability, June 30th Application Deadline
Recent research conducted by the Certificate in CSR/Sustainability Program at the University of St. Michael's College in the University of Toronto identified that 87% of CSR/Sustainability professionals are embedded throughout different departments with multiple portfolios.  "If you are gearing up your career to work in this field, it is important to note that it is rare to find someone working 100% of their time on CSR/Sustainability located in a CSR/Sustainability/ESG specific department," notes Kathryn Cooper, Program Manager. "The vast majority of CSR/Sustainability professionals in our research reported working throughout the organization in departments ranging from Human Resources to Operations.  This is good news for embedding social responsibility in organizations and provides a wider range of job opportunities."
The Next Generation CSR/Sustainability Jobs and Competency Development survey was conducted in partnership with Strandberg Consulting and The Conference Board of Canada's Corporate Responsibility and Sustainability Institute, building off their report on Next Generation CSR / Sustainability Jobs published in 2017. The results were generated during the month of May, 2018 with 156 CSR/Sustainability Professionals participating; 31% which held the position of Senior Manager, Director, VP or Chief Sustainability Officer.

The Current State: Pay Ranges, Educational Backgrounds & Job Classifications
The respondents, from a variety of sectors, identified broad pay ranges, educational backgrounds and job classifications.
CSR/Sustainability professionals said their job pay ranged from $ 30K to $250K per annum. Twenty-five percent (25%) said they made $ 51 to 90K, while another 24% said they made $ 91 to 120K.

Nearly 52% of those surveyed said they had a post graduate Certificate, Diploma or Degree (Masters or PhD).

Job classifications ranged from Chief Sustainability Officer to Analyst and Educator.  Managers and Directors were the most common job classifications of respondents at 20% and 19% respectively.
Participants were also asked about their confidence in "First Generation" and "Next Generation" CSR/Sustainability competencies, which are explained in more detail below.
Most respondents felt confident in their "First Generation" CSR/Sustainability job competencies identifying good to excellent strengths in problem solving, interpersonal skills, communications and environmental knowledge.  They identified average to good strengths in computer, project management, and research skills.

Respondents indicated lower confidence in their "Next Generation - Influencing Others" competencies.  They indicated higher confidence in Partnering/Collaborating but lower confidence in strategic development, influencing departments and executives, change management, and enterprise wide implementation.

Respondents indicated an even lower confidence in "Next Generation - CSR/Sustainability competencies".  Many rating themselves fair to good on knowledge of company business and operations, sustainability/CSR trends and best practices; but poor to average on knowledge of their value chain and stakeholders, business planning/budget management/forecasting, catalyzing sustainability innovation, sustainability risk management and resilience planning, sustainability information systems, and sustainability investment/accounting/finance.
The survey also asked CSR/Sustainability professionals about their transition to Next Generation CSR/Sustainability roles and integration of Human Resource practices to embed CSR/Sustainability into their organization.
"This research work informs the evolution of our curriculum," notes Kaz Flinn, Chair, CSR Education Council at the University.  "Education plays an important role in accelerating the adoption of CSR/Sustainability in organizations; we appreciate the insights provided by these practitioners."
A final report of the survey results will be available in July 2018 at https://www.csr-stmikes.ca.
Filling the Gap - The Graduate Certificate in CSR/Sustainability focuses on "Next Generation" competencies
In the CSR/Sustainability Post Graduate Certificate Program at USMC, participants work full-time while earning their university credential through a unique blended learning approach. Participants:
tackle and resolve an actual CSR/Sustainability challenge in their company in a major Action Project under the mentorship of subject matter experts and co-learners;

learn "Next Generation" practices from global thought leaders on the forefront of Sustainability and CSR;

use practical tools to understand, assess, measure and integrate CSR/Sustainability into their organization;

experience the practical real world application of CSR and change management through ExperienceChange™ Simulations; and

join a prestigious community of St. Michael's Alumni in continuing education, sharing and networking.
The Certificate in CSR/Sustainability is taking applications for 2018/2019, with very few spaces in the program remaining. Participants this year come from Celestica, Canada Goose, Scotiabank, Frontiers North Adventures, City of Mississauga, Aurania Resources, HSBC Bank Canada, Financial Executives International, Institute of Management Technology, Kids Help Phone, Me to We, The Riverwood Conservancy, and many others.
Ready to join this exciting community and be part of a global movement? Apply now through the Certificate in Corporate Social Responsibility/Sustainability Website.  Check out the program schedule, past graduates and latest news. Module 1 will be held in Toronto, Canada, October 17-19, 2018.  Module 2 and 3 will be held May, 2019 and November, 2019 respectively.  The second intake Application Deadline is June 30th, 2018.
About the University of St. Michael's College Corporate Social Responsibility Program
The University of St. Michael's College (USMC), federated with the University of Toronto, offers a transformational CSR/Sustainability program that creates space for people of shared values to explore, interact, develop and grow. It empowers a community of changemakers to develop the skills and support needed to impact a thriving global future.
About the Corporate Responsibility & Sustainability Institute (CR&S Institute) at the Conference Board of Canada
The Corporate Responsibility & Sustainability Institute (CR&S Institute) provides professionals with a forum with learning, networking, and professional development. The Institute addresses key issues and identifies pioneering, solution-based strategies that position corporate responsibility & sustainability as an integral component of a company's business strategy. Members of the Institute share corporate perspectives with other stakeholders, including those in the voluntary and government sectors. For more information, please visit http://www.conferenceboard.ca/topics/crs/crsi/default.aspx
About Strandberg Consulting
Strandberg Consulting works with businesses, government and industry associations to envision and innovate a sustainable future. Strandberg is an expert on sustainability leadership and transformational business practices and relationships. Organizations seeking to be leaders engage her for advice and counsel, putting Strandberg at the frontier of next generation sustainability practices. For more information, please visit https://corostrandberg.com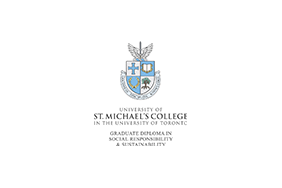 University of St. Michael's College
University of St. Michael's College
St. Michael's is a recognized leader in undergraduate, graduate and lifelong education. Its highly acclaimed Certificate in Corporate Social Responsibility is a unique executive education program developed in collaboration with the Conference Board of Canada. Founded over 150 years ago, the University of St. Michael's College is federated with the University of Toronto. Its faculty bring to current CSR issues the understandings that they have gained not only from the perspective of business but also from a tradition that includes the study of literature, philosophy and ethics. The goal of the program is to engage participants in a process of weaving together the major strands of CSR in a way that provides a time out from customary corporate activity. Alumni have called the result "transformational". Since 2003 St. Michael's has collaborated with an innovative technology company, ExperiencePoint to produce and distribute ExperienceCSR, a web based business simulation . In the simulation, which is offered as part of the Certificate program, participants advise a multinational technology firm on revising its corporate strategy to meet a myriad of critical environmental, community, employee relations, human rights and financial objectives. Through the application of sound CSR principles, participants help the corporation align its operations to its articulated values and, consequently, satisfy stakeholder interests and ensure long-term profitability. (www.experiencepoint.com)
More from University of St. Michael's College