Published 06-04-18
Submitted by University of St. Michael's College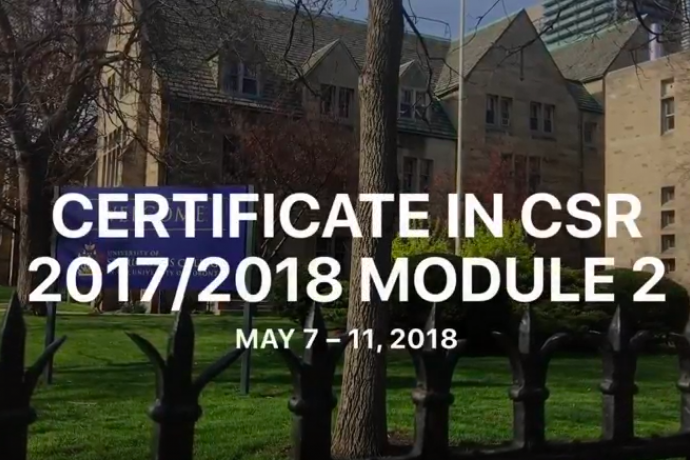 Click here to watch video
Applications are being accepted for the 2018/2019 Cohort of the Certificate in CSR & Sustainability at the University of St. Michael's College in the University of Toronto.  "Participants in this program learn the essential Art of Influence as a cornerstone skill," says Kathryn Cooper, Program Manager.  "Participants enrol to gain the practical knowledge and skills to embed Corporate Social Responsibility and Sustainability in their organizations, and soon learn that it takes passion, resilience and influence to transform their organizations."  This program provides change makers with inspiration, connections and tools to make a difference.
The Art of Influence in the Graduate Certificate in CSR/Sustainability
 "The essential skill of influence is a reoccurring theme throughout the program; particularly as we developed and embedded CSR and Sustainability strategies with the business mentors in the room," notes Paula Copeland, Director, Communications and Corporate Social Responsibility, Port of Saint John in New Brunswick.  CSR/Sustainability leaders from BMO Financial, Centerra Gold, The Co-operators, Scotiabank and others participated in roundtable discussions throughout the program.  "I'm heading home with a practical, relevant, tool kit of learning.  I'm so grateful to my organization for this experience."
In this Post Graduate Certificate, participants work full time while earning this university credential through a blended learning approach.   Participants:
tackle and resolve a CSR/Sustainability challenge in their company in a major Action Project under the mentorship of subject matter expert faculty and co-learners;

learn Next Generation Practices from global thought leaders on the forefront of Sustainability and CSR;

use practical tools to assess, measure and integrate CSR and Sustainability into their organization;

experience the practical real world application of CSR and change management through ExperienceChange™ Simulations; and

join a prestigious community of St. Michael's Alumni in continuing education, sharing and networking.
The Certificate in CSR/Sustainability is taking applications for 2018/2019.  Over 50% of the program spaces have been reserved.  Participants come from Celestica, Canada Goose, Scotiabank, Frontiers North Adventures, North American Fur Auctions, Financial Executives International, Institute of Management Technology, Kids Help Phone, Me to We, The Riverwood Conservancy and others.  Only 15 places in the program remain.   
Module 1 will be held in Toronto, Canada, October 17 -19, 2018.  Module 2 and 3 will be held May, 2019 and November, 2019 respectively.   To apply, go to the Certificate in Corporate Social Responsibility/Sustainability Website.  See the program schedule, past graduates and news about the program.  The second intake Application Deadline is June 30th, 2018.
Influencing a Rapidly Changing World
Develop a viable CSR/Sustainability strategy, create a CSR report or refocus a community investment program.  Participants complete a major action project that directly impacts their business or career.  Next generation tools and practices introduced include Transformational Company research, the Embedding Project Assessment and Change Management Simulations applied to CSR/Sustainability implementation.  Another recent addition is alignment of the curriculum with the Body of Knowledge for the  International Society of Sustainability Professionals ISSP-Sustainability Associate Certification exam.   
The 13 month program is delivered in three on-site sessions (October, May, November) for a total of 11 days in Toronto.  In between sessions participants complete assignments, online learning modules and participate in Webinars, where graduates share their stories of CSR/Sustainability implementation.
"This program has already been so influential on my organization and career," says Pamela Cone, VP Global Corporate Responsibility, Milliman in Washington. "Soon after joining the program, I left the role of Chief Marketing Officer to serve as VP, Global Corporate Responsibility Officer, a newly created position at the firm.  I recently presented my Module 2 Global Diversity and Inclusion Benchmarks evaluation to my senior leadership team to inform our strategy;  and last week, in fulfilling Assignment 2,  I passed the Sustainability Associate exam with the International Society of Sustainability Professionals.  My next accomplishment will be my Capstone project, which is a study of CSR/Sustainability practices in professional service firms.  This program is helping me make a real difference."
Applications for the second intake of the program are being accepted through June 30th.  To apply, go to the Certificate in Corporate Social Responsibility/Sustainability Website. 
About the University of St. Michael's College
The University of St. Michael's College (USMC), federated with the University of Toronto, is a Catholic institution of higher learning founded by the Congregation of St. Basil, whose motto, "Teach me goodness, discipline and knowledge," sets the tone for campus life.  
A Business Advisory Committee ensures the CSR program is relevant and experiential.  CSR/Sustainability Leaders from a broad range of industries from insurance to mining,  including: The Co-operators, BMO Financial,  Scotia Bank (ret.),  Vermillion Energy, Centerra Gold , Conference Board of Canada,  and Rotman School of Management (University of Toronto) provide advice and input.
For More Information Contact
Kathryn A. Cooper, Program Manager, Certificate in Corporate Social Responsibility & Sustainability
Phone: (519) 855-9491
Website: https://www.csr-stmikes.ca/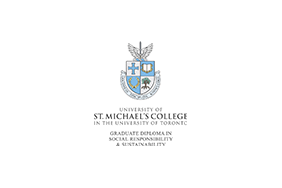 University of St. Michael's College
University of St. Michael's College
St. Michael's is a recognized leader in undergraduate, graduate and lifelong education. Its highly acclaimed Certificate in Corporate Social Responsibility is a unique executive education program developed in collaboration with the Conference Board of Canada. Founded over 150 years ago, the University of St. Michael's College is federated with the University of Toronto. Its faculty bring to current CSR issues the understandings that they have gained not only from the perspective of business but also from a tradition that includes the study of literature, philosophy and ethics. The goal of the program is to engage participants in a process of weaving together the major strands of CSR in a way that provides a time out from customary corporate activity. Alumni have called the result "transformational". Since 2003 St. Michael's has collaborated with an innovative technology company, ExperiencePoint to produce and distribute ExperienceCSR, a web based business simulation . In the simulation, which is offered as part of the Certificate program, participants advise a multinational technology firm on revising its corporate strategy to meet a myriad of critical environmental, community, employee relations, human rights and financial objectives. Through the application of sound CSR principles, participants help the corporation align its operations to its articulated values and, consequently, satisfy stakeholder interests and ensure long-term profitability. (www.experiencepoint.com)
More from University of St. Michael's College