Published 05-31-18
Submitted by Benevity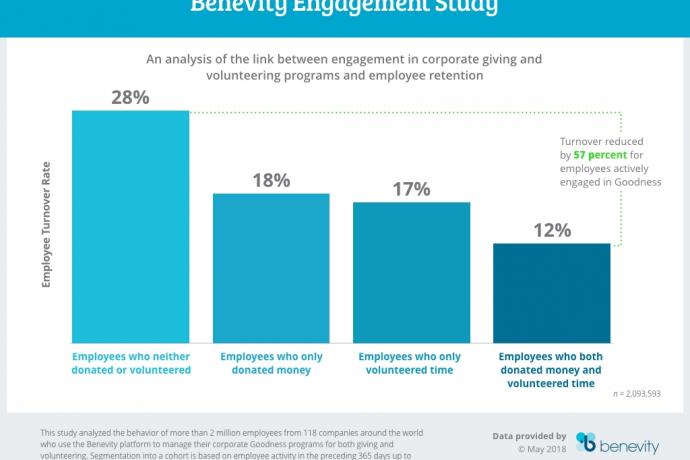 Benevity, Inc., the global leader in corporate social responsibility and employee engagement software, today announced the results of the Benevity Engagement Study, an analysis of the link between participation in corporate Goodness programs and employee retention within a large cohort of Fortune 1000 companies. The study, which examined the activity of more than 2 million users on the Benevity platform, found that turnover dropped by 57 percent in the employee group most deeply connected to their companies' giving and volunteering efforts. 
Studies show that the total cost of losing an employee can range from tens of thousands of dollars to 1.5-2 times an employee's annual salary, which for U.S. companies totals more than $160 billion a year. To the extent that employee turnover is often a proxy for how engaged employees are with their company, these costs are likely understated. Gallup estimates that actively disengaged employees cost the U.S. up to $600 billion every year in lost productivity. 
Findings from the Benevity Engagement Study underscore the true value of employee-centric Goodness programs that embed prosocial behavior like giving, volunteering, and taking action on social and environmental issues, into a company's human capital management strategies.
"This is a revealing study that arms leaders with data that proves the value of their social impact initiatives for their company's HR and broader corporate goals", said Bryan de Lottinville, Benevity Founder and CEO. "These days, people don't necessarily leave or disengage with a company or a business vertical, they leave a culture and values that they perceive are misaligned. Inclusive and user-centric corporate Goodness programs not only help to avoid that, they can become a source of differentiation and attraction for employees."
Methodology: Benevity analyzed a global dataset of more than 2 million employees from 118 companies that have integrated corporate giving and volunteering programs. They were then segmented based on activity in the preceding 365 days up to either removal from the platform or having a continued presence. The study found the following turnover rates for each category, with the giving and volunteering cohort showing far greater retention than the cohort that did not participate in Goodness-related activities:
Employees who neither donated or volunteered: 28% turnover
Employees who only donated money: 18% turnover
Employees who only volunteered time: 17% turnover
Employees who both donated money and volunteered time: 12% turnover 
Companies in this dataset displayed an average churn rate that is well below today's national average.
Many of Benevity's 450 enterprise clients—including companies like Microsoft and Prudential—are tapping into the power of Goodness to more deeply engage their employees, integrate CSR and HR objectives, and infuse their organizations with passion and purpose. For example, Microsoft's employee giving programis so successful that it is now viewed as a keystone benefit for its workforce and an attractive draw for job applicants. 
"The passion of our team and the infrastructure of this program are what make it happen," said Mary Snapp, corporate vice president and head of Microsoft Philanthropies. "We've become so flexible in the ways that we invite people to give and so nimble responding to causes people care about that we are actually attracting purpose-driven employees to work at this company because of the history, legacy, and strength of the giving program."
"At Prudential, our HR and CSR teams unite around the common goal of infusing purpose into our workplace culture to better attract, retain and engage top talent, which directly ties to the success of our company," says Spring Lacy, Vice President of Corporate and Community Engagement at Prudential. "By building programs that are engaging and inclusive, data shows that participating Prudential employees are more engaged, prouder of the organization and overall had higher retention rates."
"Today, companies are expected to pursue something more than profit. And employees are seeking a greater sense of purpose, meaning and impact at work," added de Lottinville. "Benevity clients who are most successful in this area embed 'Goodness' into their employee experience through user-centred technology that empowers people to support the causes they are most passionate about. Thisholistic, grassroots approach not only helps to attract key talent and reduce churn but also helps to more deeply connect employees to their work, companies and communities. It is truly the recipe for doing well by doing good."
About Benevity
Benevity, Inc., a B Corporation, is the global leader in online workplace giving, matching, volunteering and community investment software. Many of the world's most iconic brands rely on Benevity's award-winning cloud solutions to power corporate "Goodness" programs that attract, retain and engage today's diverse workforce by connecting people to the causes that matter to them. With software that is available in 17 languages, to more than four million users around the world, Benevity has processed over 2 billion dollars in donations and 10 million hours of volunteering time this year to almost 150,000 charities worldwide.
Media Contact
Amanda Orr
Kickstart for Benevity
1.202.459.1304
press@benevity.com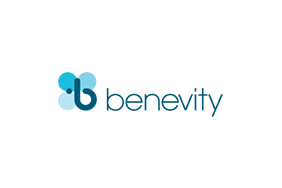 Benevity
Benevity
Benevity's microdonation software is the engine for socially responsible businesses to engage their customers, employees and others (such as their supply chain or advertisers) in optional charitable giving. Benevity lets companies embed user-directed, tax-receiptable donations and corporate matching programs into their existing transaction environments, using their own brands and systems. Benevity makes it easy for companies to build authentic and impactful cause marketing, workplace giving and other social responsibility initiatives that increase engagement, brand differentiation and return on investment, while tying directly to business activities that drive the company's bottom line. Benevity's goal is to help build user-driven giving opportunities into all types of existing online interactions to involve customers and employees in giving to causes they care about; building greater loyalty, differentiation and customer and employee stickiness. Benevity wants to help companies and their customers, employees and partners turn "feel good" into real good, and change the landscape of philanthropy in the process.
More from Benevity