Published 05-24-18
Submitted by Engage for Good
Campaigns that conserved acres for tigers, provided employment for individuals with criminal backgrounds, honored veterans and delivered meals to millions of kids struggling with hunger – all while building stronger businesses - were among the initiatives honored at the 16th annual Halo Awards. 
Twenty-eight category-specific winners were selected out of more than 125 entries by Engage for Good at its annual conference.
In addition, Salesforce (the global CRM leader) and Save the Children (a nonprofit focused on giving children a healthy start, an education, and protection from harm) each received a Golden Halo Award, the company's highest honor, for their long-records of achievement at the intersection of profit and purpose.
Case studies of each winning campaign and profiles of the Golden Halo Award winners can be found at http://engageforgood.com/halo-awards
"Once again Halo-winning campaigns rose to the top by effectively communicating cause-related messages while measurably building a better world and the bottom line," said Engage for Good President David Hessekiel.
This year's Halo Award-winning campaigns were:
Animal Category
GOLD: Project C.A.T.: Conserving Acres for Tigers: Discovery, Pledgeling & World Wildlife Fund
SILVER: Forever Against Animal Testing: The Body Shop Canada & Cruelty Free International
Consumer Activated Corporate Donation Campaign
GOLD: #DreamBigPrincess Global Photography Campaign: The Walt Disney Company & Girl Up
SILVER: 2017 (RED) Shopathon: Bank of America & (RED)
Consumer Donation/Crowdfunding Campaign
GOLD: Red Nose Day 2017: Walgreens, NBCUniversal, Mars Wrigley Confectionery U.S. & Comic Relief USA
SILVER: Evite Donations: Evite & Pledgeling
Education Category
GOLD: Team Up to Support Teachers: Burlington Stores & AdoptAClassroom.org
SILVER: PNC Grow Up Great: PNC & DonorsChoose.org
Employee Engagement (Group Volunteering) Category
GOLD: XTEAM: Berkshire Bank
SILVER: WestJet Live Different Builds: WestJet & Live Different
Employee Engagement (Skilled Volunteering) Category
GOLD: PwC Summer Intern Data Program: PwC & DonorsChoose.org
SILVER: MySkills4Afrika: Microsoft, MovingWorlds & Junior Chambers International, United for Education Foundation, Tony Elumelu Foundation, Technology for Sustainable Development
Environmental Category
GOLD: Planting Seeds for Haiti's Future: Timberland & Smallholder Farmers Alliance
SILVER: Rinse, Recycle, Repeat: Garnier, TerraCycle & DoSomething.org
Experiential Category
GOLD: #HANGRY and Hitting the Road: Dine Out for No Kid Hungry Bus Tour: Arby's Foundation, The Habit Burger Grill & Share Our Strength
SILVER: Walls Are Meant For Climbing: The North Face & The Trust for Public Land
Health Category
GOLD: Investing in a Cure: Edward Jones® & Alzheimer's Association®
SILVER: Healthy for Life 20 By 20: Aramark & American Heart Association
Nudging For Good (Sponsored by PRS IN VIVO)
GOLD: Nudging for Good: Ammunition & UNICEF Kid Power
SILVER: Rinse, Recycle, Repeat: Garnier, TerraCycle & DoSomething.org
Small Business Category
GOLD: School Garden Grant Program: Alaska Fertilizer & Cornell Lab of Ornithology
SILVER: Dine Out for No Kid Hungry: Grimaldi's Pizzeria & Share Our Strength
Social Media Category
GOLD: OkCupid x Planned Parenthood Partnership
SILVER: Be a Community Hero with Spider-Man: Sony Pictures Entertainment & Goodwill Industries International, Inc.
Social Services Category
GOLD: Honoring Veterans Then and Now: Activision Blizzard & The Call of Duty Endowment
SILVER: Second Chance Employment: Dave's Killer Bread & Dave's Killer Bread Foundation
Video Category
GOLD: Coach Dad: Father's Day Surprise: WestJet & Ronald McDonald House Charities Canada
SILVER: AIG's Houston Heroes
About Engage for Good
Engage for Good, producer of the Engage for Good conference and Halo Awards, helps business and nonprofit executives succeed together by providing practical information and inspiration, opportunities to build valuable relationships and recognition for outstanding work engaging employees and consumers around social good and cause-related marketing efforts. 
A wealth of information on cause marketing, corporate social impact programs and Engage for Good's offerings can be found at http://www.engageforgood.com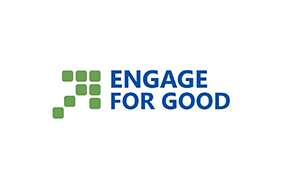 Engage for Good
Engage for Good
Engage for Good (formerly the Cause Marketing Forum) helps business and nonprofit executives succeed together by providing access to actionable information, valuable contacts and recognition for outstanding work through conferences, distance learning, online resources and customized services.
More from Engage for Good