Published 05-21-18
Submitted by Morgan Stanley
Morgan Stanley Foundation today announced over $1,500,000 in grants to local food banks in 29 cities across 20 states to support hunger-relief programs that deliver food assistance and healthy meals to children and families. These grants are part of our most recent commitment, bringing our support total to more than $23 million to 200 Feeding America member food banks to help launch, build upon and sustain critical child nutrition programs through child hunger grants and expand access to fresh produce through produce grants. Morgan Stanley is committed to providing children with a healthy start to life and access to nutritious food is a vital part of that pledge.
"We are proud to continue our longstanding partnership with Feeding America and its network of local food banks to ensure every child has access to healthy food and raise awareness about the issue," said Joan Steinberg, Global Head of Philanthropy at Morgan Stanley. "Through our support, particularly through the hands-on volunteering of thousands of our employees, we hope to see Feeding America's mission to end hunger become a reality."
Food insecurity continues to be a major issue facing millions of Americans today. 41 million people face hunger in the United States, including 13 million children. With one out of every seven people turning to the Feeding America network each year for extra support, grants like these help fight hunger across the nation. Feeding America's Hunger in America 2014 study found that 39 percent of households served by Feeding America had at least one child under the age of 18.
"Grants like this from Morgan Stanley make a vital difference in our efforts to provide children with the nutritious meals they need every day," said Matt Knott, President of Feeding America. "Nearly 13 million children in the United States live at risk of hunger. Together, we can fight hunger and help children get the fuel they need to grow healthy and strong."
The following food banks are recipients of the Morgan Stanley Foundation:
Recipient of Child Hunger Grants

Recipient of Produce Grants

Community Food Bank of Southern Arizona (Tuscon, AZ)
Community Food Bank (Fresno, CA)
San Francisco and Marin Food Banks (San Francisco, CA)
Care and Share Food Bank (Colorado Springs, CO)
Food Bank of Delaware (Newark, DE)
Feeding Tampa Bay (Tampa, FL)
Gleaners Food Bank of Indiana, Inc. (Indianapolis, IN)
Second Harvest Heartland (St. Paul, MN)
Harvesters - The Community Food Network (Kansas City, MO)
Food Bank of Western New York (Buffalo, NY)
Freestore Foodbank (Cincinnati, OH)
Greater Cleveland Food Bank, Inc. (Cleveland, OH)
Mid-Ohio FoodBank (Grove City, OH)
The Foodbank, Inc. (Dayton, OH)
Toledo Northwestern Ohio Food Bank (Toledo, OH)
Regional Food Bank of Oklahoma (Oklahoma City, OK)
Central Pennsylvania Food Bank (Harrisburg, PA)
Second Harvest Food Bank of East Tennessee (Maryville, TN)
Central Texas Food Bank (Austin, TX)

Second Harvest Foodbank of Southern Wisconsin (Madison, WI)

Community Food Bank of Central Alabama (Birmingham, AL)
Community Food Bank of Southern Arizona (Tucson, AZ)
Feeding Northeast Florida (Jacksonville, FL)
Central Illinois Foodbank (Springfield, IL)
Gleaners Community Food Bank of Southeastern Michigan (Detroit, MI)
Food Bank of Central & Eastern North Carolina (Raleigh, NC)
Roadrunner Food Bank (Albuquerque, NM)
Second Harvest Food Bank of the Mahoning Valley (Youngstown, OH)
H & J Weinberg NE PA Regional Food Bank (Pittston, PA)
Second Harvest Food Bank of Northeast Tennessee (Kingsport, TN)
Second Harvest Foodbank of Southern Wisconsin (Madison, WI)

 
Morgan Stanley (NYSE: MS) is a leading global financial services firm providing investment banking, securities, wealth management and investment management services. With offices in more than 41 countries, the Firm's employees serve clients worldwide including corporations, governments, institutions and individuals. For more information about Morgan Stanley, please visit www.morganstanley.com.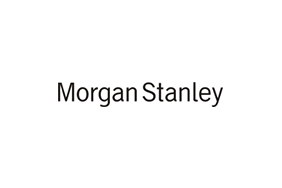 Morgan Stanley
Morgan Stanley
Morgan Stanley is a global financial services firm and a market leader in investment banking, securities, investment management and wealth management services. With more than 1,200 offices in 42 countries, the people of Morgan Stanley are dedicated to providing our clients the finest thinking, products and services to help them achieve even the most challenging goals. Through its Global Sustainable Finance Group, Morgan Stanley seeks to support community development initiatives with debt, equity, and philanthropy.
More from Morgan Stanley