Published 05-15-18
Submitted by Better Business Bureau Serving Metropolitan New York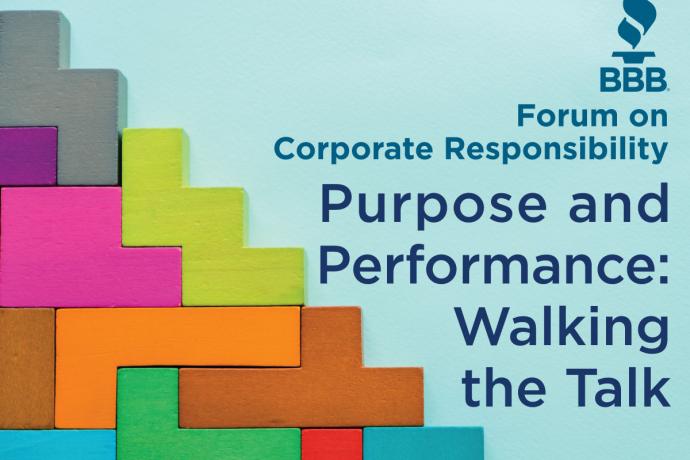 Register: bbb.org/new-york-city/bbb-forum-2018
On June 12, 2018, the BBB Foundation of Metro New York will present its eleventh BBB Forum on Corporate Responsibility, with the theme Purpose and Performance: Walking the Talk. This elite half-day program is attended by business leaders and their advisers working in corporate responsibility, sustainability, corporate communications and public affairs, as well as other interested executives. It will take place at Scandinavia House, Victor Borge Hall, 58 Park Avenue at 38th Street in Manhattan, from 8:00 AM to 12:30 PM. This year's Forum speakers will discuss how business leaders identify and achieve corporate responsibility and sustainability goals that drive business value.
The 2018 BBB Forum is generously supported by Major Sponsor EY; Benefactor Sponsors MLB Advanced Media, Nielsen, and Yext; and Media Supporter 3BL Media.
To kick off the 2018 BBB Forum, keynote speaker Brendan LeBlanc, Partner, Americas Climate Change and Sustainability Services, EY, will speak to the Forum's overall "purpose and performance" theme by providing an overview of the historical challenges and new developments in measuring and communicating drivers of non-financial performance and long-term value creation.
Following the keynote, a featured panel of top thought leaders will discuss corporate responsibility trends, sharing insights from their perspectives about how businesses are connecting purpose with performance now:
Laura Gitman, moderator, Senior Vice President, BSR

Jonathan Atwood, Vice President, Sustainable Business & Communications, Unilever North America

Heidi DuBois, Global Head of Corporate Social Responsibility and Social Finance, BNY Mellon

Amanda Gardiner, Vice President, Global Sustainability and Social Innovation, Pearson plc
Mike Fisher, Chief Technology Officer of Etsy, Inc., is the Featured Speaker who will follow the panel.  He will discuss Etsy's corporate responsibility journey, with a focus on how technology has an impact on his company's CSR goals and outcomes, including a look at responsible energy use. 
After his initial remarks, he will be joined onstage by Ilyssa Meyer, Manager, Public Policy and Research, Etsy, Inc.  She will share insights about Etsy's experience as a "brand taking a stand" in the policy and advocacy sphere, in conversation with Mike Fisher.
Two special reports will conclude this half-day event: 
Daniel Aronson, Founder of Valutus, will discuss finding the value in values - how businesses can monetize the value of corporate responsibility and sustainability efforts.

Roger Osorio, Executive Coach & Program Leader from IBM, will deliver a talk about identifying clearly defined, measurable results to find and solve real problems standing in the way of achieving CSR goals.
BBB Forum 2018 Event Supporters include: Advertising Self-Regulatory Council, BSR, CDP, Council of Better Business Bureaus, CSRHub, Global Compact Network USA, Governance & Accountability Institute, Interfaith Center on Corporate Responsibility, Manhattan Chamber of Commerce, New York Society of Association Executives, NYCharities.org, Partnership for New York City, The Robert Zicklin Center for Corporate Integrity – Baruch College, Social Accountability International, Sustainability Practice Network, United States Hispanic Chamber of Commerce, World Business Council for Sustainable Development (list in formation).
Cost to attend:
BBB Accredited, CBBB National Partners, Event Supporter Guests, Nonprofits:
$90 per person until May 30, $125 per person after that.
Non-BBB Accredited:
$160 per person until May 30, $195 per person after that.
Please register in advance. Space is limited. Register now to assure seating.
Details & online registration:
bbb.org/new-york-city/bbb-forum-2018
Registration by phone & more information:
Call: 212-358-2829
Email: llewis@newyork.bbb.org 


About BBB Foundation of Metropolitan New York
Metro New York's BBB Foundation is a 501(c)(3) nonprofit organization established in 1967. It provides educational programs and services for businesses, charities and consumers; encourages informed consumer support of charities; promotes transparency and accountability; conducts research; and provides educational intern opportunities to students who are potential business and charity leaders.  It operates the BBB Charity Accountability Program, which publishes BBB Charity Reports on about 760+ Metro New York area charities based on performance against the 20 BBB Standards for Charity Accountability. BBB Charity Reports are available online at ny.give.org.

About BBB Serving Metropolitan New York
For more than 100 years, Better Business Bureau has been helping consumers find businesses, brands and charities they can trust. In 2017, people turned to BBB more than 160 million times for BBB Business Profiles on more than 5.2 million businesses and Charity Reports on 11,000 charities, all available for free at bbb.org. There are local, independent BBBs across the United States, Canada and Mexico. BBB Serving Metropolitan New York was founded in 1922, and serves New York City, Long Island, and the Mid-Hudson region. Visit bbb.org for more information.
Better Business Bureau Serving Metropolitan New York