Published 05-02-18
Submitted by Pact
Today, Pact announced the launch of a new global initiative called Energy for Prosperity (E4P) to improve energy access in low- and middle-income communities as part of the organization's integrated approach to development.
Globally, more than 1 billion people lack access to energy. For these ­­­communities, energy poverty presents a major roadblock to progress, in areas from education and livelihoods to health and food security. 
With a focus on innovation and social enterprise, Pact helps people gain access to affordable, reliable and sustainable electricity. Pact collaborates with governments, companies, investors and other civil society organizations to work toward a future in which all people have the skills and resources they need to enjoy the many benefits of modern energy.
Energy for Prosperity began in Myanmar, with the Ahlin Yaung project, which has established renewable energy committees in 76 villages to train people to install and maintain solar home systems and manage a revolving fund, which provides the initial capital to purchase the solar home systems. The Ahlin Yaung project is working to bring renewable energy to 1 million people in rural villages by 2021. So far through Ahlin Yaung, more than 200,000 people across central Myanmar have gained access to electricity, through solar home systems as well as through the electrification of community-prioritized places.
About half say they are using the electricity to be more productive, such as running businesses longer and more efficiently, and approximately 80 percent say their children, now able to read and study past sunset, have gained educational benefits. The Ahlin Yaung fund is now also financing mini-grid and grid connections, as well as aquaculture projects to promote the productive use of energy and further improve economic opportunity.
"The launch of this expanded global initiative aligns with Pact's ongoing transformation, in which the organization is building and leveraging new ways of doing and funding development, in recognition of the fact that current models are not sufficient to resolve the systemic challenges that perpetuate poverty," said Matthew Cullinen, Senior Director, Energy for Prosperity.
"As a leading implementation partner for national development agencies, Pact will continue to offer the highest quality implementation operations throughout the world. In addition, Pact is committed to building long-term, multi-stakeholder platforms to overcome the structural impediments and financial barriers that prevent communities from gaining access to energy."
This is taking the form of products and services that remove demand distortions and supply constraints, reduce the cost and complexity of energy project development and product distribution, and create the enabling environment for connecting supply and demand in new ways.
Energy for Prosperity includes both donor-funded and private sector initiatives to increase energy access. Some of Pact's renewable energy partners to date have included Chevron, Shell, Engie and ABB.
Pact is also the host of a new initiative called Smart Power Myanmar (SPM). With financial support from The Rockefeller Foundation, Pact will accelerate access to renewable energy for poor and vulnerable people in Myanmar by bringing together key players in the public and private sectors, spurring economic growth and transforming lives in rural communities. 
The Smart Power Myanmar facility will build a viable, decentralized renewable energy ecosystem by ensuring the right incentives and policies are created to expand the reach of productive power to those who live without sufficient access, with a focus on customer-centered solutions, long-term socio-economic development and systemic change. The Smart Power Myanmar facility aims to mobilize hundreds of millions of dollars to support the rollout of thousands of mini-grids and other rural electrification solutions that are in line with Myanmar's National Electrification Plan. In addition to The Rockefeller Foundation, the facility's founding members include The World Bank, USAID and Yoma Strategic Holdings.

More information
About Pact – Pact is the promise of a better tomorrow for communities challenged by poverty and marginalization. We serve these communities because we envision a world where everyone owns their future. To do this, we build systemic solutions in partnership with local organizations, businesses and governments that create sustainable and resilient communities where those we serve are heard, capable and vibrant. On the ground in nearly 40 countries, Pact's integrated, adaptive approach is shaping the future of international development. Visit us at www.pactworld.org.
About The Rockefeller Foundation – For more than 100 years, The Rockefeller Foundation's mission has been to promote the well-being of humanity throughout the world. Together with partners and grantees, The Rockefeller Foundation strives to catalyze and scale transformative innovations, create unlikely partnerships that span sectors, and take risks others cannot – or will not. For more information, please visit www.rockefellerfoundation.org.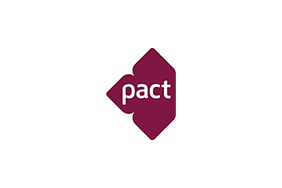 Pact
Pact
Pact is an international nonprofit that works in nearly 40 countries building solutions for human development that are evidence-based, data-driven and owned by the communities we serve. Founded in 1971, Pact works with partners to build resilience, improve accountability, and strengthen knowledge and skills for sustainable social impact.
More from Pact