Published 04-27-18
Submitted by Consumers Energy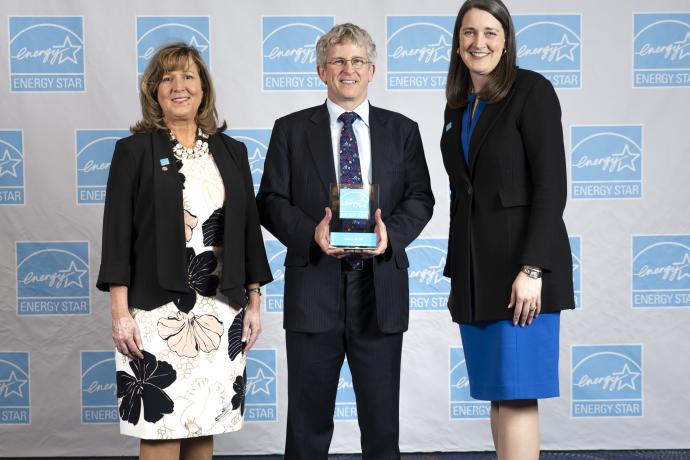 Teri VanSumeren (left), Consumers Energy™s Executive Director of Clean Energy Products and Patti Poppe (right), Consumers Energy™s President and Chief Executive Officer, receiving the Energy Star Partner of the Year Award.
Consumers Energy is being honored for the sixth time in seven years for its work to reduce energy waste with the ENERGY STAR® Partner of the Year – Sustained Excellence Award.
"Our energy efficiency programs represent our commitment to hometown service, helping Michigan households and businesses lower their energy bills by over $1.5 billion since 2009," said Patti Poppe, Consumers Energy's president and chief executive officer, who received the award in Washington, D.C. last week.
This month, ENERGY STAR honored Jackson as the nation's second-most energy efficient small city. Jackson has 37 ENERGY STAR-certified energy efficient buildings, second only to Midland, Texas.
Consumers Energy worked directly with building owners in Jackson to reduce their energy use and become ENERGY STAR-certified.
"We are excited to see our hometown of Jackson is well on its way to being the most energy-efficient small city in America, and we won't stop until Jackson is No. 1," Poppe said.
Consumers Energy this week also announced a new collaboration with Nest to provide 10,000 free thermostats to eligible Michigan households over the next three years, an effort to help those most in need to reduce their energy bills.
Consumers Energy offers a variety of energy efficiency programs for all homes and businesses. The energy provider also has carried out efforts that raise public awareness of reducing energy waste.
Businesses can learn more about reducing energy waste at www.ConsumersEnergy.com/mybusiness. Residents can learn more at www.ConsumersEnergy.com/myhome.
About Consumers Energy
Consumers Energy, Michigan's largest energy provider, is the principal subsidiary of CMS Energy (NYSE: CMS), providing natural gas and/or electricity to 6.7 million of the state's 10 million residents in all 68 Lower Peninsula counties.
About ENERGY STAR
The 2018 Partner of the Year – Sustained Excellence Awards were given to 163 organizations that have demonstrated leadership in energy efficiency. The honor is the highest offered by the U.S. Environmental Protection Agency.
Since 1992, ENERGY STAR and its partners have saved American families and businesses $450 billion in energy costs.
For a complete list of 2018 winners, visit www.energystar.gov/awardwinners.
Media Contacts 
Brian Wheeler, 517-788-2394, or Debra Dodd, 517-545-8711
For more information about Consumers Energy, go to www.ConsumersEnergy.com.
Check Out Consumers Energy on Social Media
Facebook: https://www.facebook.com/ConsumersEnergyMichigan/
Twitter: https://twitter.com/consumersenergy
YouTube: https://www.youtube.com/user/consumersenergy
Flickr: https://www.flickr.com/photos/consumersenergy/

Consumers Energy
Consumers Energy
Consumers Energy is one of the nation's largest combination utilities, providing electric and natural gas service to nearly 6.6 million of Michigan's 10 million residents, in all 68 Lower Peninsula counties.
Our Growing Forward strategy calls for investing more than $6 billion in Michigan over the next five years. That includes significant investments in energy efficiency, renewable energy, environmental and customer service enhancements, and new power generation.
The investments make Consumers Energy one of the largest investors in Michigan and will help the utility maintain and improve service to customers, create jobs, boost the state's economy and expand the state's tax base.
More from Consumers Energy