Published 04-25-18
Submitted by Stars of HOPE®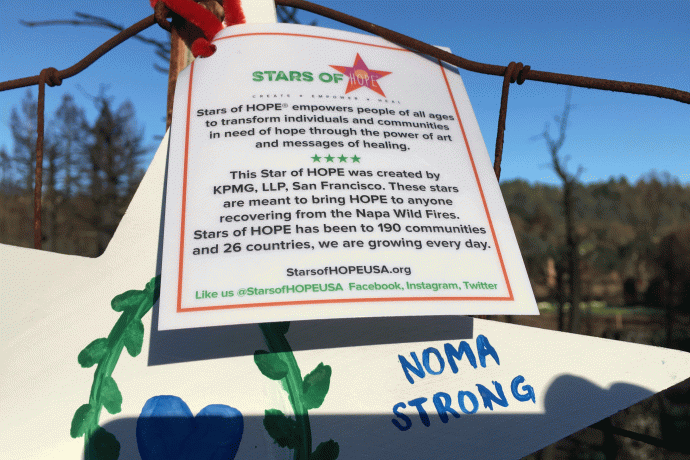 In stark contrast to the scorched landscape, this brightly painted Star of HOPE by a KPMG volunteer was hung as a reminder to residents that they were not alone.
A collaboration between KPMG LLP and Stars of HOPE® is turning tragedy into hope for residents in the fire zone of Santa Rosa, Calif. 
Hand-painted, brightly colored one-foot stars with words of encouragement began appearing soon after last October's deadly wildfires, a stark contrast to the dark and grim landscape left behind by the flames that swallowed homes and entire neighborhoods.
Stars of HOPE joined KPMG employees in the San Francisco office who hand painted messages of hope. KPMG also sponsored events for hundreds of students at three schools in the fire zone: Hidden Valley Elementary, Reibli Elementary, and Glen Ellen.
KPMG, which provides audit, tax and advisory services, has been a long-standing supporter of the New York Says Thank You (NYSTY) Foundation and most recently, their Stars of HOPE program. NYSTY was founded by Jeff Parness, who now serves as the Foundation's executive director. Parness was inspired by his 5-year old son, Evan, following the 9/11 tragedy as a 'pay it forward' for the country responding to the city in the days and months following the attack. In the words of Jeff Hoffman, a former public affairs executive with Disney and now the founder of Jeff Hoffman & Associates, "This helps to heal the deep emotional wounds of survivors while strengthening communities around the world recovering from tragedy through art, compassion, and connectivity."
The science behind the Stars of HOPE is based on the Kubler Ross Change Curve. The HOPE the hand painted stars bring to survivors of natural disasters or human-caused tragedies acts as a positive shock while they are coping in the "numbness" phase and catapults them forward through the stages of grief to the "New Relationships Phase" and later, the "Helping Others Phase," bypassing many other stages.
For one KPMG San Francisco employee, Laurie Souksavath, the in-office painting event was very personal and therapeutic. Laurie's family lived in Coffey Park, one of the hardest hit neighborhoods, which burned to the ground. Fellow KPMG employees were empowered by the opportunity to show support for and offer hope to Laurie and other families, who are embarking upon a long-term recovery process. Stars of HOPE® team member Fran Sheff-Mauer from Connecticut was privileged to hang Laurie's star only a few days later on the site where her family's home once stood, knowing it would bring smiles and inspiration to all who pass by as the community works through the grueling cleaning and rebuilding process. "Partnering with Stars of HOPE to provide encouragement and help lift spirits in a time of need was a powerful experience. To do it side-by-side with an employee whose family was directly affected made it even more so, and reaffirmed why we are so committed to supporting our community," said Scott Burger, the leader of KPMG's citizenship efforts for its San Francisco office.
The Stars have continued to inspire and bring hope as Parness posts daily Stars of HOPE on the Santa Rosa Firestorm Update Facebook page. Summer Anne posted, "Thank you for coming to our community! I just LOVE seeing all of the stars hanging around town. Takes my eyes off all the burned areas and makes me feel hopeful!" And, Beth Ann Huff Henry, posted, "You [Jeff Parness] and those little wooden stars were so important to me during at the worst time of our lives and I can only do my best to 'Pay It Forward' for the rest of my days."
Megan Carlock and Jennafer Rosset, residents of Santa Rosa, were instrumental in coordinating the painting events at Hidden Valley and Reibli schools, while Renea Magnani coordinated the Glen Ellen painting event. Finding strength and hope in each other, Davon Godwin posted to Megan via Facebook his gratitude for her kindness and the hope found in the colorfully painted stars adorning a now charred landscape, "I'm sorry it's taken me so long to say how grateful I am for your presence and influence in our community. The informed, thoughtful, creative and beautiful ways you express concern, love and encouragement make me feel safer and more at home in my hometown. Four of our five routes to work and school were ravaged by fire, but now are emerging as vital, hopeful spaces again. I weep a little every time I see Stars of HOPE®, which is every day. Thank you for helping to make our home so special."
Stars of HOPE arrived on site in California only a day after the mass school shooting at Stoneman Douglas High School in Parkland, Fl. Still in recovery mode themselves, Glen Ellen students found hope and healing by painting their stars to be delivered to the survivors and families of Stoneman Douglas. "It's incredible when you see students still in the depths of tremendous personal loss and tragedy 'pay it forward' to students literally across the nation… and all of it made possible through the generosity of our partners at KPMG. These students embody the founding principles and core of what Stars of HOPE® represents," said Parness, who himself is a 9/11 survivor. Parness has never forgotten the thousands of people from all across the Nation who poured into New York City the days, weeks, and months following that historic day and ultimately inspired the New York Says Thank You Foundation (NYSTY).
About New York Says Thank You Foundation:
Started in 2003 at the suggestion of a 5-year-old boy, New York Says Thank You Foundation is a growing national and global "Pay It Forward" service movement that is creating transformative solutions based on survivor empowerment in disaster relief, education, and the arts. For more information and photos, please visit New York Says Thank You or Facebook.com/NewYorkSaysThankYou
About Stars of HOPE Program:
Stars of HOPE empowers people of all ages to transform individuals and communities through the power of art and personal messages of hope and healing. Since 2007, over 80,000 hand-painted Stars of HOPE have lifted the spirits of millions of disaster survivors in 190 communities and 26 countries. Special thank you to our National Community Sponsor KMPG LLP. Stars of HOPE® is a registered trademark of New York Says Thank You Foundation. For more information and photos, please visit Stars of HOPE USA or Facebook.com/starsofhopeusa
About KPMG LLP:
KPMG is one of the world's leading professional services firms, providing innovative business solutions and audit, tax, and advisory services to many of the world's largest and most prestigious organizations.
KPMG is widely recognized for being a great place to work and build a career. Our people share a sense of purpose in the work we do, and a strong commitment to community service, inclusion and diversity, and eradicating childhood illiteracy.
KPMG LLP is the independent U.S. member firm of KPMG International Cooperative ("KPMG International"). KPMG International's independent member firms have 197,000 professionals working in 154 countries. Learn more at www.kpmg.com/us.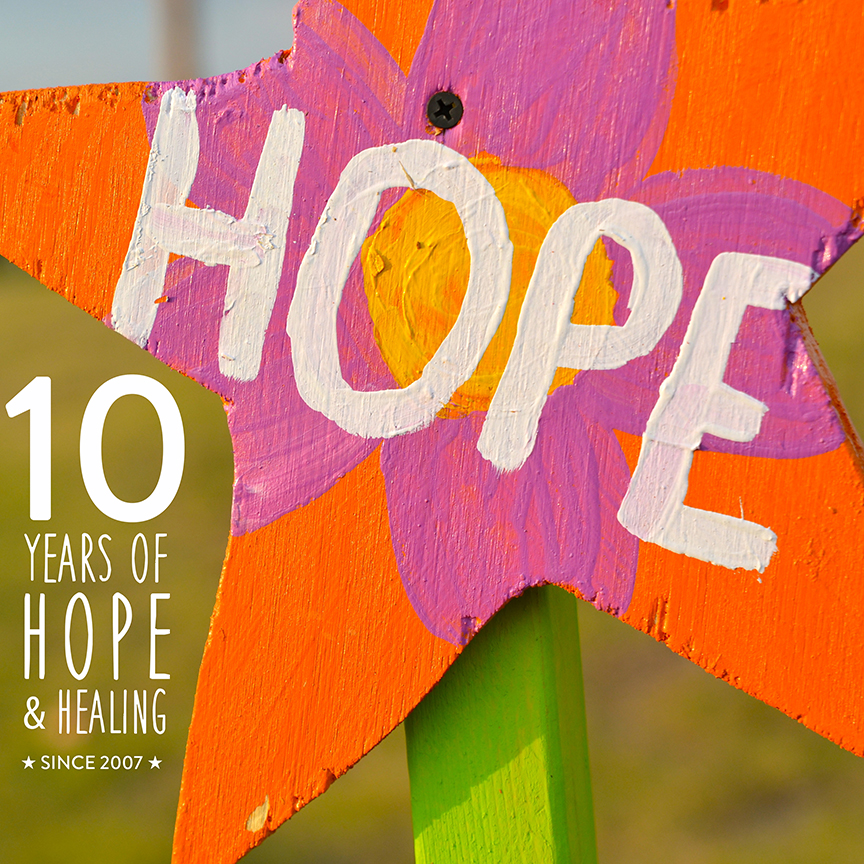 Stars of HOPE®
Stars of HOPE®
The Stars of HOPE program utilizes the latest scientific findings in positive psychology and heroism science to bring healing, growth, and resiliency to a world thirsty for loving kindness. The guiding principle behind Stars of HOPE is producing heroic transformation in people through their participation in compassion based community healing. There is no organization more effective in converting despair into love, loss into recovery, and tragedy into triumph. Through connective volunteerism and social transformation, the Stars of HOPE showcases the power of love and service in cultivating the best of humanity. -Professor Scott T. Allison Professor of Psychology at the University of Richmond
More from Stars of HOPE®