Published 04-24-18
Submitted by EcoVadis
 EcoVadis, the leader in business sustainability ratings for global supply chains, expands its support of the Sustainable Purchasing Leadership Council (SPLC) to include gold-level sponsorship of the 2018 SPLC Summit and the SPLC webinar series, as well as development of guidelines to help drive the practice forward in the United States and worldwide.
The SPLC Summit, which will take place in Minneapolis, Minnesota from May 14-16, 2018, attracts over 400 purchasing and sustainability professionals, suppliers and NGO experts across private, public and non-profit sectors who are working to advance the sustainable purchasing performance of their organizations. The event will include a variety of expert-led sessions, networking, a trade show and buyer-supplier matchmaking. 
EcoVadis was selected to join a panel of global sustainable procurement leaders who will showcase best practices and strategies of how business sustainability ratings are being used to engage buyers and suppliers to drive results, including stories from:
-    Johnson & Johnson's sustainable procurement manager Katherine Gross
-   Avery Dennison - Roland Simon, Vice President Global Procurement and Corporate Sustainability
-    Tessy Plastics' Cindy Bush, environmental health and safety director  
The panel will be held on Tuesday, May 15th, from 11:35am-12:35pm. 
"The SPLC community and the best practices they create are vital resources for CPOs and practitioners faced with the increasingly urgent need to address sustainability issues in the supply chain," said Pierre-Francois Thaler, Co-CEO and Co-Founder of EcoVadis. "We're excited to be present at such an industry-shaping event and lead the discussion around tackling the toughest challenges in measuring and improving supplier performance. Creating new business behaviors and embracing the mentality shift required for global sustainability success is a critical topic for everyone in the industry."
SPLC is leading the way in responding to the pressing demand for education and guidance from companies seeking to contain risk and create value through driving sustainable procurement and supply chain performance. The organization provides guidance frameworks and develops best practice case studies to help companies develop the most effective sustainable supply chain programs. The event is specifically designed to give attendees the opportunity to share and promote sustainable purchasing best practices and learn from peers.
"EcoVadis' work in driving sustainable supply chains is well aligned with the mission and vision of SPLC," said Sam Hummel, president and chief executive officer of SPLC. "We advocate the harmonizing of tools and rigorous methodologies for supply chain partners to collaborate on measuring and encouraging performance across the full spectrum of corporate social responsibility and sustainability criteria. EcoVadis delivers on this through providing reliable, robust sustainability intelligence that leads to real and lasting stakeholder engagement." 
EcoVadis is also sponsoring SPLC's webinar series, has been featured in the SPLC Insight evaluation of ratings providers, and will continue to support SPLC's work in developing content and guidance throughout the year. 
Find more information and registration at https://www.sustainablepurchasing.org/summit18/ .
About EcoVadis
EcoVadis is the world's most trusted provider of business sustainability ratings, intelligence and collaborative performance improvement tools for global supply chains. Backed by a powerful technology platform and a global team of domain experts, EcoVadis' easy-to-use and actionable sustainability scorecards provide detailed insight into environmental, social and ethical risks across 188 purchasing categories and 150 countries. Industry leaders such as Johnson & Johnson, L'Oréal, Nestlé, Schneider Electric, Michelin and BASF are among the more than 45,000 businesses on the EcoVadis network, all working with a single methodology to evaluate, collaborate and improve sustainability performance in order to protect their brands, foster transparency and innovation, and accelerate growth.  Learn more on ecovadis.com, Twitter or LinkedIn.
###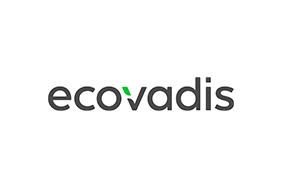 EcoVadis
EcoVadis
EcoVadis operates the 1st collaborative platform, allowing companies to assess the environmental and social performance of their global suppliers. EcoVadis combines technology and expertise to deliver simple and reliable "Suppliers Sustainability scorecards," covering 150 purchasing categories, 21 CSR indicators and 120 countries. EcoVadis ratings helps businesses, reduce risks and drive performance and innovation in their supply chain. More than 30 "Global 500" companies, have selected the EcoVadis solution, including Alstom, Axa, Accor, Air Liquide, Alcatel-Lucent, Atos Origin, Bouygues, Banca Monte Paschi di Siena, Orange, Lafarge, Renault, Schneider Electric, Umicore, and Veolia.
More from EcoVadis