Published 04-19-18
Submitted by Ola Brew Co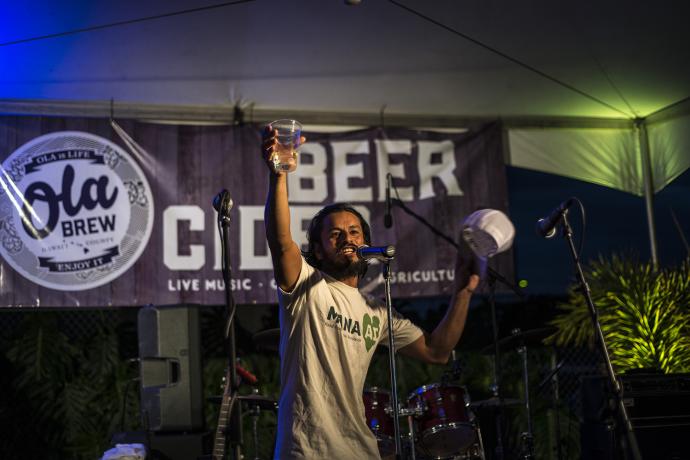 Daniel Anthony (Mana AI) toasting to Ola Brew's Grand Opening
After the successful launch of their Hawaii County brewery and taproom in December, 2017, Ola Brew Co. announces a round-two equity raise of $200,000 to add an onsite restaurant and double brewing capacity for beer and ciders. The restaurant will serve food made from locally grown ingredients and the expanded brewing capacity will help Ola Brew keep up with local demand, which has quickly exceeded expectations. The offering—now live on the WeFunder crowdfunding platform—is made possible by the recent JOBS Act which, allows local investors to buy equity in new growing businesses.
Only two months after opening doors, Ola Brew Co. is quickly becoming the must see/must taste destination for visitors and local residents, alike. The draw—Ola Brew is Hawai'i's first production brewery to specialize in both beer and cider made with island-grown ingredients.
Demand for Local Craft
While the rise of micro-breweries and micro distilleries nationwide continues to grow steadily, the cider industry is seeing a clear boom and a demand for more flavors and new styles of cider—and Hawaii is no exception. Since closing their first equity crowdfunding campaign in May, 2017, the Ola Brew Co team has been hard at work, bringing a new facility to life and perfecting brew recipes for their grand opening in December 2017. Since December, the team has exceeded projections in their taproom with  retail partners across Hawai'i Island; Ola Brew has also partnered with Paradise Beverage, Hawai'i's largest beer distributor for statewide distribution of canned beer sales.
Facility and License
Ola Brew Co. is second to Maui Brew Co. to acquire a Hawaii Class 18 Liquor License—allowing them to produce beer, wine, and spirits. In 2017, Ola brew transformed an ordinary warehouse into a state-of-the-industry production facility and taproom. The facility's current brew capacity is 6000 barrels per year and is equipped with a full canning and production line, which allows Ola Brew to share craft brews with the entire state.
Dedication to Community
Using a triple bottom line business approach, Ola Brew defines success by positively impacting the island's economy, the environment, and its people. Director of Marketing and Community Engagement, Naehalani Breeland says, "last year we purchased over $60,000 in local fruits to prepare for this year's production. This year we plan to triple that." 
Stakeholder Owned
The recent authorization of the Jumpstart Our Business Startups (JOBS) Act—signed into law May 16, 2016— allows and encourages small businesses and entrepreneurs to raise capital from their trusted community rather than seeking tethered and unfamiliar angel investments.  Wefunder, Nick Tommarello says, "Everyone should have the right to invest in what they truly care about, and the people who care should have a say where the capital gets distributed." So far, the JOBS Act has allowed hundreds of small businesses and individual investors to benefit.
Since the JOBS Act regulations were implemented, many small businesses across the US are adopting this model of fundraising. "We decided to utilize the WeFunder platform for a number of reasons," says Brett Jacobson, CEO/Founder of Ola Brew Co.  Wefunder's mission is to increase economic growth and lower wealth disparity, by sharing the rewards of capitalism more broadly, which directly relates to the goals at Ola Brew Co. Jacobson, also the founding CEO of local beverage company, Hawaiian Ola, has had a long-standing passion for supporting Hawaii's agriculture and economy by empowering local farmers producing responsibly grown crops. "Rather than isolating community stakeholders," says Jacobson, "we want to work with shoppers by making them shareholders of everything we do."
The Big Picture
Ola Brew Co. set out to raise $2.9M—to date the brewery has raised $2.2M, of which $500K was raised from their first equity crowdfunding raise that closed last April and was used to fund the initial build out, purchasing tanks and production equipment, and construction to upgrade building infrastructure. 
*** 
About Ola Brew Co.:"¨ Ola Brew Co. is Hawaii's first locally sourced and locally produced beer and cider company combined. The team is comprised of the seasoned beverage industry peeps that brought you the Hawaiian Ola Beverage Company. Ola Brew Co. supports farmers growing responsibly grown tropical fruits, and is passionate about creating great tasting beers and ciders, which provides shoppers a local alternative to imported brews.
For more information, please contact:"¨
Naehalani Breeland, President/Director of Marketing
808.388.6654
naehalani@olabrewco.com  
www.olabrewco.com
www.wefunder.com/olabrewco

Ola Brew Co
Ola Brew Co
Ola Brew Co. Making world class brews for a local community of drinkers— available at our flagship tap room in Kona and at retailers, bars, and restaurants throughout the state.
Proud to be Hawai'i Made Ola Brew Co. distinguishes itself as an independent, employee-owned brewery committed to producing the best possible beers and ciders. Our brews stand apart from the competition by going beyond local standards, with a vision set to compete on the world's stage as an internationally recognized brewery. Our approach—we apply traditional European beer making skills and training to beers made with local, Hawai'i-sourced inputs such as tropical fruits, herbs, hops, and yeast strains. The result is something truly unique and crafted with quality.
More from Ola Brew Co