Published 04-17-18
Submitted by Palsgaard A/S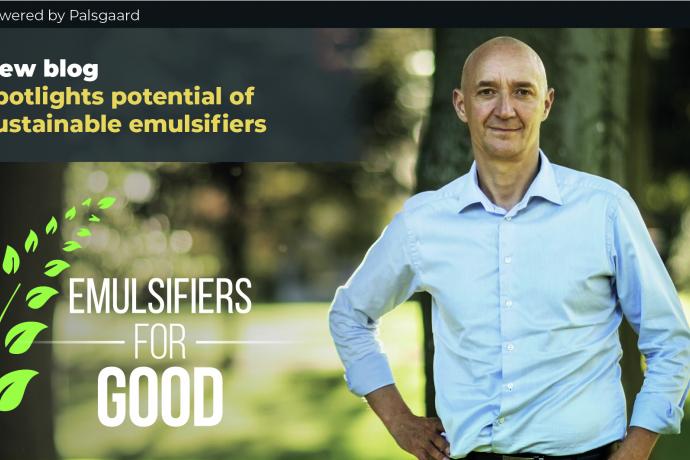 Emulsifiers for Good
Launched at the end of 2017, Emulsifiers for Good (EFG) is a new blog whose stated aim is to "inspire and share knowledge and ideas for how sustainably sourced and produced emulsifiers can help solve some of the world's challenges." And that seems to be a message that resonates with food manufacturers and ingredient suppliers alike.
Initiated and funded by the Danish-based inventor of the modern commercial emulsifier, Palsgaard A/S, the industry-level blog brings expert knowledge, know-how and ideas to help realize the full potential of sustainably sourced and produced emulsifiers. 
No-promotion zone
The blog doesn't allow product or company promotion – an approach that is directly in line with its initiator's status as a foundation-owned enterprise with a long history of social responsibility. Instead, it is an open, online, non-promotional forum, providing a platform for experts within the global food and non-food industry to share perspectives and discoveries around emulsifiers.
Claus Hviid Christensen, CEO of Palsgaard's innovation center Nexus A/S, and the first Editor of Emulsifiers for Good, explains why there's a need for the blog – and draws a direct line from sustainable ingredients to the United Nation's Sustainable Development Goals (SDGs). 
"We believe that emulsifiers used in food and non-food products should, as much as possible, be sustainably and safely sourced, produced and consumed. Specifically, we've launched Emulsifiers for Good to help lead, motivate and support the food industry and the wider community in working jointly toward the UN's SDGs. So the emphasis is on making a difference in the world, and in keeping with this, we'll be keeping the blog as brand-neutral as possible – and advertisement-free, of course."
Early success
With just a few months of existence under its belt, Emulsifiers for Good is already finding favour among its targeted readers. And that doesn't come as a surprise for Claus Hviid Christensen.
"Sustainable, plant-based emulsifiers are getting a lot of attention these days. In fact, there's an understanding emerging in the food industry that sustainably sourced and produced emulsifiers are going to be one of our greatest tools for ensuring there's enough, good-quality food supply in the face of climate change, population growth, and increasing affluence. Although emulsifiers contribute to a very small part of the ingredients list, they play a huge role in ensuring product quality and shelf life. And that directly supports a number of SDGs."
Long history
Few companies know more about emulsifiers than Palsgaard. Since 1917, when founder Einar Viggo Schou invented the modern food emulsifier, the company has created hundreds of different specialized emulsifiers and perfected their use in many applications. With over 100 years in the business, Palsgaard has the benefit of a broad overview of emulsifier types and applications. The company is now partnering with the United Nations and Deloittes in a pilot program aimed at accelerating global business alignment with the SDGs.
For now, the blog is focused on emulsifiers as food ingredients. But in a wider application perspective, emulsifiers are now enabling the production of more sustainable plastic packaging, for example, as they can replace petrochemical additives while adding efficient anti-static and anti-fogging effects. 
Claus Hviid Christensen encourages his food industry colleagues to contribute to the new blog, too: "The potential of emulsifier technology to do good things for the world is far from fully realized by everyone in the food industry and in the wider community. We're looking forward to working with the industry to communicate more strongly about this topic and support further innovation in the field".
For questions to the press release, please contact
Claus Hviid Christensen
CEO, Nexus A/S and Editor Emulsifiers for Good
chc@palsgaard.dk
+45 7682 7637
Palsgaard A/S
Palsgaard A/S
100 years ago, Palsgaard founder Einar Schou invented the modern food emulsifier - and laid the foundations of an unrelenting focus on developing sustainable ingredients.
Today, the name of Palsgaard has become synonymous with manufacturing emulsifiers and stabilizers for the global confectionery, dairy, bakery, mayonnaise, margarine and related food industries. And the fast-growing company has production plants in Denmark, Mexico, Malaysia and the Netherlands.
Palsgaard helps manufacturers who want to protect and grow their brands to meet consumer and regulatory demands for greater responsibility. In fact, it is currently the world's only commercial source of fully sustainable, emulsifiers based on RSPO SG certified palm oil and produced by CO2-neutral factories. The company's products are non-GMO, and meet halal and kosher requirements, too.
As a foundation-owned company, Palsgaard is uniquely able to focus on innovations in sustainable ingredients. Recently, for example, it began applying the advantages of sustainable emulsifiers to the polymers industry.
More from Palsgaard A/S