Published 03-28-18
Submitted by Smithfield Foods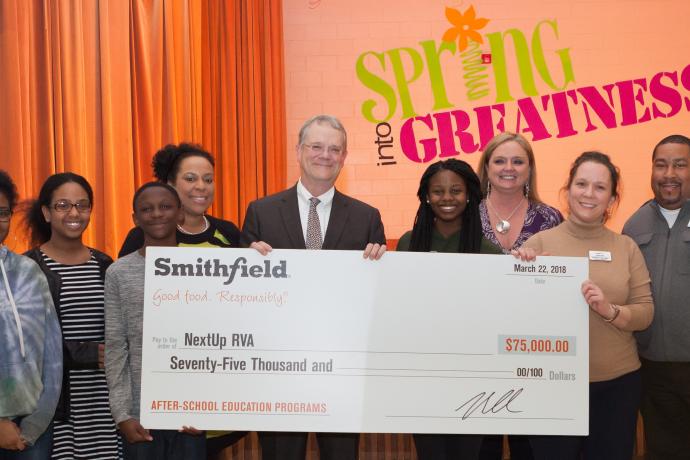 The Smithfield Foundation, the philanthropic arm of Smithfield Foods, Inc., is pleased to announce a $75,000 donation to NextUp RVA to support the organization and its mission to provide Richmond middle school students with opportunities that promote continued learning beyond the school day.
Smithfield Foundation board member Dennis H. Treacy presented the donation to NextUp staff, volunteers, students, and their families at the NextUp Henderson Showcase at Henderson Middle School yesterday evening.
"We are incredibly grateful to Smithfield for their investment in our community's youth," said Barbara Couto Sipe, executive director at NextUp. "Our programs provide students with a safe environment and the possibility for personal and educational growth, and we're seeing improvements in their grades, behavior, and enthusiasm for learning. This is possible thanks to the support of generous donors like Smithfield."
NextUp is a free after-school system for Richmond Public Schools' middle school students that provides safe, high-quality opportunities for students to explore interests, express themselves, make friends, and learn. Participants attend programs at schools and nearby locations at least two days each week, and are provided snacks, dinner, and transportation.
In Virginia, 36 percent of middle school students care for themselves after school and only nine percent participate in after-school programs. NextUp is working to close the gap for those students not yet participating in after-school programing.
"NextUp is doing tremendous work in our community and we're proud to support their efforts to enhance academic and developmental progress for students and to create a stronger learning culture both in and out of the classroom," said Keira Lombardo, senior vice president of corporate affairs for Smithfield Foods and president of the Smithfield Foundation. "These children are our future, and Smithfield has a strong commitment to supporting educational programs that benefit our next generation of leaders."
Understanding that supporting education dramatically strengthens communities, Smithfield's partnership with NextUp RVA aligns with its commitment to contribute to the vitality of the places where its employees work, live, and raise their families. This gift builds on the company's $50,000 donation in 2017.
For more information about Smithfield's commitment to its local communities, please visit smithfieldfoods.com/responsible-operations/helping-communities.
###
About Smithfield Foods
Smithfield Foods is a $15 billion global food company and the world's largest pork processor and hog producer. In the United States, the company is also the leader in numerous packaged meats categories with popular brands including Smithfield®, Eckrich®, Nathan's Famous®, Farmland®, Armour®, Farmer John®, Kretschmar®, John Morrell®, Cook's®, Gwaltney®, Carando®, Margherita®, Curly's®, Healthy Ones®, Morliny®, Krakus® and Berlinki®. Smithfield Foods is committed to providing good food in a responsible way and maintains robust animal care, community involvement, employee safety, environmental and food safety and quality programs. For more information, visit www.smithfieldfoods.com.
About NextUp RVA
NextUp, powered by a joint effort by educators, youth providers, city and school officials, and business and community leaders, is committed to providing Richmond middle school students with opportunities to continue their learning beyond the school day through a variety of high-quality, coordinated programs to ensure they are productive, engaged and having fun! For more information, visit www.nextuprva.org.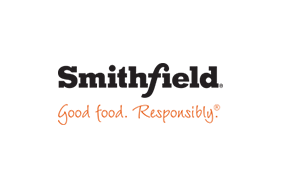 Smithfield Foods
Smithfield Foods
Smithfield Foods is a $15 billion global food company and the world's largest pork processor and hog producer. In the United States, the company is also the leader in numerous packaged meats categories with popular brands including Smithfield®, Eckrich®, Nathan's Famous®, Farmland®, Armour®, John Morrell®, Cook's®, Kretschmar®, Gwaltney®, Curly's®, Margherita®, Carando®, Healthy Ones®, Krakus®, Morliny® and Berlinki®. Smithfield Foods is committed to providing good food in a responsible way and maintains robust animal care, community involvement, employee safety, environmental and food safety and quality programs. For more information, visit www.smithfieldfoods.com
More from Smithfield Foods