Published 03-26-18
Submitted by Consumers Energy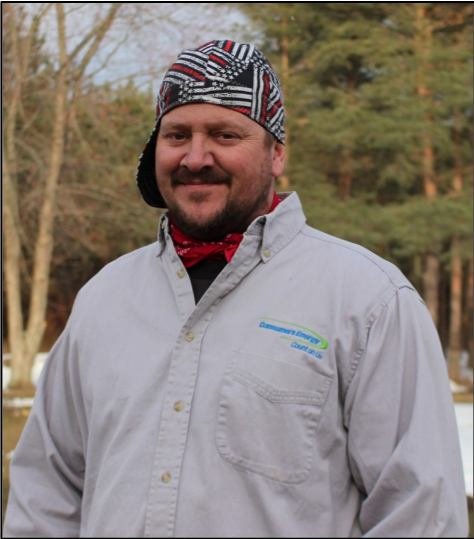 James Stratton, a journeyman pipeline welder with Consumers Energy, and lifesaver.
In 200,000 plus miles of travel to perform work for Consumers Energy, employee James Stratton has seen his share of accidents in the past six years. But it was usually after they had happened, when police and fire personnel had already responded.
That all changed in October, when Stratton, a journeyman pipeline welder with the company's Enhanced Infrastructure Replacement Program, was the first responder at a vehicle accident involving a mother and her young daughter.
Headed to a work assignment in Alma, Mich., Stratton came upon a SUV on its side in a ditch along a Shiawassee County road. A woman with visible scrapes on her face was standing by the road screaming that her daughter was stuck in the backseat. 
"In the 20 seconds it took me to get to her vehicle, I was afraid of what I might find. But then I heard her daughter crying and I was relieved," Stratton said.
He crawled into the vehicle, which was quickly filling with smoke. After shutting the vehicle off, he located the 2-year-old dangling from her car seat. After considerable effort he was able to free the little girl and climb out of the ditch, reuniting her with her mother. Fortunately neither one was severely injured, but Stratton said, "It was pretty emotional. It bothered me and stuck with me for a few days."
Stratton credits his safety training at Consumers Energy as the reason he was able to stay calm during a potentially deadly event. "We're trained to pay attention to every little detail at work about our safety," he said.           
At Consumers Energy all union field employees and first line supervisors receive mandatory first aid, CPR, Automated External Defibrillator (AED) and blood borne pathogens training, which is annually reviewed. This training is also offered to other employees as requested. Mandatory training is given to about 3,000 employees annually, and to another 300 non-union employees. 
Because of his unselfish efforts, Stratton has been nominated for an American Gas Association Meritorious Service Award. He is one of five Consumers Energy employees nominated for this award based on four potential lifesaving incidents.
"James's actions exemplify the caring professionalism we want all our employees to embrace, and we are extremely proud of him," said Michael Romein, executive director of gas system integrity and enhancement.  "At Consumers Energy safety is always our top priority, from providing continued training, personal protective and other equipment to keep employees safe on the job, to encouraging families to learn about safety at annual events across our company. Every day we stress 'Safety 24/7'."
Consumers Energy, Michigan's largest energy provider, is the principal subsidiary of CMS Energy (NYSE: CMS), providing natural gas and/or electricity to 6.7 million of the state's 10 million residents in all 68 Lower Peninsula counties.

# # #
Media Contacts: 

Debra Dodd, (586) 918-0597 or Roger Morgenstern, (616) 530-4364
For more information about Consumers Energy, go to www.ConsumersEnergy.com.
Check out Consumers Energy on Social Media:
Facebook: https://www.facebook.com/ConsumersEnergyMichigan/
Twitter: https://twitter.com/consumersenergy
YouTube: https://www.youtube.com/user/consumersenergy
Flickr: https://www.flickr.com/photos/consumersenergy/

Consumers Energy
Consumers Energy
Consumers Energy is one of the nation's largest combination utilities, providing electric and natural gas service to nearly 6.6 million of Michigan's 10 million residents, in all 68 Lower Peninsula counties.
Our Growing Forward strategy calls for investing more than $6 billion in Michigan over the next five years. That includes significant investments in energy efficiency, renewable energy, environmental and customer service enhancements, and new power generation.
The investments make Consumers Energy one of the largest investors in Michigan and will help the utility maintain and improve service to customers, create jobs, boost the state's economy and expand the state's tax base.
More from Consumers Energy