Published 03-26-18
Submitted by Swarovski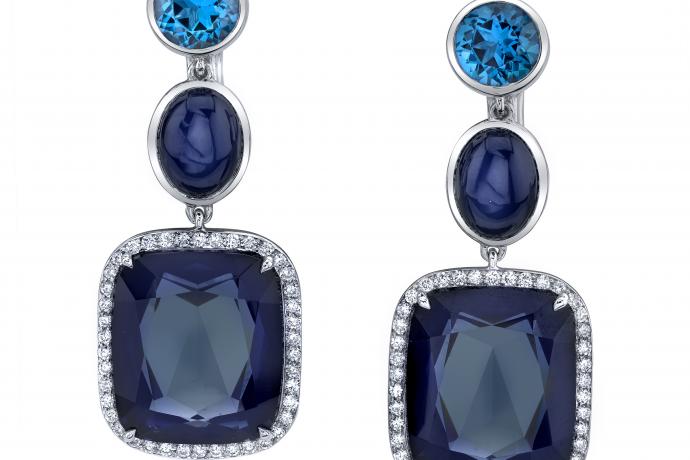 Atelier Swarovski reaffirms its commitment to conscious luxury with its latest fine jewelry collection, launched at Baselworld (March 22 – 27). Made with Swarovski Created Diamonds and Fairtrade Gold, the collection puts sustainability center-stage.
The new Atelier Swarovski Fine Jewelry collection marks the first time the brand has worked with Fairtrade Gold. The 18-karat white gold has been sourced from the Minera Limata Limitada co-operative in Peru through the Fairtrade system, which aims to promote sustainable development and reduce poverty.
Swarovski Created Diamonds have the same exceptional qualities as mined diamonds – both are 100% carbon, both have the same hardness and brilliance – but are widely accepted to have less impact on the natural world.
The new Atelier Swarovski Fine Jewelry collection marks the next step on Swarovski's journey to becoming a leader in conscious luxury in fashion and jewelry.
For additional information, please contact:
Andrew Blakemore
PR and Marketing Assistant
Atelier Swarovski
T +44 (0) 20 7255 8496
M +44 (0) 77 2049 6603
andrew.blakemore@swarovski.com
NOTES TO EDITORS
Atelier Swarovski
Atelier Swarovski offers cutting-edge jewelry, accessories and home décor items which are the ultimate expression of Swarovski crystal. Pushing the boundaries of creativity, it collaborates with the finest talents in the world across fashion, jewelry, architecture and design.

Atelier Swarovski presents seasonal jewelry and accessories collaborations twice a year during New York, London and Paris fashion weeks, alongside its constantly evolving Core Collection. Atelier Swarovski's home décor collections, launched at Milan Design Week in April 2016, consist of functional and decorative objects for the home.

Atelier Swarovski was founded by Nadja Swarovski in 2007 as a showcase for creativity, craftsmanship and the art of crystal cutting and crystal innovations. Past collaborators include Jean Paul Gaultier, Viktor&Rolf, Christopher Kane, Maison Margiela and Mary Katrantzou for jewelry, and Zaha Hadid, Daniel Libeskind and Ron Arad for home décor. www.atelierswarovski.com
Swarovski and Sustainability
Throughout its history, Swarovski has endeavored to remain true to its founder Daniel Swarovski's vision of a responsible company that not only has its employees' wellbeing at heart but also that of the environment and society as a whole.

This vision drives the company's dedication to conscious luxury: producing beautiful products using responsible methods that drive positive change.

Atelier Swarovski has begun the use of Fairtrade Gold in its Fine Jewelry collections. Fairtrade is a global movement and strategy that aims to promote sustainable development. It empowers farmers, workers and miners and allows them the opportunity to improve their lives and plan for their future. Fairtrade is an alternative approach to conventional trade based on a partnership between producers and traders, businesses and consumers. It offers consumers a choice to empower farmers, workers and miners through their shopping decisions. Fairtrade believes in the importance to bring opportunities to those artisanal and small-scale mining organizations who have been working hard to formalize, certify and become visible in the market.

Atelier Swarovski is a certified member of the Responsible Jewellery Council (RJC), established by the jewelry industry to advance responsible social and environmental practices. As a member, Atelier Swarovski pledges to positively impact and influence the industry. Atelier Swarovski received RJC certification after being successfully independently audited against the RJC Code of Practice, on materials including diamonds, gold and platinum group metals.

Swarovski
Swarovski
Swarovski delivers a diverse portfolio of unmatched quality, craftsmanship, and creativity. Founded in 1895 in Austria, Swarovski designs, manufactures and markets high-quality crystals, genuine gemstones and created stones as well as finished products such as jewelry, accessories and lighting. Now run by the fifth generation of family members, Swarovski Crystal Business has a global reach with approximately 2,560 stores in around 170 countries, more than 25,000 employees, and revenue of about 2.33 billion euros in 2014. Together with its sister companies Swarovski Optik (optical devices) and Tyrolit (abrasives), Swarovski Crystal Business forms the Swarovski Group. In 2014, the Group generated revenue of about 3.05 billion euros and employed more than 30,000 people. A responsible relationship with people and the planet is an integral part of Swarovski's heritage. The global Swarovski Waterschool education programme has reached 257,000 children on the world's greatest rivers, and the Swarovski Foundation incorporated in 2013, works to support culture and creativity, promote wellbeing, and conserve natural resources to achieve positive social impact.
More from Swarovski