Published 03-19-18
Submitted by Consumers Energy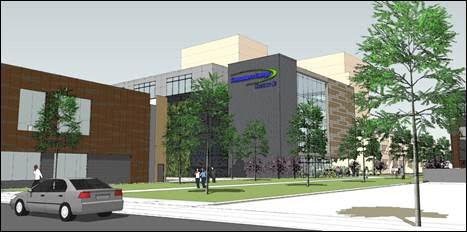 A rendering from Rockford Construction of the planned new Grand Rapids headquarters building for Consumers Energy.
Consumers Energy's investment in West Michigan continues with plans announced today for a new $20 million headquarters in the city of Grand Rapids to serve the fastest-growing region of its company.
The building will house up to 275 employees who support the design and delivery of energy service in the Grand Rapids area, the company's largest electric service area in Michigan.
The 6-story, 40,000 square-foot-building, including an onsite parking structure, will be located in the Circuit West area on the city's west side. Circuit West is a 13-block hub of innovative electricity generation, distribution and storage and energy efficient building construction. Circuit West is led by Consumers Energy and Rockford Construction, which will serve as the new building's construction manager. The energy provider recently closed on the sale of the property at 501 Alabama St. NW. A groundbreaking for the new headquarters is anticipated later this year with the building complete by 2020.
"Our Circuit West investment already includes work underway for an innovative, more responsive and reliable electric distribution system, energy storage and rooftop solar installations," said Garrick Rochow, senior vice president of operations for Consumers Energy. "Constructing this building within Circuit West shows our continued commitment to a prosperous, growing Grand Rapids and West Michigan region."
Rochow said locating the building in the city's West Side, a vibrant area seeing significant redevelopment centered on sustainability and walkability, is a promise to Consumers Energy's employees of today and tomorrow.
"We are very focused on retaining and attracting the workforce of the future, which means providing a work environment that is connected within a community where people can work, live, and play."
Rockford Construction's corporate headquarters is less than a block west of the planned Consumers Energy building. Rockford has been closely involved with the recent Circuit West building boom.
"Our vision is to provide a safe, innovative, sustainable neighborhood on the West Side that is a magnet for people and commerce," said Mike VanGessel, Rockford Construction's chief executive officer. "We are pleased to welcome Consumers Energy as a new neighbor within Circuit West."
Today's announcement comes less than a year after Consumers Energy dedicated its John G. Russell Leadership Center, an $11 million facility on Grand Valley State University's Robert C. Pew Campus, immediately south of the L. William Seidman Center near downtown Grand Rapids. In June 2016, the company began commercial operation of its 3 megawatt Solar Gardens generating facility in nearby Allendale adjacent to GVSU's main campus.
Grand Rapids Mayor Rosalynn Bliss welcomed today's announcement.
"Consumers Energy's decision is another indication that Circuit West is attracting high-quality investment focused on a sustainable Grand Rapids," Mayor Bliss said. "This is on top of Consumers' infrastructure investment already well underway and shows the company's commitment to our city and the entire region."
Up to 275 employees currently based at the company's West Kent Service Center, 4000 Clay Ave. SW, Wyoming, are expected to move into the new building. The employees include the customer contact center, engineering, business customer care, human resources and customer experience. About 250 workers will remain at the Clay Avenue facility, including operating, maintenance and construction field employees, work management center for all dispatching and scheduling activities and electric system control. The current bill payment center will remain as well. Consumers Energy plans no changes to its East Kent service center in Kentwood or its North Kent facility in Sparta.
The new Circuit West building will be constructed to achieve Leadership in Energy and Environmental Design (LEED) certification by the U.S. Green Building Council.  Consumers Energy has constructed all of its recent buildings to LEED standards, including a number in West Michigan, like the Russell Leadership Center and new service centers in Norton Shores and Hamilton.
"The Grand Rapids area is our largest electric service region and is seeing continued growth," Rochow said. "This new building within Circuit West is in response to that growth and our continued commitment to our purpose of world class performance delivering hometown service."
Consumers Energy, Michigan's largest energy provider, is the principal subsidiary of CMS Energy (NYSE: CMS), providing natural gas and/or electricity to 6.7 million of the state's 10 million residents in all 68 Lower Peninsula counties.
Media Contacts:
Roger Morgenstern, 616-530-4364, or Brian Wheeler 517-788-2394
For more information about Consumers Energy, go to www.ConsumersEnergy.com.
Check out Consumers Energy on Social Media:
Facebook: https://www.facebook.com/ConsumersEnergyMichigan/
Twitter: https://twitter.com/consumersenergy
YouTube: https://www.youtube.com/user/consumersenergy

Consumers Energy
Consumers Energy
Consumers Energy is one of the nation's largest combination utilities, providing electric and natural gas service to nearly 6.6 million of Michigan's 10 million residents, in all 68 Lower Peninsula counties.
Our Growing Forward strategy calls for investing more than $6 billion in Michigan over the next five years. That includes significant investments in energy efficiency, renewable energy, environmental and customer service enhancements, and new power generation.
The investments make Consumers Energy one of the largest investors in Michigan and will help the utility maintain and improve service to customers, create jobs, boost the state's economy and expand the state's tax base.
More from Consumers Energy