Published 03-08-18
Submitted by Global Compact Network Canada
The Global Compact Network Canada (GCNC) is proud to announce that the Government of Canada is investing in funding the GCNC for a three-year project for engaging the private sector as a responsible accelerator to eliminate barriers faced by women in the workplace.
Canada has made tremendous progress recently towards achieving greater equality for people of all genders, but there is still much work to do. Gender equality will have a notable impact on our economy and whether the 17 Global Goals will be achieved by 2030. Each one of us can and must take steps to break down the barriers of discrimination in our everyday lives to achieve the benefits of Gender Equality.
The project, entitled Gender Equality Leadership in the Canadian Private Sector, will focus on engaging the corporate community in developing, testing, and implementing a set of tools leading to a blueprint for gender equality in the private sector, as well as a certification methodology.
The project aims to accelerate action by working with the input of 20 participating companies in Canada who are to become gender equality mentors and leaders. In the first year of this 3-year project the following companies have confirmed to participate:
Angkor Gold Corp.;

Baker & McKenzie;

Blake, Cassels & Graydon S.E.N.C.R.L./s.r.l.;

Export Development Canada;

IKEA Canada;

Nutrien;

Scotiabank;

Smart Agri-food Supercluster (SASC);

SNC-Lavalin;

TELUS;

Unilever.
In the second and third year of the project, the rest of the companies will be added to improve and test the applicability of the blueprint. The GCNC will also be working with several advisory partners who will provide insights throughout the project.
Quotes
"This project with Global Compact Network recognizes that when we invest in women, we strengthen the economy for everyone. More women on corporate boards translates into a significant competitive advantage for Canadian business. This International Women's Day, let's celebrate those who act as positive catalysts for change, such as Global Compact Network Canada."
The Honourable Maryam Monsef, P.C., M.P.
Minister of Status of Women
"This project is significant. It is much more than a project. It is a movement. With the help of the remarkable companies and advisory partners, we are to change the Future of the Workplace so that Gender Equality is a core value for all successful businesses. In the future, we will be able to recognize those companies, as they will have better financial results, better reputation, better products, better innovation, happier employees and yes, the place that future talent wants to work. The Future Workplace will be better for us all, men and women. If we do it right - the future looks bright for Canadians." 
Helle Bank Jorgensen
Global Compact Network Canada
Quick Facts
International Women's Day is celebrated around the world, as a day to recognize women's achievements, and a call to action to advance gender equality.

This year's theme for International Women's Day is #MyFeminism, in recognition of the role that feminism continues to play in bringing about positive change here in Canada and internationally, helping build a more equal, secure and prosperous world.

Advancing gender equality and women's empowerment is a key theme of Canada's G7 Presidency this year.

Sustainable Development Goal # 5 is about achieving gender equality and empowering all women and girls.

Status of Women Canada is a federal government organization that promotes equality for women and their full participation in the economic, social and democratic life of Canada.

The Global Compact Network Canada (GCNC) is the Canadian chapter of the UN Global Compact. The GCNC is dedicated to empowering Canadian organizations to advance the UN's Sustainable Development Goals, and Principles of the UN Global Compact.
Associated Links
Contacts
Helle Bank Jorgensen
Project Advisor
Global Compact Network Canada
jorgensen@globalcompact.ca
647-8235843
Ayman Chowdhury
Project Leader
Global Compact Network Canada
ayman@globalcompact.ca
647-2305660 
Follow Global Compact Network Canada: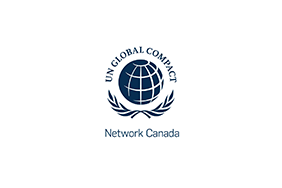 Global Compact Network Canada
Global Compact Network Canada
The UN Global Compact is the world's largest voluntary corporate responsibility initiative with over 10,000 signatories in 130 countries committing to ten universally accepted principles. The Global Compact Network Canada builds the capacity of the Canadian corporate sector to embrace sustainable business practices.
More from Global Compact Network Canada