Published 03-07-18
Submitted by Water For People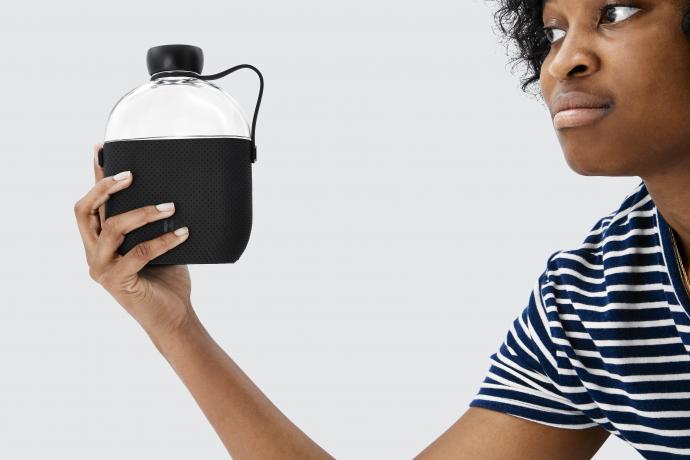 Hip Products LLC, announced the Hip bottle (be-hip.com), a dynamic new entrant into the 8 billion dollar hydration category. Hip's philanthropic mission sets it apart, and its unique design makes it stand out. Hip is stylish, functional, and committed to helping those in need.
While the sleek, flask-like shape is disrupting the hydration category, Hip's creators are celebrated veterans in the design space. Following their landmark success at bobble, the iconic self-filtering water bottle which they created in 2010, acclaimed innovators and designers Richard Smiedt and Karim Rashid have returned to create a bottle with style and purpose.
"Great design has a voice and the ability to connect to so many people. However with Hip we want this connection to be much deeper than aesthetics. While we all are aware that our single serve bottled water habits are simply unsustainable, both from an ecological perspective and as a matter of financial common sense, we wanted Hip to have a greater purpose, a cause and a great partnership of a tangible give back for every product we sell," said Richard Smiedt, founder, Hip Products LLC.
Hip is a 650ml/22oz flask-shaped bottle with wonderfully appealing proportions and distinctive textures. Smiedt and Rashid were inspired by how water was carried in Roman times. The team also added a side-strap for convenient carrying. Recyclable, reusable, and made from Tritan, Hip is free of BPA, Phthalates and PVC.
While designed to address the massive environmental problem single-serve water bottles create, Hip's mission is much broader. Through a partnership with Water For People (waterforpeople.org), every Hip bottle purchased provides access to two days of safe drinking water to a person in need. With a suggested retail price of $14.99, Hip makes style accessible to consumers and clean water accessible to people around the world.
Based in Denver, CO, Water For People is leading the water and sanitation sector with a model proven to end the global water crisis. With programs in nine countries, Water For People brings together local entrepreneurs, community members, and local governments to establish innovative, collaborative solutions that allow communities to build and maintain their own reliable, safe water systems. We're Hip to that. 
"The Hip bottle is a great way to connect consumers with the global crisis and give them a part to play in promoting water access to people around the world," said Eleanor Allen, CEO of Water For People. "We are grateful for innovative partners like Hip whose products are making a difference in the lives of so many people."
While the cause may make consumers feel good about purchasing Hip, the design makes them look good using it. The sleek shape fits easily in a bag, and the texturized bases elevate it to a fashion accessory. Available in 6 sleek colorways, Hip is as much a style statement as it is a functional, reusable bottle.
Hip launched in the UK at Harvey Nichols, in Australia at David Jones, and is available in the US on Amazon, at the MoMA shop, and at Target stores nationwide. Hip will soon be rolling out to many other stores in the USA and around the world.
Hip. Look good, feel better.
About Water For People:
Founded in 1991, Denver, CO, based Water For People is a global nonprofit working across nine countries in Latin America, Asia, and Africa to achieve lasting quality water and sanitation services. Water For People brings together communities, local entrepreneurs, and governments to build, operate, and maintain their own reliable water and sanitation systems and services. Currently working in 30 districts with 4 million people, Water For People is growing to deliver services to over 7 million people in 50 districts globally over the next 10 years. Water For People is also working at the national level in Rwanda, Uganda, Bolivia, and Honduras. Learn more at www.waterforpeople.org and on Instagram @waterforpeople.
Water For People
Water For People
Water For People is an international NGO organization that exists to promote the development of high quality drinking water and sanitation services, accessible to all, and sustained by strong communities, businesses, and governments. Our work in nine countries will ultimately enable millions of people to gain access to safe water and sanitation. For water and sanitation services to be reliable and permanent, they require capacity and commitment from local institutions. Accordingly, Water For People's strategy focuses on building strong relationships among the private sector, civil society, and government, which will ultimately serve as the collaborative network that sustains water and sanitation for the long-term. Through strategically-focused programs, we are extending sustainable services to each of the regions where we work, while simultaneously providing a model for greater replication. This approach is called Everyone Forever.
More from Water For People