Published 03-08-18
Submitted by SC Johnson
Per il tredicesimo anno, SC Johnson Italia è stata premiata dall'Istituto Great Place to Work® come uno dei Best Workplace. L'organizzazione si è aggiudicata il 19 posto nella classifica 2018 delle migliori aziende multinazionali di medie dimensioni del Paese.
"Mi congratulo con il team di SC Johnson Italia per il suo impegno nel creare un eccezionale ambiente di lavoro e per questo tredicesimo premio consecutivo", ha dichiarato Fisk Johnson, Presidente e Amministratore Delegato di SC Johnson. "Questo record di presenza continua nelle classifiche dei Best Workplace sottolinea tutto il lavoro fatto per vivere costantemente una cultura dell'eccellenza del luogo di lavoro."
Il merito del risultato ottenuto da SC Johnson Italia va alla cultura del team, fondata sulla credibilità, sul rispetto, sull'orgoglio e sullo spirito di squadra. L'elenco dei Best Workplace nasce dal più ampio studio annuale al mondo sull'eccellenza dei luoghi di lavoro. La classifica dipende dai risultati di un sondaggio fra i dipendenti e dalle informazioni sulla cultura, sui programmi e sulle politiche aziendali.
Negli Stati Uniti, SC Johnson è stata inserita per la 29esima volta nell'elenco delle "100 Migliori aziende per mamme lavoratrici" stilato dalla rivista Working Mother, in considerazione dei suoi programmi e dei suoi benefit a sostegno dei genitori che lavorano, quali congedi familiari retribuiti, flessibilità e opportunità di carriera per le donne.
Sempre nel 2017, l'azienda ha ottenuto il punteggio massimo (100) nel Corporate Equality Index di Human Rights Campaign, un sondaggio sulla parità di trattamento per i dipendenti. Si tratta del tredicesimo anno in cui l'azienda ottiene il punteggio massimo, in sedici anni di presenza in questo elenco.
###
Contatto:
SC Johnson Global Public Affairs
USPublicAffairs@scj.com
262-260-2440 
Chi è SC Johnson
SC Johnson è un'azienda di famiglia che ha come obiettivi la realizzazione di prodotti innovativi e di alta qualità, l'eccellenza dei luoghi di lavoro e l'impegno a lungo termine nei confronti dell'ambiente e delle comunità in cui opera. Con sede centrale negli Stati Uniti, l'azienda è uno dei principali produttori al mondo di detergenti per la casa, prodotti per la conservazione domestica, deodoranti per ambiente, insetticidi e prodotti per scarpe, nonché di prodotti professionali. Commercializza marchi famosi come GLADE®, KIWI®, OFF!®, PLEDGE®, RAID®, SCRUBBING BUBBLES®, SHOUT®, WINDEX® e ZIPLOC® negli Stati Uniti e non solo; tra i marchi commercializzati al di fuori degli Stati Uniti, citiamo AUTAN®, TANA®, BAMA®, BAYGON®, BRISE®, KABIKILLER®, KLEAR®, MR MUSCLE® e RIDSECT®. Con i suoi 132 anni di storia, l'azienda genera vendite per un valore di 10 miliardi di dollari, dà lavoro a circa 13.000 persone nel mondo e vende i propri prodotti quasi in tutti i Paesi del mondo. www.scjohnson.com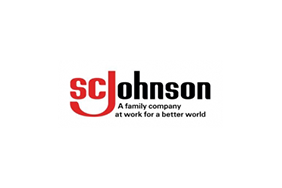 SC Johnson
SC Johnson
SC Johnson is a family-owned and managed business dedicated to innovative, high-quality products, excellence in the workplace and a long-term commitment to the environment and the communities in which it operates. Based in the USA, the company is one of the world's leading manufacturers of household cleaning products and products for home storage, air care, and insect control.
It markets well-known brands such as GLADE®, OFF!®, PLEDGE®, RAID®, SCRUBBING BUBBLES®, SHOUT®, WINDEX® and ZIPLOC® in the U.S. and beyond, with brands marketed outside the U.S. including AUTAN®, BAYGON®, BRISE®, KABIKILLER®, KLEAR®, and MR. MUSCLE®. The 125-year-old company, with more than $8 billion in sales, employs approximately 12,000 people globally and sells products in virtually every country around the world. www.scjohnson.com
More from SC Johnson