Published 02-14-18
Submitted by Engage for Good
The Golden Halo Award, the highest honor for companies and causes that collaborate to produce business and social dividends, will be bestowed upon Salesforce and Save The Children at the Engage for Good conference in May.
In addition to announcing the Golden Halo honorees, Engage for Good today announced the finalists in its annual Halo Awards competition in in twelve competitive categories (see below for details).
Each year, the Golden Halo Award is given to one corporation and one nonprofit for overall partnership excellence in corporate social impact campaigns. The awards will be accepted by Rob Acker, CEO of Salesforce.org, and Carolyn Miles, president and CEO of Save The Children, at the Engage for Good Conference to be held on May 23 & 24 at the JW Marriott Hotel in Chicago.
"We are so excited by the leadership that both Salesforce and Save The Children have shown in taking cross sector work global and spurring innovative approaches to social impact initiatives," said Engage for Good President David Hessekiel, "The Golden Halo Awards are bestowed upon companies and causes that have long-term, authentic and deep-rooted commitments to doing well by doing good. Our winners this year truly epitomize the power of partnership."
Salesforce, the global CRM leader, empowers companies to connect with their customers in a whole new way and the company has a long history of doing good through its social enterprise, Salesforce.org.  Salesforce.org gets tools and technology, the most powerful equalizer of our time, in the hands of nonprofits and education institutions so they can connect with others and do more good. As a social enterprise, the more missions Salesforces.org supports, the more they invest back into technology and communities, creating an endless circle of good.
Salesforce pioneered the 1-1-1 model of integrated philanthropy when it was founded in 1999, dedicating 1 percent of equity, 1 percent of employee time and 1 percent of product back into its communities. This model laid the foundation from which Salesforce.org has scaled its growth and impact.  Thus far, the company has given more than $168 million in grants, employees have volunteered more than 2.3 million hours and over 32,000 nonprofits and higher education institutions use Salesforce for free or at a discount.
"We are honored to receive this recognition alongside an incredible changemaker. Salesforce.org was built on the idea that the business of business is to improve the state of the world, and we're committed to creating change in the communities in which we live and work", said Rob Acker, CEO Salesforce.org. "Our hope is that more organizations will come together and partner to make a difference in our world."
2018 Golden Halo Award Winner (Nonprofit): Save The Children
For nearly 100 years, Save the Children has led global action for children.  Around the world, they give children a healthy start in life, the opportunity to learn and protection from harm.
Global Corporate Partners represent many of Save the Children's most powerful collaborations for creating positive change for the world's most vulnerable children today, and they are key to the organization's aspirations: doing whatever it takes to ensure that by 2030 no child dies from preventable causes before their fifth birthday, all children learn from a quality basic education and violence against children is no longer tolerated.  The return on their partners' investment is evidenced by the progress made for millions of children and their families and the enhanced value of partners' businesses.
Save the Children particularly stands out for the wide spectrum of partnerships it cultivates by working with corporate foundation leaders to have a transformational impact on the ground; government affairs experts to collaborate on advocacy; marketers to create cause marketing initiatives; employee engagement teams to tap volunteers; and R&D teams to co-develop products that drive social change.
Save the Children has an impressive group of dedicated corporate partners such as Accenture, Bulgari, GSK, IKEA, Johnson & Johnson, Mars Wrigley Confectionery, MondelÄ"z International, Penguin Random House, Procter & Gamble, T.J. Maxx, Toys"R"Us, TOMS and The Walt Disney Company.
"We are honored to be recognized for our commitment to working alongside corporate partners in our effort to reach every last child," said Carolyn Miles, Save the Children President & CEO. "Save the Children invests in childhood every day and in times of crisis. This is made possible in large part by socially conscious, dedicated partners, and we are grateful for their support in making a real impact for the world's most vulnerable children."
In addition to the two Golden Halo winners, 53 campaigns were announced today as finalists in 13 category Halo Awards. A Gold and Silver Halo Award winner will be announced in each category at the 2018 Engage for Good Conference. The finalists are:
Social Media
#IDriveFor: Chevrolet and American Cancer Society
#IStandWithPP: OKCupid & Planned Parenthood
Invest in Something Special: Voya Financial & Special Olympics
Be a Community Hero with Spider-Man: Sony Pictures & Goodwill
Education
Adopt-A-Classroom.org & Burlington Stores Team Up to Support Teachers
Grow Up Great: PNC & DonorsChoose.org
Solve for Tomorrow: Samsung
The Search for Hidden Figures: 21st Century Fox & New York Academy of Sciences
Employee Engagement (Group Volunteering)
#XTEAMnation: Berkshire Bank
WestJet Live Different Builds: WestJet & Live Different
International Walk to School Day: FedEx and SafeKids Worldwide
Home is the Key: Various Corporate Partners & Habitat for Humanity
Employee Engagement (Skilled Volunteering)
ONward!: Old Navy & Boys and Girls Clubs of America
MySkills4Afrika: Microsoft
PwC Summer Intern Data Program: PwC and DonorsChoose.org
Talent for Good: Viacom
Environmental
Sustainable Production on Legion: 21st Century Fox
Planting Seeds for Haiti's Future: Timberland & Smallholder Farmer's Alliance
Rinse, Recycle, Repeat: Garnier, DoSomething.org and Terracycle
Recycle Rally: PepsiCo
Animal
Forever Against Animal Testing: The Body Shop CA & Cruelty Free International
Discovery's Project C.A.T.: Discovery & World Wildlife Fund
Home for the Pawlidayz: Zappos & North Shore Animal League America
Chantecaille & The Rainforest Alliance
Health
Healthy for Life 20 by 20: Aramark & American Heart Association
Give a Spit: Johnson & Johnson and DoSomething.org
Investing in a Cure: Edward Jones and the Alzheimer's Association
Tobacco-Free Campuses: CVS Health Foundation & Truth Initiative
Experiential
Check Your Blind Spots: CEO Action for Diversity and Inclusion (PwC)
#HANGRY and Hitting the Road: Arby's, Habit Burger & Share Our Strength
Taste of the Nation: Citi & Share Our Strength
Walls Are Meant for Climbing: The North Face & The Trust for Public Land
Consumer Donation/Crowdfunding
#IBurnForALS: Orangetheory & Augie's Quest
Red Nose Day: Walgreens, NBC, and M&M'S & Red Nose Day
Evite Donations: Evite, Pledgeling
Panda Cares: Panda Express and CMN Hospitals
Social Service
Second Chance Employment: Dave's Killer Bread
Call of Duty: WWII: Activision Blizzard and CODE
Empowering Cocoa Farmers in West Africa: DOVE and CARE
iHeartMedia Disaster Relief Response
The Vietnam War: Bank of America & PBS
Consumer Activated Corporate Donation
#RFGoNaked Day: Rodan + Fields and BuildOn
OT Points Donation Campaign: Open Table & Share Our Strength
Shopathon to fight AIDS: Bank of America and (RED)
#DreamBigPrincess: Disney & GirlUp
Small-Medium Business
Dine Out: Grimaldi's and Share Our Strength
BAND-IT: Committed to the Community They Work and Live (Mile High United Way)
Key for Key: Concierge Auctions, Giveback Homes
School Garden Grant Program: Alaska Fertilizer & Cornell Lab of Ornithology 
About Engage for Good
Engage for Good, producer of the Engage for Good conference and Halo Awards, helps business and nonprofit executives succeed together by providing practical information and inspiration, opportunities to build valuable relationships and recognition for outstanding work engaging employees and consumers around social good and cause-related marketing efforts.   Learn more at http://www.engageforgood.com.
Media Contact:
Megan Strand, Communications Director, Engage for Good:  
360.977.3343
ms@engageforgood.com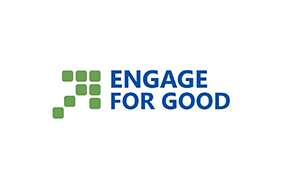 Engage for Good
Engage for Good
Engage for Good (formerly the Cause Marketing Forum) helps business and nonprofit executives succeed together by providing access to actionable information, valuable contacts and recognition for outstanding work through conferences, distance learning, online resources and customized services.
More from Engage for Good