Published 02-07-18
Submitted by Rebuilding Together, Inc.
Rebuilding Together, the leading home and community revitalization national non-profit organization, today announced a $1.6 million donation from Albertsons Companies Foundation to support long-term recovery efforts for underserved residents affected by California wildfires and Hurricanes Harvey and Irma.
"Thanks to the support of Albertsons Companies and Albertsons Companies Foundation, people whose homes were damaged or destroyed by these disasters will be able to return home sooner than expected," said Caroline Blakely, President and CEO of Rebuilding Together. "Following natural disasters, Rebuilding Together and its affiliates work hand-in-hand with local community leaders and residents to rebuild homes and community centers. The rebuilding process typically takes place in the months and years following these tragedies. With this donation, we can move faster to get people's lives back to normal."
Customers and employees from Albertsons Companies' family of stores — Albertsons, Safeway, Vons, Jewel-Osco, Tom Thumb, ACME Markets, Shaw's, Star Market and many others — generously contributed to in-store fundraisers launched immediately after Hurricanes Harvey and Irma caused widespread destruction in August and September. They generously contributed again when wildfires destroyed more than 8,000 structures in California last October through December. Albertsons Companies also donated millions of dollars in Signature™ bottled water and ready-to-eat foods to help first responders meet the immediate needs of those who were displaced by the disasters.
"In the wake of tragedies like these, we know our employees, customers and the communities we serve are deeply affected – sometimes for years, as is the case with these recent natural disasters," said Christy Duncan Anderson, Executive Director of  Albertsons Companies Foundation. "The natural inclination in our country is to help others recover, so raising money [and donating products] to help with both short and long-term recovery efforts is [one of] our highest priorities. Through Rebuilding Together, we can ensure the funds will help our neighbors to start rebuilding their lives and neighborhoods."
Rebuilding Together supports communities affected by disasters by rebuilding homes and public spaces for residents in need. The organization also focuses its efforts on supporting residents by helping them preemptively prepare for disasters and aims to shift the narrative to ensure the long-term needs of communities affected are met in the months and years following a natural disaster.
Those interested in supporting Rebuilding Together's long-term recovery efforts can do so at rebuildingtogether.org/donate.
###
About Rebuilding Together
Rebuilding Together is a leading national nonprofit in safe and healthy housing with more than 40 years of experience. Together, with our corporate and community partners, we repair homes for our neighbors in need and revitalizing our communities. Rebuilding Together's local affiliates and nearly 100,000 volunteers complete about 10,000 rebuild projects nationwide each year. Learn more and get involved at www.rebuildingtogether.org.
About Albertsons Companies Foundation
Founded in 2001, Albertsons Companies Foundation, formerly Safeway Foundation, supports causes that impact customers' lives. Albertsons Companies stores provide the opportunity to mobilize funding and create awareness in our neighborhoods through the generous contributions by our customers, our employees' passion and partnerships with our vendors. We focus on giving locally in the areas of health and human services, hunger relief, education and helping people with disabilities. Albertsons Companies and Albertsons Companies Foundation have invested $1 billion in our neighborhoods since 2001. For more information about Albertsons Companies Foundation, visit www.albertsonscompaniesfoundation.com.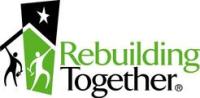 Rebuilding Together, Inc.
Rebuilding Together, Inc.
Rebuilding Together is the nation's largest non-profit organization whose mission is to preserve and revitalize houses and communities to assure that low-income homeowners, particularly those who are elderly and disabled, live in warmth, safety and independence. Through 2005 Rebuilding Together has rehabilitated over 96,120 houses, utilizing 2.5 million volunteers for a market value of $905 million.
More from Rebuilding Together, Inc.