Published 01-31-18
Submitted by ISS-oekom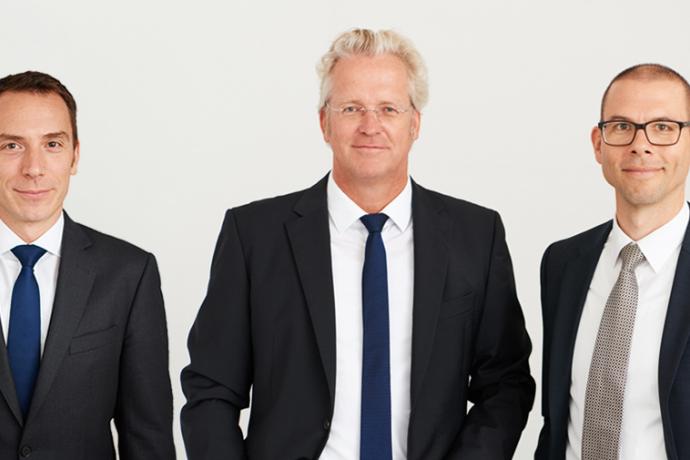 The oekom research executive board (from left to right): Till Jung, CCO; Robert Haßler, chairman of the board and CEO; Matthias Bönning, COO
With ongoing international efforts to build a sustainable financial system set to continue in 2018, it is going to be another dynamic year for the market. oekom research stands to benefit, as in previous years, from the resulting growth potential in sustainable investment. The sustainability rating agency has experienced substantial growth on several levels. Notable developments include the further expansion of the agency's different departments, a substantially increased international market presence and double-digit growth in the agency's client base. Additionally, in January 2018, Till Jung was appointed Chief Client Officer and joined the executive board.
Sustainability ratings provide incentive and benchmark for superior performance
In recent years, through initiatives such as the Paris Climate Agreement and the UN SDGs, the international community has established a solid framework of targets that must be met in order to achieve a sustainable economy and preserve the planet. The capital markets, due to their leverage, are expected to play a key role in their achievement.
2017 was marked by numerous political signals in favour of sustainable finance, to which oekom research has actively contributed. Notable examples include the work of the EU High-Level Expert Group, the G20 Financial Stability Board's Task Force on Climate-related Financial Disclosures (TCFD), and the Climate Action 100+ initiative, which more than 200 investors have joined to date, in addition to many national or subnational initiatives and policy measures. These developments are a testimony that sustainable investment has left the niche status of its early years behind and now forms a central part of the toolset required to achieve global sustainability goals.
As the idea of sustainable finance becomes further embedded in mainstream thinking, the importance of sustainability rating agencies continues to grow. Their environmental and social expertise enables them to identify risks and opportunities that remain undetected by purely economic metrics. Such agencies represent a crucial resource for financial institutions in their efforts to redirect capital flows towards sustainable development. The signalling effect and major influence that sustainability ratings exert over capital markets and rated companies were made clear by the oekom Impact Study, published in October 2017: ESG rating houses are the strongest drivers of improvements in corporate sustainability performance.
A 25-year success story
In this regard, oekom research sees itself as both a pioneer and a leading innovator, a vision that is underpinned by growing international recognition of the agency's work. Building on the success of the past 25 years, oekom research continues to follow its stable growth path. All departments have recently expanded and the company's international presence has been reinforced, bringing total staff numbers to almost 120 employees. Alongside offices in Germany, France, the UK, the USA and a representation in the Netherlands, oekom research opened its new Swiss office at the end of last year.
In parallel to these internal developments, oekom research's growing client base now counts 180 institutions worldwide. The US market has shown particularly strong demand for the depth and high quality of oekom research's work, with numerous asset managers, foundations, family offices and faith-based institutions now relying on the rating agency's expertise.
Till Jung joins the executive board

In January 2018, Till Jung was appointed Chief Client Officer. He joins Robert Haßler (CEO and Chairman) and Matthias Bönning (COO) on the executive board of oekom research. In his new role, Mr Jung oversees the company's marketing and communication activities, client relations and business development. Initially joining oekom research as a research analyst in August 2004, he moved into the client relations department in May 2010 and led this area for a number of years, most recently as Head of Business Development.
Robert Haßler, CEO of oekom research, comments: "This year, oekom research can look back on 25 years of activity in the field of sustainability ratings and research. What in 1993 was still very much the work of pioneers has since developed into an indispensable component of the financial system. With our newly expanded teams, our constantly evolving market-leading rating methodology and an improved technical offering, we are ideally positioned to pursue our trailblazing role in the industry. oekom research is and remains the best possible partner for the sustainable financial market's many players."
About oekom research
oekom research AG is one of the world's leading rating agencies for sustainable investments and has offices in Germany (Munich), France (Paris), United Kingdom (London), USA (New York) and Switzerland (Zurich). The agency analyses businesses and countries with respect to their environmental and social performance. As an experienced partner of institutional investors and financial service providers, oekom research identifies those equity and bond issuers whose businesses exercise a high level of responsibility towards society and the environment. Over 180 asset managers and asset owners in 13 countries regularly incorporate the rating agency's research into their investment decisions. As such, oekom research's analyses currently influence around USD 1.5 trillion assets under management. 
Contact:
Dieter Niewierra, Media & Communications Lead
dieter.niewierra@oekom-research.com
+49 89 5441 8457

ISS-oekom
ISS-oekom
Since March 2018, ISS-oekom has been a member of the ISS family of high quality solution providers for sustainable and responsible investment and corporate governance. Originally founded in 1993 and formerly known as oekom research, the company is one of the world's leading ESG research and rating agencies for sustainable investments with an unsurpassed rating methodology and quality recognition. ISS-oekom analyses businesses and countries with respect to their environmental social and governance performance. As an experienced partner of institutional investors and financial service providers, we identify those equity and bond issuers whose businesses exercise a high level of responsibility towards society and the environment. Under the new ownership, ISS-oekom completes the ESG research and RI services offerings of ISS, making it a worldwide pure-player in the area of RI Research & Solutions. ISS-oekom is headed by Robert HaéŸler, former CEO and co-founder of oekom-research. More information: www.oekom-research.com and www.issgovernance.com.
More from ISS-oekom