Published 01-30-18
Submitted by Global Sustain Limited (Ltd.)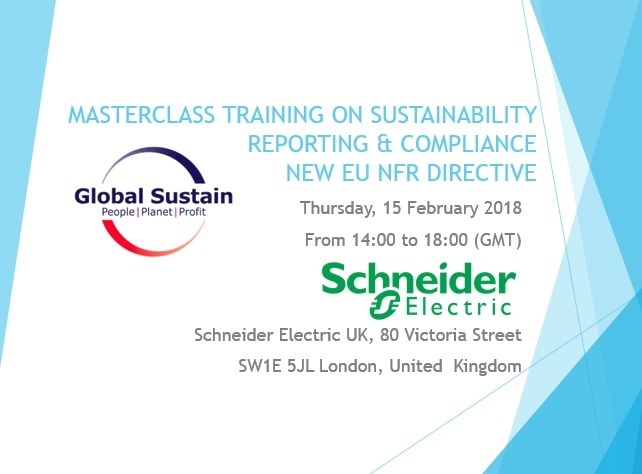 Global Sustain Group (www.globalsustain.org) with the support of Schneider Electric UK invites you to a Sustainability Reporting & Compliance Masterclass Workshop:
"Comply with the new EU NFR / CSR Directive and the relevant UK Law on Non-Financial Reporting. Impact on Corporate Reporting."
Thursday 15 February 2018, 14:00 – 18:00 GMT, Schneider Electric UK, 80 Victoria Street, London
Workshop Programme:
14:00 – 14:30: Registration & Warming Up Networking

14:30 – 15:45: Training with Q&A: Michael Spanos, Managing Director, Global Sustain Group

15:45 – 17:00: Training with Q&A: Yannis Salavopoulos, Managing Director, Global Sustain GmbH, Lecturer, SRH Berlin Int. Management University

17.00 – 18:00: Networking Reception
Registration & Workshop Fee: 250 UK pounds plus VAT.
Payment by bank transfer only at Global Sustain Ltd bank account (HSBC: IBAN: GB98HBUK40040942177153 Swift Code: HBUKGB4B)
Registration will only be confirmed once full payment of the fees due are received.
Workshop Background
The new EU CSR/NFR Directive is already national law in UK and EU Member States. According to EU estimations, this new legal framework will affect more than 6,000 EU based companies (including UK) and thousands of SMEs through responsible supply chains and will reshape the way companies conduct corporate reporting.
Global Sustain (http://globalsustain.org/en) supports EU, UK companies and foreign companies in the UK, but also UK companies in other EU Member States to comply with the new requirements on reporting of non-financial and diversity information. This workshop will give you first-hand knowledge and guidelines on how to comply with the EU Directive and the law in the UK and other EU Member States. This topic is relevant especially for corporations and SMEs with activity in the UK market or companies that belong to a UK multinational or are suppliers companies that fall into the scope of the Directive. The EU NFR Directive is a game-changer in the expectations placed on public interest companies to disclose certain information.
Is your organization prepared for the changes? What are the implications of the EU's NFR Directive and will your organization be in compliance?
Profiles of Trainers
Michael Spanos is the Founder & Managing Director of Global Sustain, an Expert Advisor to the European Commission on the SDGs, an AHC Group Senior Associate (USA), a member of the secretariat of the United Nations Global Compact Network and of the Advisory Board of the CEO Clubs in Greece and a member of the Stakeholder Advisory Council of FMC Corp (USA). Michael is also a visiting lecturer at the International MBA program of the Athens University of Economics and Business and the Cyprus International Institute of Management.
Yannis Salavopoulos is the Managing Director of Global Sustain GmbH and Group Head of International Affairs and a Lecturer for Sustainability Management & Public Affairs at SRH Berlin Int. Management University. He is C level Executive & Expert on Sustainability Management, Strategy, Reporting, ESG Investments. He is also the Managing Director at CAPITALS Circle Group GmbH, a Boutique Advisory in Public Affairs, Risk Management and Strategy.
Join Global Sustain for a half day training session focused on the EU NFR/CSR Directive. Discover what the implications of the EU Directive are and how your company should comply with it.
Limited seating. Early registration is strongly encouraged.
For further information please contact: paul.abela@globalsustain.org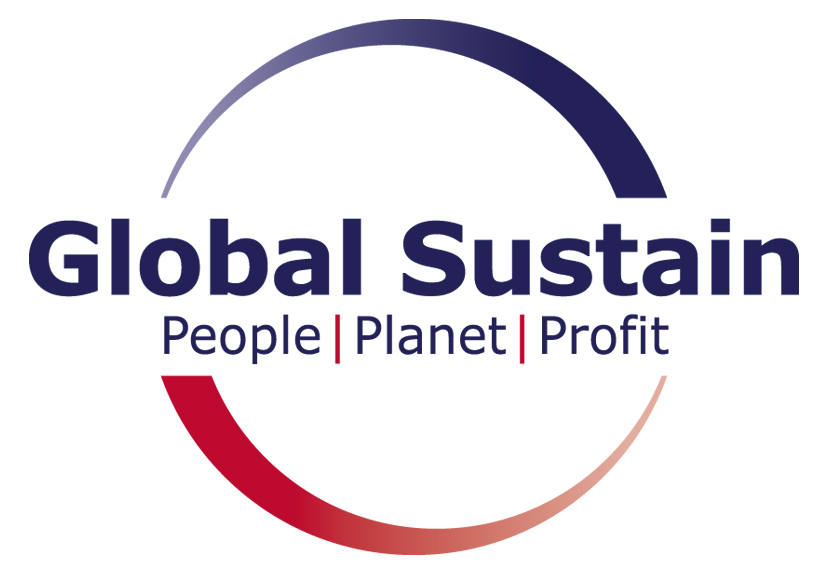 Global Sustain Limited (Ltd.)
Global Sustain Limited (Ltd.)
About Global Sustain
Founded in 2006, Global Sustain with offices in Athens, Berlin, Brussels, London, New York and Nicosia, creates awareness and inspires and supports companies and organisations to embody sustainability, through advisory, communications, networking and training, with a focus on the people-planet-profit philosophy. Its members include corporations, non-governmental and non-profit organisations, municipalities and local authorities, educational foundations, media, professional bodies, think tanks and other public or private entities. Global Sustain is a signatory to the Ten Principles of the UN Global Compact, to the Principles for Responsible Investment (PRI), a GRI Data Partner and Organisational Stakeholder (OS), an affiliated member of the Academy of Business in Society, Social Value International, Institute of Directors, CEO Clubs and EFQM. www.globalsustain.org / www.globalsustaingroup.com
More from Global Sustain Limited (Ltd.)