Published 01-22-18
Submitted by Global Environment & Technology Foundation (GETF)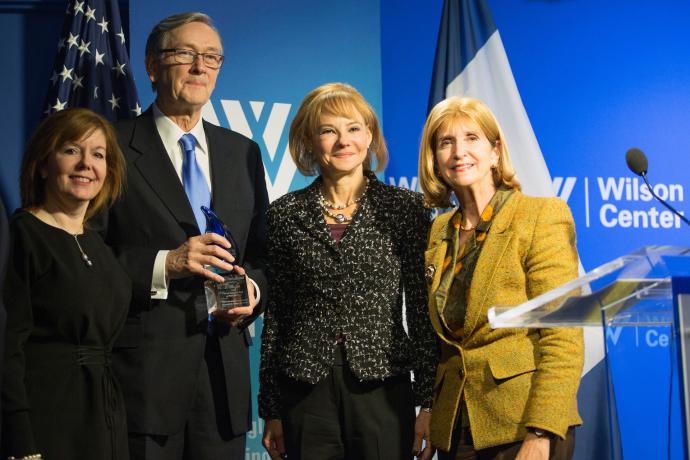 Photo (left to right): GWC Chief Executive Officer Monica Ellis, U.S. Water Leader Award Recipient President Danilo Türk, USWP National Executive Committee Member Sherri Goodman, USWP National Executive Committee Vice Chair Ambassador Paula Dobriansky
The U.S. Water Partnership (USWP) recognized President Danilo Türk, Chair of the Global High-Level Panel on Water and Peace (GHLP) and Former President of Slovenia as this year's recipient of the U.S. Water Leader Award for his steadfast leadership addressing water and human rights challenges around the world. The award was presented to President Türk by Ambassador Paula Dobriansky at the Woodrow Wilson Center for International Scholars at a roundtable co-hosted by USWP.
"A fundamental rethinking of international water cooperation is essential to creating a water-secure world – collaboration between international actors and the U.S. government, private sector, and civil society sectors will play a critical role in transforming water into a tool for prosperity, rather than a threat to security," said President Türk. 
The USWP evaluated nominees for the award against the criteria of long-term and innovative leadership, support for public-private partnerships, and proven demonstration of significant positive impact on global water security.
For almost forty years, President Türk has advanced water security, peace and cooperation through his roles as President of Slovenia, a United Nations Security Council member, and most recently as Chair of the GHLP – a panel comprised of fifteen government and academic luminaries tasked with identifying challenges, opportunities, and recommendations to advance transboundary, cross-sector, and international cooperation on water issues.
President Türk is the second recipient of this prestigious award. Muhtar Kent, Chairman and former CEO of The Coca-Cola Company, was awarded the inaugural U.S. Water Leader award in 2017 for his visionary leadership in building a water-secure world through initiatives such as the Replenish Africa Initiative (RAIN).       
Following presentation of the award, outcomes from the GHLP's landmark report on water and peace entitled "A Matter of Survival," were shared at a roundtable discussion. The roundtable focused upon the development of public-private partnerships that address the report's recommendations. President Türk joined fellow members of the GHLP and co-authors of the report in the roundtable to offer actionable strategies for building a more water-secure world.
"The U.S. Government Global Water Strategy sets forth a bold vision for a water-secure world, recognizing that sustainable supplies of water are deeply connected to national and regional security. Cross-sector and transboundary collaboration, as recommended by both this strategy and the GHLP's report, must be strengthened and expanded at every level," said Sherri Goodman, Senior Fellow, Woodrow Wilson Center for International Scholars, and Member of the USWP National Executive Committee.
To complement the award and roundtable, USWP supported several events throughout the week aimed at creating a water-secure world. USWP, Global Water Challenge (GWC), and Procter & Gamble co-hosted a Chief of Mission roundtable on water security in Africa attended by Ambassadors and Chargé d'Affaires from over 20 African nations. The event facilitated important dialogue between the African diplomatic corps and the American private sector to expand collaborative action for solving water challenges across Africa.
Following the Africa-focused roundtable, USWP, GWC, and the Global Health Council also hosted an event calling for expanded water, sanitation, and hygiene (WASH) coverage in health care facilities worldwide. The week closed with USWP and IBM Analytics Solution Center (ASC) co-hosting panel discussions centered on the role of smart infrastructure in ensuring water security in the face of climatic change.
For more than five years, USWP and GWC have facilitated events such as these that catalyze collaboration towards ensuring a water-secure world. Organizations interested in partnering with the USWP should contact Chuck Chaitovitz at Chuck.Chaitovitz@USWaterPartnership.org. Photos from the U.S. Water Leader Award ceremony and roundtable at the Woodrow Wilson Center for International Scholars can be viewed here.
######
About the U.S. Water Partnership
Launched in March 2012, the U.S. Water Partnership (USWP)'s mission is to unite and mobilize the best of U.S. expertise, resources and ingenuity to address global water challenges where needs are greatest.  With a membership of 122 partners from the private sector, U.S. Government and civil society, USWP is a unique catalytic platform that facilitates public-private sector collaboration and engagement with top water sector experts and leaders. USWP serves as a single-entry point for access to the best of U.S.-based resources and ingenuity that help others develop innovative solutions to global water security challenges. Since its inception, USWP has leveraged the work of its partners to positively impact people in more than 150 countries. For more information, please visit www.uswaterpartnership.org and follow on Twitter @USWP.
About Global Water Challenge
Founded in 2006, Global Water Challenge (GWC) is a coalition of leading companies and organizations committed to achieving universal access to safe drinking water, sanitation and hygiene (WASH). With leading companies, civil society partners and governments, GWC accelerates the delivery of safe water and sanitation through partnerships that catalyze financial support and drive innovation for sustainable solutions. Through GWC's innovative public-private partnerships, over 1 million people have been reached with clean water access. More information about GWC can be found here.
About the Global High-Level Panel on Water and Peace
The Global High-Level Panel on Water and Peace was launched in November of 2015 in Geneva, Switzerland with the task of developing a set of proposals aimed at strengthening the global framework to prevent and resolve water-related conflicts, and facilitate the use of water as an important factor of building peace and enhancing the relevance of water issues in national and global policy making. 15 countries have co-convened the Panel: Cambodia, Colombia, Costa Rica, Estonia, France, Ghana, Hungary, Jordan, Kazakhstan, Morocco, Oman, Senegal, Slovenia, Spain, and Switzerland. More information can be found here.
About Woodrow Wilson Center for International Scholars
The Wilson Center, chartered by Congress as the official memorial to President Woodrow Wilson, is the nation's key non-partisan policy forum for tackling global issues through independent research and open dialogue to inform actionable ideas for the policy community. More information can be found here.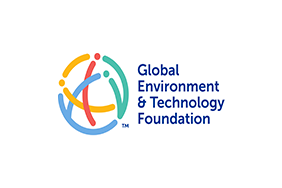 Global Environment & Technology Foundation (GETF)
Global Environment & Technology Foundation (GETF)
The Global Environment & Technology Foundation (GETF), established in 1988, is a leading 501(c)(3) nonprofit organization with a mission to accelerate sustainable development through partnerships that deliver impact at scale. GETF builds and manages high impact public-private partnerships improving the lives of over 10 million people in 65 countries through water access, sanitation and hygiene, health systems strengthening, entrepreneurship, women's empowerment, sustainable agriculture and climate resilience. Partnership platforms under GETF's management include the Replenish Africa Initiative (RAIN), The Coca-Cola Foundation's signature community water initiative, the Water and Development Alliance (WADA) and Project Last Mile Partnership (PLM) both partnerships between The Coca-Cola Company and USAID. GETF serves as the Secretariat for two high-impact water coalitions – Global Water Challenge and the US Water Partnership.  For more information visit http://www.getf.org.